Current Newsletter
Newsletter January 21, 2019
Video Recipe: Avocado Chocolate Pudding

Ingredients
3 large avocados, soft and ripe
1/4 cup organic, high-quality cacao powder
3 to 6 Tbsp almond milk
1 tsp. vanilla extract
2 tsp. coconut oil
2 Tbsp. raw honey

Procedure
Make your own almond milk:-Add one cup spring water to a blender.Add one heaping Tbsp almond butter. Blend.
Combine avocado, cacao powder, almond milk, vanilla, coconut oil and honey in blender. Blend on high for 1 minute or until smooth.
Refrigerate for 30 minutes.
Video: Why Isn't The Mainstream Media, Scientists, Universities And Government Reporting The Negative Results From GM Crop Studies? – with Author Jeffrey Smith
Recipe: Chocolate Covered Almond Butter Balls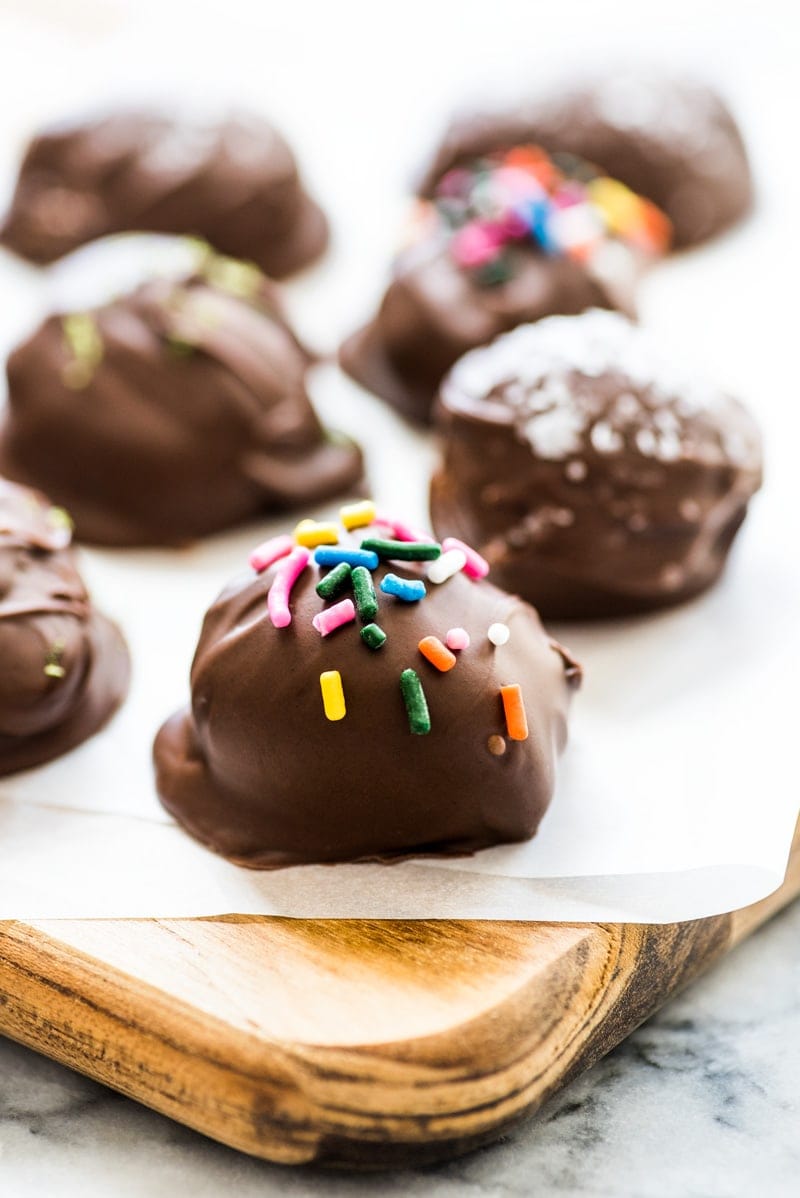 I find that no bake recipes involving peanut butter or almond butter in the center often contain added sugar in the form of powdered sugar to help thicken the nut butter mixture. But while many people find that really delicious, I tend to think it's too sweet. So naturally, I went to my pantry to see what I could use instead and this recipe was born.
Ingredients
3/4 cup almond butter
1/4 cup coconut flour
1 cup chocolate chips
optional toppings: sea salt, lime zest, sprinkles
Instructions
Line a large baking sheet with parchment paper and set aside.
In a medium bowl, mix together almond butter and coconut flour until a thick paste forms.
Scoop a heaping teaspoon of the mixture onto a baking sheet covered with parchment paper or form the mixture into a ball using your hands. I used a small cookie scoop like this one. Continue until all the mixture is used.*
Place the baking sheet in the freezer for 15 minutes.
Melt the chocolate chips in a microwave-safe bowl in 30 second increments until the chocolate is completely melted.
Using a spoon or fork, dunk the cold almond butter balls into the melted chocolate, making sure to fully cover every side.
Place the chocolate covered balls back onto the parchment paper and top with desired toppings.
Place the balls back into the freezer for 10 minutes or until chocolate has set.
Alive, Organic Bonus Program – Organic Nuts and Free Shipping
---
New! Items For January

Our Organic Garbanzo Beans are grown on a farm that has been in their family for over a century now, in Merrill, Oregon. The family specializes in a diverse crop base on over 2,000 acres of Certified Organic land.
Our Organic Garbanzo Beans are plump, creamy and delicious. An excellent source of protein and fiber, garbanzos supply roughly 27 percent of daily protein and 50 percent of our fiber requirements in one cup. They are especially high in folate, manganese and iron, which are important components in the body's anti-oxidant activity.

90% of the world's almonds are grown in California's Central Valley. It is bounded to the east by the towering Sierras and to the west by the coastal mountain range. Its rich, alluvial soil is wondrously fertile. This great plain is a sea of white in February when the almonds blossom. The orchards are irrigated by water from melting snow high in the Sierras. It is brought to them by a marvelous system of canals. California almonds are sweeter and their flavor is richer and more complex. Imported almond cannot compare. California almonds are simply the best.

We began making almond butter over 25 years ago. Over the years, we have developed a proprietary process: we make the almond butter slowly, over several days. We slice the almonds and never grind them, which exposes the nut to the least heat possible to keep the flavors and properties of the raw nut intact. We make it frequently, in small batches, so it's fresh and alive.

Our alive cacao butter is of outstanding quality, It comes from the island of Bali. Cacao Butter is a key ingredient in making fine chocolate and confections of all sorts. Grate and add to melted cacao paste along with a sweetener such as honey, agave or palm nectar crystals to make a delightful chocolate. Add chopped raisins and dates, maybe chopped mangoes and persimmons too. Pour mixture onto a baking sheet and allow to harden in you refrigerator. It also makes a great skin care product. Try adding one part grated cacao butter to three parts melted coconut oil. Let it solidify in a wide mouthed jar — it is great for the skin and will impart an exotic fragrance.

Our Living Tree Alive, Organic Sweet Almond Oil is made from California almonds grown by family farmers. Not only is it a magnificent salad dressing, but it is a sensuous and aromatic massage oil.
Sweet Almond Oil has long been known as being beneficial for health and beauty.

Cashews and Hawaiian Macadamia Nuts make for a profoundly rich and creamy combination.
We've add alive, organic honey for wonderment and a pinch of Royal Himalayan Pink Crystal Salt to heighten the flavor.

Our Organic Macadamia Butter has a rich, milky flavor that will delight your tastebuds.
Featured Sale – 20% Off
Pecan Butter – Alive & Organic

20% Off! $11.19 (was $13.99)
Sale from January 1st to 28th.
Our pecans are grown on a family farm in Texas and blended with a little Pink Himalayan Salt. Try our Organic Pecan Butter straight on fresh crunchy vegetables. It's also delicious mixed with your favorite soup or finely shredded cabbage, zucchini and carrots. Use one tablespoon per serving.
January Victory Garden Sale
10% off this month's featured items (Remember, if you buy 3 or more of any Living Tree manufactured product, you get an additional 10% off!)

Tahini breaks out as a Mainstream Ingredient, as consumers look for more unique foods to try. Use it in alive pies, yogurt bars and smoothies. Think of tahini date cookies; combine with cooked chickpeas for hummus, combine with honey for halva.
Made from alive, organic sesame seeds grown by Mexican family farmers. We make our tahini slowly, over several days; we slice, we do not grind.
We use mechanically hulled sesame seeds

All the ingredients came together for your happiness: alive pistachios grown by family farmers in the rich, alluvial soil of California's great Central Valley, sun-dried black olives and sun-dried tomatoes, sesame, apple cider vinegar, aromatic spices (cayenne, garlic, cumin, curry powder) and herbs (basil, thyme, rosemary) and sea salt, all blended with Living Tree Alive Olive Oil- unfiltered, unheated, UNPRESSED.
Serve on freshly, crunchy vegetables or crackers. Mix one TBS per serving with your favorite pasta, alive soup or finely shredded zucchini or carrots. Go ahead–surprise, delight, and nourish yourself!
We Welcome Investors

Demand for organic food is booming. Last year sales of organic products jumped 11% to more than $39 billion. Also, the number of US organic farmers and processors has grown by 250% since 2002, when the natural organic program began. Indeed, organic food production has more than tripled since that time.
Thanks to your kind support, we too are growing. We wish to hire more teamworkers and to purchase tools and equipment. We are seeking long term, stable capital. If taking a strategic position in the organic food industry appeals to you, let's talk!
Jesse Schwartz, PhD
President
Living Tree Community Foods
Government Study Finds 'Clear Evidence' for Heart Tumors From Cellphone Radiation

(Mercola) Cellphones were classified as a Group 2B "possible carcinogen" in 2011 by the International Agency for Research on Cancer (IARC), an arm of the World Health Organization and the global gold standard for the classification of toxins.
This classification was based on evidence showing that nonionizing electromagnetic field (EMF) radiation from cellphones can trigger abnormal cell growth and tumors. In my view, this is a mistake and, just like smoking, I am confident it will be recategorized in the future to a 1A carcinogen.
Earlier this year, preliminary findings of two government-funded animal studies were published that further support the notion that cellphone radiation has carcinogenic potential.
The finalized report of these two studies — conducted by the National Toxicology Program (NTP), an interagency research program under the auspices of the National Institute of Environmental Health Sciences — was released November 1, 2018. While the preliminary report released in February 2018 significantly downplayed the findings, subsequent peer review upgraded the findings of risk.
Cellphone Radiation Linked to Brain and Heart Tumors
The NTP rates cancer risk based on four categories of evidence: "clear evidence" (highest); "some evidence;" "equivocal evidence;" and "no evidence" (lowest). According to the NTP's final report, the two studies, done on mice and rats of both sexes, found:
Video: Survival Myths That Could Get You Killed

Want to help promote
our work? Send
this Newsletter to your friends.
To place
an order please go
to our web site.
Disclaimer: The entire contents of this website are based upon the opinions of Living Tree Community Foods, unless otherwise noted. Individual articles are based upon the opinions of the respective author, who retains copyright as marked. The information on this website is not intended to replace a one-on-one relationship with a qualified health care professional and is not intended as medical advice. Living Tree Community Foods encourages you to make your own health care decisions based upon your research and in partnership with a qualified health care professional.