Video: Mango, Peach and Almond Butter Ice Cream Topped with Thoughts on Ultra Processed
Dear brothers and sisters,
We are delighted to share with you a recipe for Mango, Peach,Almond Butter Ice Cream.  We begin by making our own almond milk, its much fresher! We add our alive, organic almond butter and follow with mangoes and peaches. We also add cacao nibs for an enlivening chocolatey flavor. We blend in a blender and then place in a freezer. After a few hours -voila!, we have Almond butter Ice Cream!
We go on to discuss the next stage in the ultra processed debacle, namely, synthetic and lab grown food. Its the pinnacle of estrangement.You just can't get any more "unnatural".
There are some who see in this a way to eliminate the raising of animals  for meat. Won't fake meat lead to the abolition of  "contained animal feeding operations" CAFOs, which produce most  of the meat consumed in the US today? CAFOs are an abomination of filth, stench and pollution but replacing them with fake meat is not the answer.

Animals are an essential element in the ecology.The fertility of the plains and prairies  is owing to the vast herds of buffalo that they once sustained.Every organic farmer, every backyard grower will assure you that cow manure is gold. It is a mild fertilizer and it imparts wonderful texture to the soil. A biodynamic farmer will tell you that a cow takes in cosmic forces through its horns and combines them  with grass through its four stomachs to produce manure.

In a broader view, a large part of the world's population is sustained by herds of animals on grasslands.Surely a techno- fix here, the  replacement of livestock by synthetic meat is not the answer.

It is rather, as we've said, a new level of ultra processed. An astonishing 60 percent of the food Americans eat is ultra-processed — examples include breakfast cereals, pizza, chicken nuggets, soda, packaged baked goods, microwaveable frozen meals, instant soups and sauces and much more.

They contain unnaturally high amounts of sugar, salt, processed oils and unhealthy fats.
They weaken the immune system and lead to obesity, diabetes, heart disease and cancer.
It seems to us that despite the preponderance of ultra processed, we will yet come through.

Where there are chicken nuggets, pizza and soda- there shall  be parsley, lettuce, Swiss chard and kale.
Please accept our best wishes for good health prosperity and success to you and to your family,
Jesse Schwartz PhD
President
Living Tree Community Foods
Find Us on Social Media
Video: You Must Sow These In August. 🌱🌱🌱 by GrowVeg
High Summer Victory Garden Contest - Extended to Labor Day!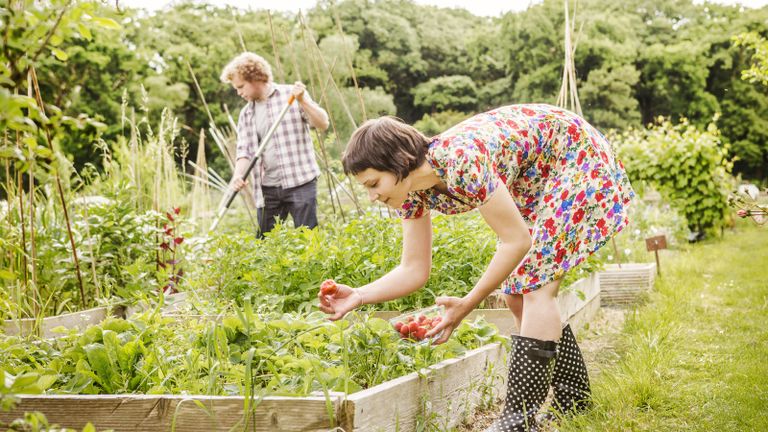 We invite you to show us around your Victory Garden. Go ahead and create a video walking tour. Take us along those beds of lettuce and tomatoes, parsley and celery.Why not have Mozart or Dvorak in the background? Tell us something of your self, your joys and challenges. We offer gift certificates of $180 for the most bodacious entries.
Send a link to your video here
Contest ends September 5th
Back to School with Our Compliments
We are pleased to offer a special package for the budding scholar in your family:-

John Muir Tail Mix - Almond Butter 8oz - Jumbo Flame Raisins - Halawi Dates

A $49.96 value. Yours for $44.96
Recipe: Nourishing Almond Butter Double Chocolate Pumpkin Muffins
Nourishing almond butter chocolate pumpkin muffins made with creamy almond butter, real pumpkin puree and oat flour to keep them gluten free. These one bowl almond butter chocolate pumpkin muffins are dairy free and naturally sweetened but seriously taste like chocolate cake! The perfect nourishing snack or breakfast that kiddos will love.
Ingredients:
Wet ingredients:
August Victory Garden Sale
10% off this month's featured items (Remember, if you buy 3 or more of any Living Tree manufactured product, you get an additional 10% off!)
Living Tree Community Foods Organic Pumpkin Seed Butter is created in Berkeley, California from alive, raw organic pumpkin seeds grown by American family farmers. We make it by slicing raw pumpkin seeds into a luxurious spread, adding organic pumpkin seed oil and then seasoning it with a little Royal Himalayan Pink Crystal Salt. Very nourishing and energizing. A balanced source of good protein. Try it on fruit slices and on flax crackers.
Living Tree Community Foods raw, alive and organic Clover Honey has a rich, buttery flavor. Try on a slice of apple or pear. Blend into almond or coconut milk. Lends itself to alive confections like chia seed pudding.
Living Tree Community Foods organic cashews are grown on small, family-owned farms in Vietnam. Once harvested, the cashew nuts are shelled at a local processing facility. Our cashews have been certified organic since 1998
New! Items For August
Living Tree Community Foods organic blanched almond flour is produced from raw and alive nonpareil almonds grown by the Koretoff family, California family farmers of five generations. Rejoice in its moist, oily aliveness. What wonderful alive cookies and cakes you will make! Combine with honey, chopped dates and raisins for an alive pie shell. You'll think of many other creative uses!
Living Tree Community Foods organic and fair trade French Roast Coffee is a blend of Central and South American coffees roasted dark to produce ebony black beans and a smoky aroma. It is slightly sweet with a clean aftertaste. Medium body. Dark roast.

Roasted in Berkeley, CA
Living Tree Community Foods Organic Refined Avocado Oil is low in saturated fats and high in monounsaturated fats making it both healthy and multi-functional. Traditionally refined avocado oil has one of the highest smoke points of any cooking oil. This versatility combined with its neutral flavor and healthy fat profile makes it a popular option with chefs and home cooks.
Internship Opportunities at Living Tree Community Foods
Are you contemplating a career in the organic food industry? Why not begin with an internship?!  Work side by side with us in sales, marketing and social media. Get hands-on experience in producing nut butters, oils and chocolates. We will visit family farmers and go backpacking in the High Sierras.
For more information, write to us and send a resume to jesse@livingtreecommunity.com
Video: Honey Health Benefits - Incredible Raw Honey Uses for Acne, Allergies, Beauty, Ulcers and More by Dr. Gus
Video: Why You've Got To Eat Cruciferous Vegetables Every Single Day by Michael Greger, MD