Video: Printing Press Money and the Cost of Tomatoes
Dear brothers and sisters,
All of a sudden organic tomatoes are now $4-5 per pound. Organic grapes  are $3.50. Organic potatoes $4.00. Inflation is, in effect, a tax; it is especially burdensome on the poor and those in modest circumstances.
The Federal Reserve  has created trillions of dollars out of thin air; this has led to an enormous stock market bubble and a housing bubble.
The trouble with printing-press money is that it distorts and destroys the real economy.It seems likely that the dollar will collapse and, sadly enough, food prices will soar. Grocery shelves will empty and hyperinflation is just around the corner.
We say "Let's get growing, brothers and sisters!"  Now, in late Autumn, you can prepare the soil to start your Victory Garden in Spring. Go ahead, build a compost pile and give yourself the satisfaction of seeing every carrot top, apple core and banana peel turn into life-giving humus.
Brothers and sisters, let's together with neighbors and friends and plant here an edible schoolyard for the American spirit.
Please except our best wishes for good health, prosperity and success to you and your family,
Jesse Schwartz
President
Living Tree Community Foods
Video: Nature Builds Soil This Way 🍂 🍁 So Should You! 🍂 🍁 by GrowVeg
Recipe: Healthy Fig Bread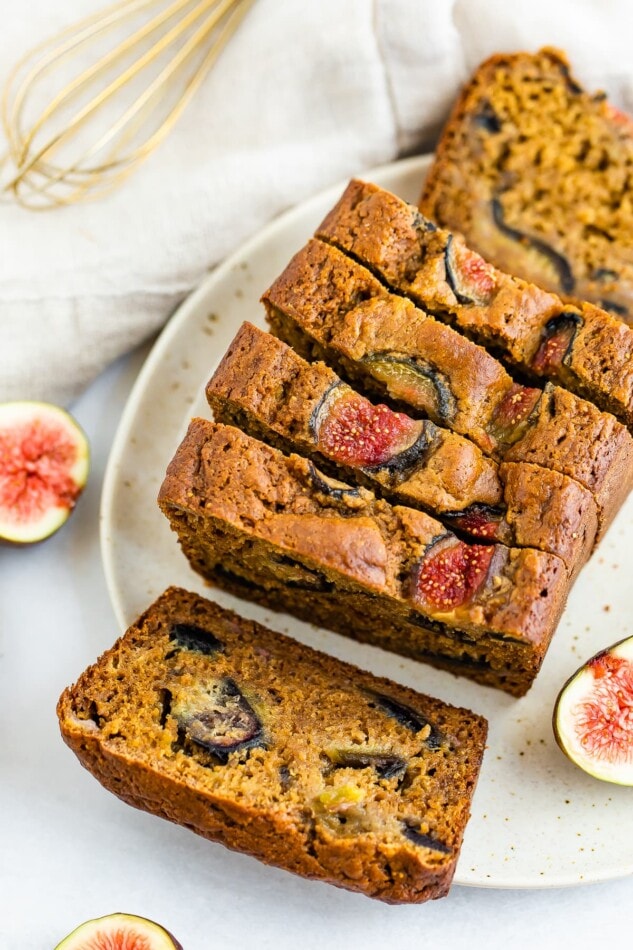 Made with mashed figs and bananas, honey, Greek yogurt and whole wheat pastry flour this healthy fig bread is perfectly moist, naturally sweetened, oil-free and such a great recipe to make during fig season!
Ingredients:
½

cup

mashed banana

,

about 1-2 ripe bananas

½

cup

mashed figs

,

plus more for topping

2

eggs

½

cup

plain Greek yogurt

⅓

cup

honey

⅓

cup

coconut sugar

1

teaspoon

vanilla extract

1 ½

cups

whole wheat pastry flour

1

teaspoon

cinnamon

1

teaspoon

baking soda

½

teaspoon

sea salt
Instructions
Preheat the oven to 350˚F.

Use a fork to mash bananas and figs. Combine the two in a mixing bowl.

Mix in eggs, yogurt, honey, coconut sugar and vanilla.
Free Gifts When You Shop with Us!
Free Ground Shipping and Organic Gifts for Orders Over $100*
$150 - Free Shipping & 4oz Pack of Almonds
$250 - Free Shipping, 4oz Pack of Almonds & 4oz Pack of Cashews
$300 - Free Shipping, 4oz Pack of Almonds, 4oz Pack of Cashews & 4oz Pack of Walnuts
$400 - Free Shipping, 4oz Pack of Almonds, 4oz Pack of Cashews, 4oz Pack of Walnuts & 4oz Pack of Pistachios
October Victory Garden Sale
10% off this month's featured items (Remember, if you buy 3 or more of any Living Tree manufactured product, you get an additional 10% off!)
Living Tree Community Foods Organic Black Sesame Tahini is created in Berkeley, California from alive, raw organic black sesame seeds grown by family farmers. We make it by slicing raw black sesame seeds into a luxurious spread then adding organic black sesame oil. An excellent source of calcium.


Living Tree Community Foods raw, alive and organic Clover Honey has a rich, buttery flavor. Try on a slice of apple or pear. Blend into almond or coconut milk. Lends itself to alive confections like chia seed pudding.
Living Tree Community Foods Organic Nutritional Yeast is a flavor enhancer that offers naturally occurring vitamins, minerals, and micro-nutrients. These large flakes are a bit spicier and have more yeast flavor than other nutritional yeast. A favorite for adding savory flavor to soups, sauces, gravies, and prepared foods where umami flavor is needed.
Opportunities at Living Tree Community Foods
Sales Manager - We are seeking a sales manager; ideally with 3-5 years of experience in the food industry. Perfect for someone in empathy with alive, organic foods.
Internship - If you are contemplating a career in the organic food industry, why not begin with an internship. Work side by side with us in sales and marketing. We also offer hands-on experience in making nut butters, oils and chocolates.
For more information, write to us and send a resume to jesse@livingtreecommunity.com
Natural Prevention Remedies To Build Your Immune System And The Strengths of Pre/Probiotics with Sunil Pai, M.D., Margaret Paul, Ph.D., Anna Maria Clement Ph.D., Brian Clement Ph.D., Steve Blake, Sc.D., Gabriel Cousens, M.D.,
Eating A Wide Diversity Of Plant Foods Leads To The Greatest Health with Alan Goldhamer, D.C., Joel Fuhrman, M.D., Pamela A, Popper, Ph.D., Milton Mills, M.D.