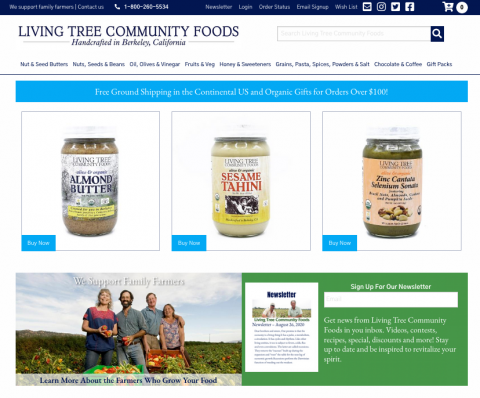 Dear brothers and sisters,
Thanks to your kindness and support we've been able to re-create our website. It is a culmination of our efforts over decades to bring you alive, organic food grown by family farmers. The new site is  easier to use and more informative. It is a result of an effort going back decades.
We invite you to come for a visit. Your comments and suggestions are welcome.
Jesse Schwartz PhD
President
Living Tree Community Foods
Video: How Your Diet Can Impact Your Body's Inflammation – By Sunil Pai
Mid Summer Sale – California Heritage Olive Oil 750ml (Extra Virgin) – High Polyphenol, Alive, Organic & Dry Farmed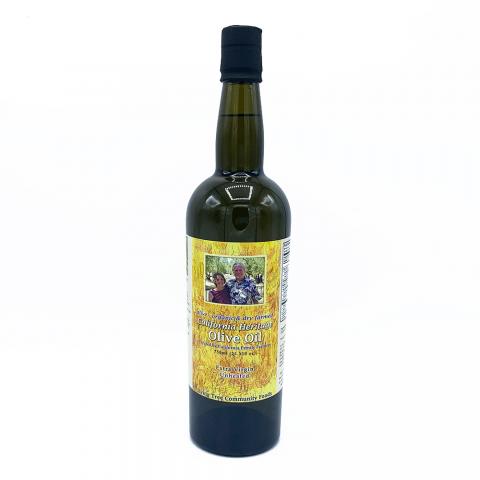 On Sale for $62.99 – Regularly $72.99
If you buy 3 or more, you get an additional discount of 10%.
Now in an elegant 750ml dark glass bottle.
This olive oil is very fresh and rich in antioxidants. It has a high available biophenol content : 605 ppm (parts per million) compared with 222 ppm for most extra virgin olive oils. In other words its biophenol content is 2.7 times the average. Very high phenolic content and excellent stability should provide long shelf life of over a year as well as beneficial health value. This olive oil has, along with its bitterness and pungency, mineral and green vegetable organoleptic characteristics.
We invite you to rejoice in its robust, sharp flavor. Those in the know will understand how its pungency enhances the flavors of food.
When analyzed by World Olive Labs (Greece) it has been shown to have very high levels of oleocanthal, oleacein and oleuropein aglycon. These are all natural biophenols. We suggest you research their anti-inflammatory, antioxidant, cardioprotective and neuroprotective activity.
Open for the recipe to this easy, delicious, no bake, healthy, raw, vegan cheesecake!
Crust:
1 cup medjool dates
1 cup almonds
1/4 cup coconut
Filling:
2 cups soaked cashews
1 cup maple syrup
1 can of full fat coconut milk
1 lemon
Vanilla
Salt
Toppings:
Fruit, nuts, seeds, chocolate, whatever you want!
New! Items For September
Featuring Brazil nuts, Almonds, Cashews, Pumpkin seeds and Sesame seeds.

We have created a nut butter for these times. We call it Zinc Cantata, Selenium Sonata. A considerable amount of information has become available in regard to the anti-viral benefits of zinc and selenium. For zinc it includes almonds, cashews, pumpkin seeds and sesame seeds, for selenium – Brazil nuts and sunflower seeds.

The flavors of the nuts and seeds are accentuated by our Hawaiian Native Forest Honey and a touch of maple sugar.

May we suggest that you research the benefits of zinc and selenium.
A considerable amount of information has appeared in regard to the anti-viral benefits of zinc and selenium.We are pleased to offer a value pack with foods high in these minerals.

For zinc we include:

Almond Butter 16oz – Alive & Organic
Cashew Butter 16oz – Organic
Sesame Tahini 16oz – Alive & Organic
Pumpkin Seed Butter 8oz – Alive & Organic

For selenium we offer:

Brazil Nut Butter 16oz – Alive & Organic
Sunflower Seed Butter 8oz – Alive & Organic

A $109.94 value, yours for $99.00

May we invite you to research the antiviral benefits of Zinc and Selenium.
September Victory Garden Sale
10% off this month's featured items (Remember, if you buy 3 or more of any Living Tree manufactured product, you get an additional 10% off!)
We've renamed our Turmeric Butter- Turmeric and Honey because it is a winning combination. We urge you to research what people are saying about the benefits of turmeric and honey.

We have added raisins, sesame and spices to bring you a delightful spreadable.
Sundried cashews have been transformed into a butter that retains its quintessential cashew flavor. Try it on apple slices, celery sticks or a wedge of persimmon.
Our alive coconut butter is created from organic coconuts. Savor its fragrance. Ponder its luxuriant, rich,creamy texture.

Try it on fruit slices. Goes so well with sliced dates,figs and raisins.
Thank You Kindly For Your Encouraging Words
I just want to express my deepest gratitude for absolutely everyone who grows the food, processes products and helps them arrive at my front door. I am so very grateful for the work ya'll are doing. You are a strong cord of hope for me in these changing times. Thanks so much for all everyone is doing.
Many blessings and Much Love,
Moonshadow
I wanted to thank you for getting my order of the Lake Baikal pine nuts out to me so quickly! My friends loved the quinoa salad I made for them today. I probably should order more at one time because they are so good.
Be well,
Justine
Thank you for making such a great product. My kiddos have a life threatening peanut allergy and your almond butter is the only one they'll eat. We have tried other brands but we always come back to your almond butter. I love that it is still possible to spread it at the bottom of the jar!
Kind regards,
Heather
Why You Need To Be Concerned With The Rollout Of 5G
Video: Best Seed Crops To Plant In September