Video: Say Yes! To Vivacity with a Midsummer Green Drink
Dear brothers and sisters,
In 1960 H.E. Kirschner M.D., a physician in southern California published a slender volume, "Nature's Healing Grasses." In our opinion, it is a California classic. It has gone through many printings. What Dr. Kirschner was doing, was to blend, in an ordinary blender, edible wild plants including dandelion, malva, alfalfa, filigree and lambs quarter along with parsley, an herb. He would add water. He administered this green drink to his patients with dramatic results. Decades later, the "raw" food movement took up where Dr. Kirschner left off. It is part of the living legacy that raw foods have bequeathed to the world.
In this video we start by making a base for our green drink. We blend together grapes and  sliced tomatoes.
We go on to add lettuce, kale, collard greens and red dandelions.                                                                                                            
This is surely the drink for our times. One can taste the vitality.  We urge you to give it a try.
Please write in and tell us from your experience why green drinks,victory gardens, intermittent fasting, and vigorous exercise are steps toward healing this great land and its people.     
Jesse Schwartz
President
Living Tree Community Foods
Almond Flour Creativity Contest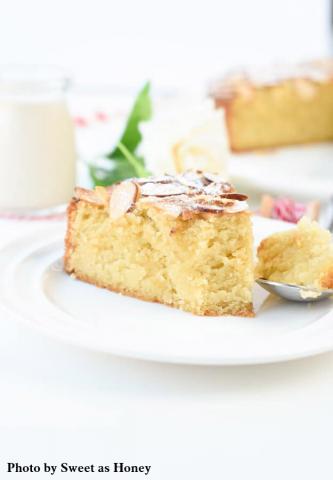 Dear brothers and sisters,
Think of Almond Flour as a doorway to creativity.Its a wonderful, gluten- free substitute for wheat flour. Imagine the alive, organic cakes, cookies and pies you will make!
We invite you to do a recipe video with step-by-step instructions.Why not play Mozart or Mendelssohn in the background?
Furthermore we'll publish your recipe in our newsletter to share with brothers and sisters everywhere.
We will award a $300 gift certificate for the most creative entry.
Please send your recipe video to jesse@livingtreecommunity.com
Contest ends Wednesday August 18th.
Here's a video on making almond flour bread that might inspire you.
Video: The 10 Most Productive Crops to Sow in July by Huw Richards
Opportunities at Living Tree Community Foods
Sales Manager - We are seeking a sales manager; ideally with 3-5 years of experience in the food industry. Perfect for someone in empathy with alive, organic foods.
Internship - If you are contemplating a career in the organic food industry, why not begin with an internship. Work side by side with us in sales and marketing. We also offer hands-on experience in making nut butters, oils and chocolates.
For more information, write to us and send a resume to jesse@livingtreecommunity.com
Recipe: Mushroom Lentil Loaf Recipe ~ Vegan
The best vegan lentil loaf recipe loaded with mushrooms, carrots, peppers, oats and fresh herbs covered in a blanket of smooth Italian tomato sauce. Healthy, filling and super tasty.
Ingredients
2

cups

French lentils

-cooked & drained well ( start with 1 cup dry)

1

large carrot

-grated or finely finely chopped

1/2

yellow onion ( or 1/2 leek)

-chopped

1

cup

cremini mushrooms

-chopped

1

cup

red bell pepper

-diced

1/2

cup

quick oats

2

tbsp

walnut parmesan

( or nutritional yeast flakes)

1/2

cup

bread crumbs

-plain whole wheat or gluten-free

3

cloves

garlic

-grated

2

tbsp

flax meal

(I used flax & chia mix)

1/3 cup + 2 tbsp

Italian marinara sauce

1.5

tbsp

liquid aminos

1

tsp

onion powder

3/4

tsp

smoked paprika

1/4

tsp

sea salt

(or to taste)

2

tbsp

thyme leaves

-fresh

2

tbsp

fresh Italian parsley

-roughly chopped

3

tbsp

onion chives

-chopped

2

tbsp

basil leaves

-for garnish

1

drizzle

olive oil or a splash of water
Introducing Our Loyal Rewards Program

Here at Living Tree Community Foods we have created our loyalty program with exclusive rewards to say 'thank you' to our amazing customers.  
Earn 3 Points for every $1 you spend online to earn coupons to save money on future online orders.
Free Gifts When You Shop with Us!
Free Ground Shipping and Organic Gifts for Orders Over $100*
$150 - Free Shipping & 4oz Pack of Almonds
$250 - Free Shipping, 4oz Pack of Almonds & 4oz Pack of Cashews
$300 - Free Shipping, 4oz Pack of Almonds, 4oz Pack of Cashews & 4oz Pack of Walnuts
$400 - Free Shipping, 4oz Pack of Almonds, 4oz Pack of Cashews, 4oz Pack of Walnuts & 4oz Pack of Pistachios
New! Items For August
Living Tree Community Foods Organic Cheery & Honey Filled Chocolate Bars are a true delight. We make chocolate from scratch and fill it with a smooth cherry and honey mixture. Kids and adults alike will love it.
It's back! We are delighted to be offering it to you again.

Living Tree Community Foods California Heritage Olive Oil is rich in antioxidants. We invite you to rejoice in its robust, sharp flavor. Experience how its pungency enhances the flavors of food.

Our California Heritage Olive Oil has a high available biophenol content: 605 ppm (parts per million) compared with 222 ppm for most extra virgin olive oils. In other words, its biophenol content is 2.7 times the average. Very high phenolic content and excellent stability should provide long shelf life of over a year as well as beneficial health value. This olive oil has, along with its bitterness and pungency, mineral and green vegetable organoleptic characteristics.
Living Tree Community Foods Raw Organic Tibetan Black Barley is provided by Oregon Grain & Bean, with this crop grown on an organic farm in Idaho. Tibetan Black Barley, with its bran intact, retains its firm, plump texture during cooking, making it perfect in soups, stuffings and stews. It's also great when mixed with other grains due to its somewhat chewy, contrasting texture.
August Victory Garden Sale
10% off this month's featured items (Remember, if you buy 3 or more of any Living Tree manufactured product, you get an additional 10% off!)
Living Tree Community Foods Organic Cashew Butter is created in Berkeley, California from organic cashews and our raw organic Almond Oil. It is produced slowly, in small batches, to give it a wondrous, creamy texture. It's perfect when paired with cucumbers, celery or even peppers. It's also a great topping for fruits and desserts. What a delightful way to add some variety to your lunches!


Living Tree Community Foods organic cashews are grown on small, family-owned farms in Vietnam. Once harvested, the cashew nuts are shelled at a local processing facility. Our cashews have been certified organic since 1998.
Living Tree Community Foods Organic Pumpkin Seed Butter is created in Berkeley, California from alive, raw organic pumpkin seeds grown by American family farmers. We make it by slicing raw pumpkin seeds into a luxurious spread, adding organic pumpkin seed oil and then seasoning it with a little Royal Himalayan Pink Crystal Salt. Very nourishing and energizing. A balanced source of good protein. Try it on fruit slices and on flax crackers.
Video: How Bison Are Saving America's Lost Prairie by PBS Terra
Video: The Exact Things To Improve Sex Drive Naturally with Sunil Pai, M.D., Margaret Paul, Ph.D., Anna Maria Clement Ph.D., Brian Clement Ph.D., Steve Blake, Sc.D., Gabriel Cousens, M.D.,