Video: Plants You Can Eat To Fight Disease And How Best To Protect The Environment
Dear brothers and sisters,
We have always maintained that you have reached the point where anything you can imagine, you can accomplish. Anna Maria Clement in an inspiring talk, tells us how  in Ethiopia they have just planted 350,000,000 trees in just 12 hours. They did this to stabilize the clime in this drought prone region. Imagine if you will, if the energy of 350 million Americans was devoted to planting trees! `
It is not just planting trees but making every backyard and ,I daresay, every front yard an edible landscape, an exemplar of biodiversity. Anna Maria sets out nothing less than a program to breathe life back to this American earth. Let's learn from her!
Jesse Schwartz PhD
President
Living Tree Community Foods
Video: Nettles are Awesome! By GrowVeg
Opportunities at Living Tree Community Foods
Sales Manager - We are seeking a sales manager; ideally with 3-5 years of experience in the food industry. Perfect for someone in empathy with alive, organic foods.
Internship - If you are contemplating a career in the organic food industry, why not begin with an internship. Work side by side with us in sales and marketing. We also offer hands-on experience in making nut butters, oils and chocolates.
For more information, write to us and send a resume to jesse@livingtreecommunity.com
Recipe: Keto Pumpkin Bread with Coconut Flour
Keto pumpkin bread, a moist pumpkin bread with delicious pumpkin spice flavors.
ingredients
4

large

Egg

at room temperature, not cold

¾

cup

Pumpkin Puree

at room temperature, not cold

¾

cup

Erythritol

erythritol, xylitol or monk fruit stevia blend (150 g)

3

teaspoon

pumpkin pie spices

-see note to make your own

2

cup

Almond Flour

(220 g)

¼

cup

Coconut Flour

(35 g)

½

cup

Coconut Oil

melted or melted butter, lukewarm, not hot (120 ml)

1

tablespoon

Baking Powder

(12 g)

½

cup

Chopped Walnuts

(55 g)
Ginger Glaze
¼

teaspoon

Ground ginger

1

tablespoon

Water

⅓

cup

Sugar-free powdered sweetener

or erythritol or xylitol
Contest: Let's Rejoice in Your Victory Garden! Take Us on a Tour!
Brothers and sisters,
We invite you to take us on a tour of your springtime Victory Garden.
Walk with us down the rows of broccoli, kale, chard lettuce, sweet corn and tomatoes. Go ahead, give us a  tour! Put it together in a video.  We'll include in our newsletter.
We will award a Gift Card for $300 for the most emphatic submission.
Send the video or a link to it here
Contest ends on June 30th.
New! Items For June
It's back! We are delighted to be offering it to you again.

Living Tree Community Foods California Heritage Olive Oil is rich in antioxidants. We invite you to rejoice in its robust, sharp flavor. Experience how its pungency enhances the flavors of food.

Our California Heritage Olive Oil has a high available biophenol content: 605 ppm (parts per million) compared with 222 ppm for most extra virgin olive oils. In other words, its biophenol content is 2.7 times the average. Very high phenolic content and excellent stability should provide long shelf life of over a year as well as beneficial health value. This olive oil has, along with its bitterness and pungency, mineral and green vegetable organoleptic characteristics.
Living Tree Community Foods Raw Organic Tibetan Black Barley is provided by Oregon Grain & Bean, with this crop grown on an organic farm in Idaho. Tibetan Black Barley, with its bran intact, retains its firm, plump texture during cooking, making it perfect in soups, stuffings and stews. It's also great when mixed with other grains due to its somewhat chewy, contrasting texture.
June Victory Garden Sale
10% off this month's featured items (Remember, if you buy 3 or more of any Living Tree manufactured product, you get an additional 10% off!)
Living Tree Community Foods Organic Walnut Butter is created in Berkeley, California from raw organic walnuts grown by American family farmers. We make it by slicing raw walnuts into a luxurious spread then seasoning it with a little Royal Himalayan Pink Crystal Salt. Try it on apple slices or carrot sticks, with some raisins and honey drizzled on top.


Living Tree Community Foods Organic Black Sesame Tahini is created in Berkeley, California from alive, raw organic black sesame seeds grown by family farmers. We make it by slicing raw black sesame seeds into a luxurious spread then adding organic black sesame oil. An excellent source of calcium.
Living Tree Community Foods raw, alive and organic Brazil nuts are grown in the forests of Amazonia. They are gathered by native people. Brazil nuts are rich and creamy, with a similar texture to coconut.
Knowledge of Medicinal Plants at Risk as Languages Die Out by Phoebe Weston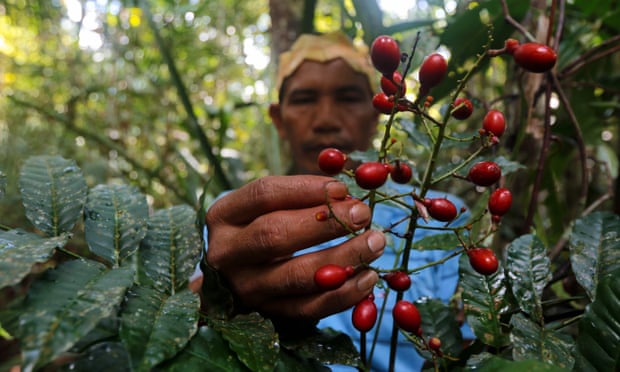 (Guardian) Knowledge of medicinal plants is at risk of disappearing as human languages become extinct, a new study has warned.
Indigenous languages contain vast amounts of knowledge about ecosystem services provided by the natural world around them. However, more than 30% of the 7,400 languages on the planet are expected to disappear by the end of the century, according to the UN.
The impact of language extinction on loss of ecological knowledge is often overlooked, said the study's lead researcher, Dr Rodrigo Cámara-Leret, a biologist from the University of Zurich. "Much of the focus looks at biodiversity extinction, but there is a whole other picture out there which is the loss of cultural diversity," he said.
His team looked at 12,000 medicinal plant services associated with 230 indigenous languages in three regions with high levels of linguistic and biological diversity – North America, north-west Amazonia and New Guinea. They found that 73% of medicinal knowledge in North America was only found in one language; 91% in north-west Amazonia; and 84% in New Guinea. If the languages became extinct, the medicinal expertise associated with them probably would too. Researchers expect their findings from these regions to be similar in other parts of the world.
Video: What You Didn't Know That Can Keep Your Immune System Strong By Sunil Pai, M.D.