Video: Enlivening Ourselves - A Green Energy Drink for These Times
Dear brothers and sisters,
Beginning with tomatoes and grapes we add vibrant, living greens to make an energy drink. We do this by way of empowering ourselves to take up the task of our generation which includes victory gardens similar to those of our forbearers during the Second World War. Then there are edible schoolyards and community  heirloom fruit orchards.  
In other words, we see green energy drinks as a step in creating here a garden for the American spirit.
Please accept our best wishes for you and family, for good health, prosperity and success.
Jesse Schwartz PhD
President
Living Tree Community Foods
Video: Cancer Is The Largest Threat To A Person's Lifespan By Joel Fuhrman
Mid Summer Sale – California Heritage Olive Oil 750ml (Extra Virgin) – High Polyphenol, Alive, Organic & Dry Farmed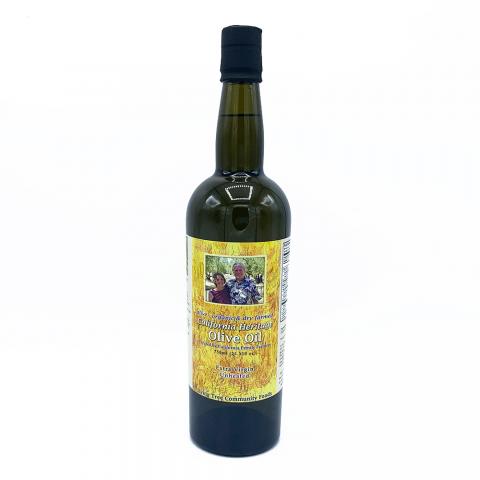 On Sale for $62.99 – Regularly $72.99
If you buy 3 or more, you get an additional discount of 10%.
Now in an elegant 750ml dark glass bottle.
This olive oil is very fresh and rich in antioxidants. It has a high available biophenol content : 605 ppm (parts per million) compared with 222 ppm for most extra virgin olive oils. In other words its biophenol content is 2.7 times the average. Very high phenolic content and excellent stability should provide long shelf life of over a year as well as beneficial health value. This olive oil has, along with its bitterness and pungency, mineral and green vegetable organoleptic characteristics.
We invite you to rejoice in its robust, sharp flavor. Those in the know will understand how its pungency enhances the flavors of food.
When analyzed by World Olive Labs (Greece) it has been shown to have very high levels of oleocanthal, oleacein and oleuropein aglycon. These are all natural biophenols. We suggest you research their anti-inflammatory, antioxidant, cardioprotective and neuroprotective activity.
Recipe: How to Make Chia Seed Pudding
Chia seed pudding can't be beat for an easy and healthy breakfast. Use coconut milk or nut milk for a delicious dairy-free, vegan option. This recipe can easily be doubled or tripled, depending on the number of people. Watch the quick video above to see how easily it comes together!
Ingredients
1/2

cup

almond milk, cashew milk or coconut milk

,

(or more for thinner texture)

2

tbsp

chia seeds
Optional
1

tsp

maple syrup

1/2

tsp

vanilla extract

fresh fruit, nuts and seeds
Instructions
Add the chia seeds and milk (along with optional sweeteners) to a bowl or jar and stir together. Let sit for 10 minutes, then stir again once the seeds have started to gel. 

Cover the bowl or jar and place in the refrigerator for at least one hour. Chia seeds can also be made overnight for breakfast the next morning.

Stir the chia pudding before serving and add your favorite fruit, nuts, seeds and spices.
New! Items For September
Featuring Brazil nuts, Almonds, Cashews, Pumpkin seeds and Sesame seeds.

We have created a nut butter for these times. We call it Zinc Cantata, Selenium Sonata. A considerable amount of information has become available in regard to the anti-viral benefits of zinc and selenium. For zinc it includes almonds, cashews, pumpkin seeds and sesame seeds, for selenium – Brazil nuts and sunflower seeds.

The flavors of the nuts and seeds are accentuated by our Hawaiian Native Forest Honey and a touch of maple sugar.

May we suggest that you research the benefits of zinc and selenium.
A considerable amount of information has appeared in regard to the anti-viral benefits of zinc and selenium.We are pleased to offer a value pack with foods high in these minerals.

For zinc we include:

Almond Butter 16oz – Alive & Organic
Cashew Butter 16oz – Organic
Sesame Tahini 16oz – Alive & Organic
Pumpkin Seed Butter 8oz – Alive & Organic

For selenium we offer:

Brazil Nut Butter 16oz – Alive & Organic
Sunflower Seed Butter 8oz – Alive & Organic

A $109.94 value, yours for $99.00

May we invite you to research the antiviral benefits of Zinc and Selenium.
September Victory Garden Sale
10% off this month's featured items (Remember, if you buy 3 or more of any Living Tree manufactured product, you get an additional 10% off!)
We've renamed our Turmeric Butter- Turmeric and Honey because it is a winning combination. We urge you to research what people are saying about the benefits of turmeric and honey.

We have added raisins, sesame and spices to bring you a delightful spreadable.
Sundried cashews have been transformed into a butter that retains its quintessential cashew flavor. Try it on apple slices, celery sticks or a wedge of persimmon.
Our alive coconut butter is created from organic coconuts. Savor its fragrance. Ponder its luxuriant, rich,creamy texture.

Try it on fruit slices. Goes so well with sliced dates,figs and raisins.
Video: What You Need To Know About GMOs By Jeffrey Smith
Cool Weather Crops - Planting Peas and Spinach by CaliKim29