Video: On Becoming More Vibrantly Alive - Six Gateways
Dear brothers and sisters,
Here are intimations of aliveness, so necessary in these times. We urge you especially to plant a victory garden as your forebears during World War 2. By May 1943, there were 18 million victory gardens in the United States – 12 million in cities and 6 million on farms. Around one third of the vegetables produced by the United States came from victory gardens. A victory garden was even planted on the White House lawn-imagine!
We know that you will snap back, that you will bring us through. After all, you have taken us from "sustainability" to "regeneration"; we are confident that you will go on to create here a garden for the American spirit. Then, at last, the prophecy will be fulfilled that Abraham Lincoln enunciated at Gettysburg when he proclaimed that this nation shall have "a new birth of freedom".
Please accept our best wishes for you and family, for good health, prosperity and success.
Jesse Schwartz PhD
President
Living Tree Community Foods
Video: The Real Truth About Longevity And Healthy Life Expectancy By Alan Goldhamer
Mid Summer Sale – California Heritage Olive Oil 750ml (Extra Virgin) – High Polyphenol, Alive, Organic & Dry Farmed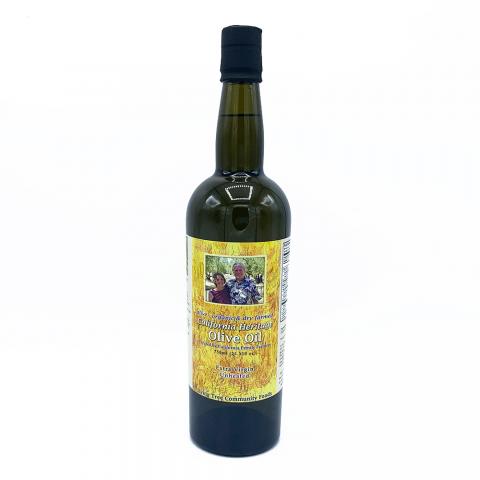 On Sale for $62.99 – Regularly $72.99
If you buy 3 or more, you get an additional discount of 10%.
Now in an elegant 750ml dark glass bottle.
This olive oil is very fresh and rich in antioxidants. It has a high available biophenol content : 605 ppm (parts per million) compared with 222 ppm for most extra virgin olive oils. In other words its biophenol content is 2.7 times the average. Very high phenolic content and excellent stability should provide long shelf life of over a year as well as beneficial health value. This olive oil has, along with its bitterness and pungency, mineral and green vegetable organoleptic characteristics.
We invite you to rejoice in its robust, sharp flavor. Those in the know will understand how its pungency enhances the flavors of food.
When analyzed by World Olive Labs (Greece) it has been shown to have very high levels of oleocanthal, oleacein and oleuropein aglycon. These are all natural biophenols. We suggest you research their anti-inflammatory, antioxidant, cardioprotective and neuroprotective activity.
Recipe: Easy Vegan Chocolate Fudge & Chocolate Cashew Butter Cups
Ingredients:
Vigorously stir all ingredients together until the mixture thickens OR briefly mix it in the food processor until ingredients are combined and thick. Press the dough into a parchment paper or plastic wrap lined container of choice (this will determine how thick or thin it will be). Place it into the fridge for at least 6 hours to firm up. Remove from the container and slice into pieces. I trimmed the edges and then got 9 squares. Store in the fridge or freezer.
Optional: drizzle melted dark chocolate over the squares.
September Victory Garden Sale
10% off this month's featured items (Remember, if you buy 3 or more of any Living Tree manufactured product, you get an additional 10% off!)
We've renamed our Turmeric Butter- Turmeric and Honey because it is a winning combination. We urge you to research what people are saying about the benefits of turmeric and honey.

We have added raisins, sesame and spices to bring you a delightful spreadable.
Sundried cashews have been transformed into a butter that retains its quintessential cashew flavor. Try it on apple slices, celery sticks or a wedge of persimmon.
Our alive coconut butter is created from organic coconuts. Savor its fragrance. Ponder its luxuriant, rich,creamy texture.

Try it on fruit slices. Goes so well with sliced dates,figs and raisins.
Video: How to Grow Spinach By Learn How to Garden
6 Must-Grow Crops to Sow this Autumn