Video: Do- it- Yourself Almond Milk - It's Too Easy!
Dear brothers and sisters,
May we suggest an almond milk for Autumn:- In a blender add 3 cups of spring water followed by a heaping tablespoon of Alive, Organic Almond Butter. Press the button and voila! You have almond milk. It's that easy! But don't stop there. Go ahead, scoop out a pomegranate and add. Then, perhaps some diced apples, pears and Flame Raisins. How about dicing some Medjool and Halawi dates? Blend!                                                                 
Imagine starting your day with this effervescence.                                                                                    
Please except our best wishes for vibrant good health to you and your family.
Jesse Schwartz PhD
President
Living Tree Community Foods
Video: Top 10 Money Saving Crops by GrowVeg
Recipe: Pumpkin Spice Granola Bars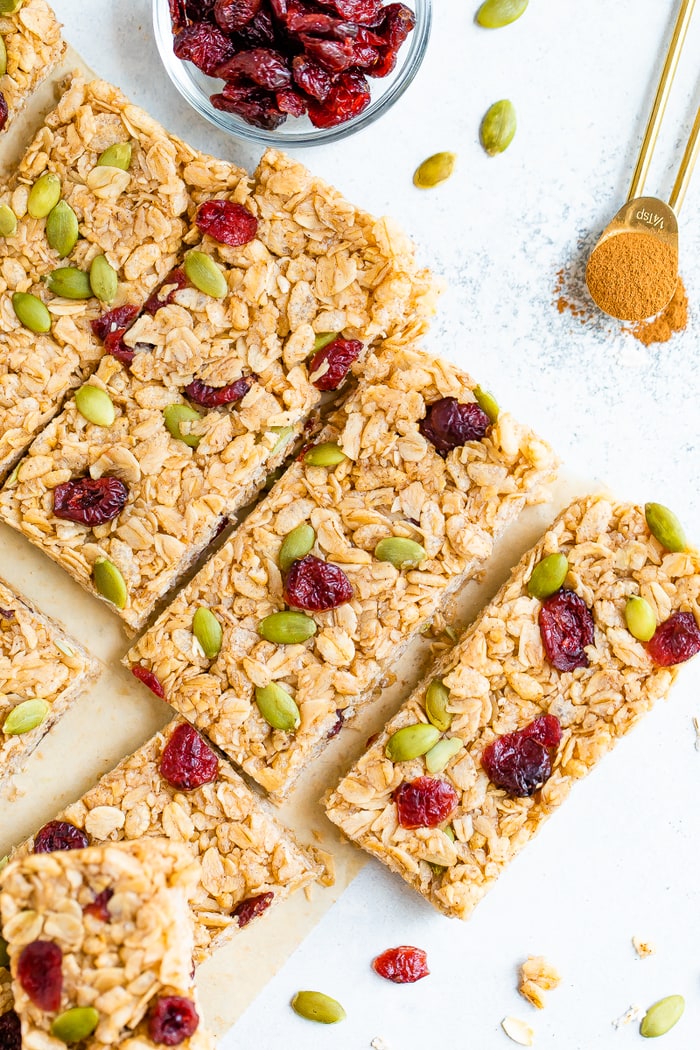 These healthy pumpkin spice granola bars are packed with dried cranberries, pepitas and delicious pumpkin spice flavor! They're crunchy, delicious and perfect for the fall season.
Ingredients
Instructions
Line an 8×8-inch square baking pan with parchment. I like to use binder clips to clamp the parchment down so the parchment stays in place.
In a large mixing bowl, combine oats, cereal, 1/8 cup of dried cranberries and 1 Tablespoon of pepitas. Set aside.
November Victory Garden Sale
10% off this month's featured items (Remember, if you buy 3 or more of any Living Tree manufactured product, you get an additional 10% off!)
Living Tree Community Foods Organic Black Sesame Tahini is created in Berkeley, California from alive, raw organic black sesame seeds grown by family farmers. We make it by slicing raw black sesame seeds into a luxurious spread then adding organic black sesame oil. An excellent source of calcium.
Living Tree Community Foods Organic Cashew Butter is created in Berkeley, California from organic cashews and our raw organic Almond Oil. It is produced slowly, in small batches, to give it a wondrous, creamy texture. It's perfect when paired with cucumbers, celery or even peppers. It's also a great topping for fruits and desserts. What a delightful way to add some variety to your lunches!
Living Tree Community Foods Organic Brazil Nut Butter is created in Berkeley, California from alive, raw brazil nuts gathered by native people in the rain forests of Amazonia. We make it by slicing raw brazil nuts into a luxurious spread and then seasoning it with a little Royal Himalayan Pink Crystal Salt. Brazil nuts are energy dense and highly nutritious. A great source of concentrated dietary selenium.
A Few Words From Our Wonderful Customers
I received my order today. I have to tell you that for the first time ever, I was able to place my own order. In the past, my daughter in law would have to do it for me because I'm visually impaired. She notified me last week that Living Tree has a new web site and that I should see if it was finally accessible to people like me. The verdict is that it's one of the easiest I've used. Thank you so much for caring about us glorious elders... Diana
Your tag line is SERIOUS! "Created for YOU..."
I have never written a love letter to a nut company before~ but I am so taken with your 'alive and organic ALMOND BUTTER' that it's hard to put the top back on the bottle!!
This is the tastiest, most delicious almond butter I've ever experienced in my 73 years on our beautiful Mother Earth!
Thank you for keeping me in mind when you created this product...("created for you" is totally believable!!!)
….Took me a while to find you~ but now that I have~I will be another of your devoted fans! (It will make a great gift for my siblings back East, too!)
Just had to ket you know how delighted I am!
Thank you for introducing the world to such high quality, bursting with flavor, and incredible textured nut butter!  My Universe has just expanded! (...and maybe my waist as well!)
Best regards and cheers!!!
Sara Jo West
Thank for for the excellent packaging and awesome products. Already looking forward to my next order. So glad I found your company!
Peace and Love,
Barbara
Video: The Horrific Treatment Of Dairy Cows For Bigger Profits with Ocean Robbins
The Impacts Of Large Scale Agriculture On The Health Of Our Food System by Philip Ackerman-Leist