INTRODUCING THE ORGANIC WALNUT BUTTER CHOCOLATE BAR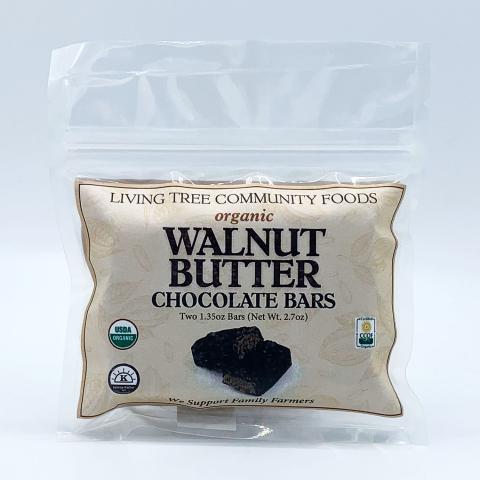 We are proud to announce Living Tree Community Foods' latest creation: The Organic Walnut Butter Chocolate Bar. Each package contains two organic vanilla chocolate bars filled with our famous organic walnut butter. The bars are elegantly wrapped in gold foil.
Living Tree chocolate has been an underground favorite of foodies and chocolate connoisseurs for years. The Organic Walnut Butter Chocolate Bar joins our expanding line of original creations that includes our other filled bars; Organic Almond Butter Chocolate Bar, Organic Cashew Butter Chocolate Bar, Organic Quinoa Crisp Brazil Nut Butter Chocolate Bar and Organic Spirit of Berkley Berry Bar. We also have traditional organic chocolate bars in Vanilla, Dark Chocolate and Spicy flavors as well as an Organic Coconut Quinoa Crisp Barque and an Organic Fruit and Nut Barque.
Our chocolate is highly unique and different from any other type on the market. We do a lot of weird things! Each product is made by hand in micro batches using a time-consuming and exacting process that requires perfect conditions for success. If it is too hot or too cold or too humid or rainy, the process will not work. Our chocolate is kept raw and tempered at a much lower temperature than conventional chocolate. We use no milk products, so our chocolate is vegan. We use no refined sugars, only coconut sugar.
When you bite into our chocolate you will be able to taste the intentionality, genius and care that went into getting the original cacao bean to your table.
Take a look at the video below and get a glimpse into how we prepare our chocolate bars.
Video: Time-Saving Garden Tips - Plan Now for Easy Success! By GrowVeg
Recipe: Vegan Cashew Cream Cheese
6 ingredient, easy to make, cream cheese. Perfect creamy, slightly tangy, spreadable, vegan cream cheese. Enjoy this plain as is, or use one of the additional recipes to make a fruit-flavoured spread or a garlic and herb spread.
Ingredients
1

cup

raw cashews,

softened (see below)

2

tablespoons

refined coconut oil

1

tablespoon

lemon juice

1

tablespoon

apple cider vinegar

2

teaspoons

white miso paste

¼

teaspoons

salt

or to taste
Instructions
To soften the cashews:
You can either boil or soak the cashews. To boil the cashews (the fast method): add the cashews to a small pot, cover with water, and boil for about 10 minutes until the cashews are very tender. To soak the cashews: add the cashews to a bowl, and cover with water. Let soak for 4 hours or overnight until tender. Drain and rinse cashews before using.
To make the vegan cashew cream cheese:
Add the softened cashews, coconut oil, lemon juice, apple cider vinegar, white miso paste, and salt to a food processor. Blend to get the mixture as smooth as possible, stopping to scrape the sides as needed.

Pour the cream cheese into a small dish, and smooth the top with a spatula. Cover, then let set in the fridge for 1 hour, or until ready to serve. The vegan cream cheese will firm up and become nice and spreadable. Store leftovers covered in the fridge for up to two weeks.
New! Items For February
New crop! Beautiful slices. What wonderful fruit salads you'll make!

As a symbol of hospitality, the pineapple has a cultural association with the idea of—welcome—and has been used traditionally as a gift when meeting someone new in cultures all over the world.

Pineapple also has many health benefits and is loaded with calcium, potassium, fiber, and vitamin C, and is rich in manganese, a trace mineral the body uses to build bone and connective tissues.
We are delighted to say that our Hawaiian macadamia nuts are back. Quality and flavor are superb.

Macadamia nuts contain a significant level of protein, comprising essential and non-essential amino acids.
Our macadamias are crisp, fresh and alive!
Buckwheat Groats are buckwheat seeds that have been hulled. Subtly flavored when raw, buckwheat develops an earthly, nutty taste when roasted, long used as a tasty cereal-type grain called kasha.

This gluten-free grain can be substituted for wheat, oats, rye or barley. You may also grind it into a flour to use in buckwheat pancakes or combine with wheat flour to use in baked goods.
February Victory Garden Sale
10% off this month's featured items (Remember, if you buy 3 or more of any Living Tree manufactured product, you get an additional 10% off!)
Living Tree Community Foods Organic Coconut Oil is Extra Virgin and Unrefined. The flavor is mild with a fresh coconut taste and a strong coconut aroma. The color will vary from white to very light yellow. The oil will liquefy around 80 degrees and then re-solidify with small crystalline structure if cooling rapidly or large crystalline structure if slowly.
Living Tree Community Foods California grown organic black olives are a tasty addition to salads. Cured in salt and then sundried and rolled in extra virgin olive oil. Contains sea salt, organic spices, olive oil. These olives contain pits.
Video: The Best Foods For A Raw Food Diet by Anna Maria Clement
Video: Massively Productive Small-Scale Suburban Vegetable Garden by Huw Richards