Video: Chickweed, Almond Blossoms and Renewal
The almonds are blossoming! The great Central Valley is alive in billowing white; the humming of bees is ecstatic! The rows upon rows of trees are dancing in ethereal splendor.
May we suggest that it's an orchestration for your progression from " sustainability" to regeneration and on to redemption. You will persevere, you will see us through.
You will build here a garden for the American spirit.
Jesse Schwartz PhD
President
Living Tree Community Foods
Video: What Can I Grow in February? by Nick's Allotment Diary
Recipe: Blueberry Baked Oatmeal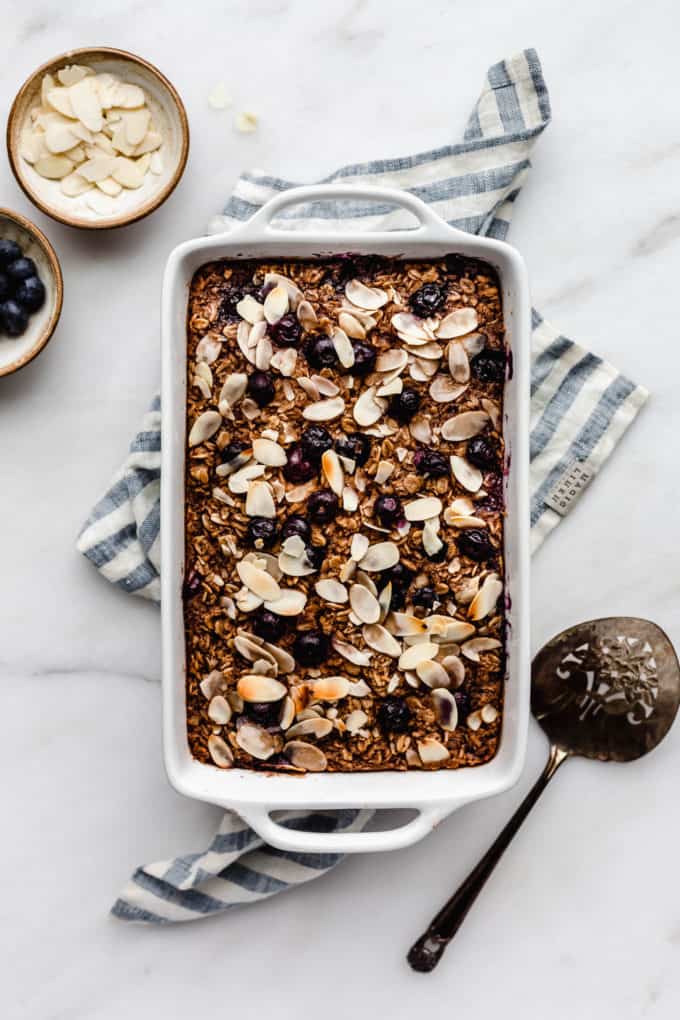 This Blueberry Baked Oatmeal is easy to make, packed with blueberries and perfect for a healthy breakfast or brunch! This recipe is made gluten-free (with gluten-free oats) and can easily be made vegan if needed.
Ingredients
Instructions
Preheat the oven to 350 degrees and spray an 8×8 inch baking dish with cooking spray.
Mix the oats, baking powder, cinnamon, salt, and coconut sugar together in a bowl.
In a separate bowl whisk together the coconut oil, egg, vanilla extract and milk.
Pour the wet ingredients into the dry ingredients and mix together, then mix in the coconut and blueberries.
Top with sliced almonds and more blueberries then transfer to the baking dish and bake for 40-45 minutes until golden brown on top. 
Optionally serve drizzled with maple syrup.
New! Items For March
New crop! Beautiful slices. What wonderful fruit salads you'll make!

As a symbol of hospitality, the pineapple has a cultural association with the idea of—welcome—and has been used traditionally as a gift when meeting someone new in cultures all over the world.

Pineapple also has many health benefits and is loaded with calcium, potassium, fiber, and vitamin C, and is rich in manganese, a trace mineral the body uses to build bone and connective tissues.
We are delighted to say that our Hawaiian macadamia nuts are back. Quality and flavor are superb.

Macadamia nuts contain a significant level of protein, comprising essential and non-essential amino acids.
Our macadamias are crisp, fresh and alive!
Buckwheat Groats are buckwheat seeds that have been hulled. Subtly flavored when raw, buckwheat develops an earthly, nutty taste when roasted, long used as a tasty cereal-type grain called kasha.

This gluten-free grain can be substituted for wheat, oats, rye or barley. You may also grind it into a flour to use in buckwheat pancakes or combine with wheat flour to use in baked goods.
March Victory Garden Sale
10% off this month's featured items (Remember, if you buy 3 or more of any Living Tree manufactured product, you get an additional 10% off!)
Living Tree Community Foods Organic Black Sesame Tahini is created in Berkeley, California from alive, raw organic black sesame seeds grown by family farmers. We make it by slicing raw black sesame seeds into a luxurious spread then adding organic black sesame oil. An excellent source of calcium.
Living Tree Community Foods raw, alive and organic are larger and softer than the more usual dark brown flax seed. They have a mild nutty flavor that enhances food or drink. These beautiful seeds are so nutritious. Grind in your seed mill or coffee grinder and sprinkle on everything you eat.
Living Tree Community Foods organic almond flour is produced from raw and alive nonpareil almonds grown by the Koretoff family, California family farmers of five generations. Rejoice in its moist, oily aliveness. What wonderful alive cookies and cakes you will make! Combine with honey, chopped dates and raisins for an alive pie shell. You'll think of many other creative uses!
Video: The Top Foods That Lead To Heart Disease by Dr. Caldwell Esselstyn
Video: The Problems With Cholesterol And Blood Pressure Lowering Drugs And How To Do It Naturally by Joel Fuhrman MD