Ingredients:
Organic Coconut Flakes, Organic Coconut Oil.
BPA - free glass packaging
Certified organic
Raw
Certified kosher
Living Tree Community Foods Organic Coconut Butter is created in Berkeley, California from alive, raw coconuts. We make it slowly, in small batches, to give it a wondrous, creamy texture. Try it on fruit slices. Goes so well with sliced dates, figs and raisins. Savor its fragrance and rich texture.
In our proprietary process, we make the raw coconut butter slowly, over several days. We slice the coconut and never grind. This preserves the flavors and properties of the coconut. We make it frequently, in small batches, so it's fresh and alive.
Packaged in a BPA-free Glass Jar.
Manufactured in a facility that processes tree nuts.
Country of Origin:
DISCLAIMER:- The products and claims made about specific products on this website have not been evaluated by the USDA and are not approved to diagnose, treat, cure or prevent disease.
The information provided here is for informational purposes only and is not intended as a substitute for advice from your physician. Before undertaking any change in lifestyle or diet, we urge you to seek the guidance and services of qualified, licensed health professionals.
"Coconut products modulate the thyroid. They help us produce sex hormones, which we know now are actually health hormones…protective effect on our nervous system. The best form of that is the coconut cream… if we can do 2 to 4 tablespoons of that a day that's very important and helpful to drive off the radiation from our thyroid…(it) gets the thyroid functioning a little bit more effectively…Tastes absolutely delicious and something you are going to want even more tablespoons of a day."
–David Wolfe
Image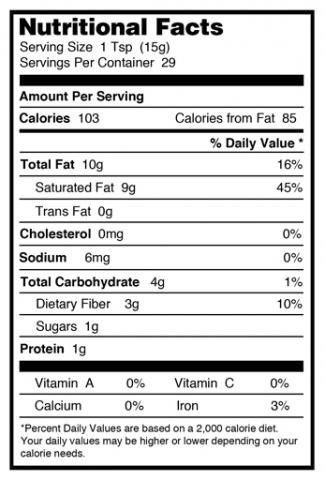 This is actual coconut butter, as in nut butter. It's delicious.