Share with friends & family

Ingredients:
Organic Cacao Nibs, Organic Coconut Sugar, Organic Cacao Butter, Organic Cayenne, Organic Ginger, Organic Vanilla.
Certified organic
Certified kosher
Living Tree Community Foods Raw, Alive and Organic Cayenne Chocolate Bar is made with cacao beans of exceptional quality from Ecuador. This raw chocolate is combined with organic cayenne for a kick. It is brimming with antioxidants, nutrients and is undiluted with fillers or overwhelmed by sweeteners.
"Some Like it Hot" Cayenne Chocolate is dedicated to Isadore Duncan, a trailblazing dancer whose emphasis on freer, naturalistic movement was a precursor to modern dance. She defied the strait-laced social mores of her day and was viewed as an early feminist.
Imagine giving this to the superwoman in your life!
"My art is just an effort to express the truth of my Being in gesture and movement."

Created in Berkeley, California, a well-spring of the human spirit.
Country of Origin: USA
DISCLAIMER:- The products and claims made about specific products on this website have not been evaluated by the USDA and are not approved to diagnose, treat, cure or prevent disease.
The information provided here is for informational purposes only and is not intended as a substitute for advice from your physician. Before undertaking any change in lifestyle or diet, we urge you to seek the guidance and services of qualified, licensed health professionals.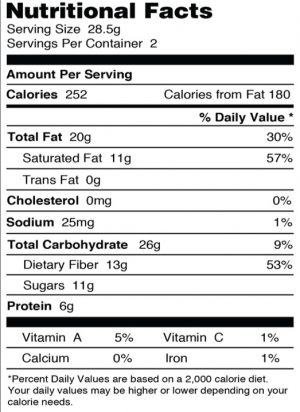 A delightful chocolate with a little kick! Give it a try!