Ingredients:
Certified Organic Coconut Oil.
BPA - free glass packaging
Certified organic
Certified kosher
Living Tree Community Foods Organic Coconut Oil is Extra Virgin and Unrefined. The flavor is mild with a fresh coconut taste and a strong coconut aroma. The color will vary from white to very light yellow. The oil will liquefy around 80 degrees and then re-solidify with small crystalline structure if cooling rapidly or large crystalline structure if slowly.
Coconut oil provides a source of medium chain triglycerides such as lauric and caprylic acid.
Due to the limited processing of this product some sediment or discoloration may occur at the bottom of the jar.
Is this oil raw? Our current research shows that traditionally processed unrefined EVCO goes through several procedures that can raise the heat of the white coconut meat above 115 °F.
Since there is not an industry standard with regard to calling traditionally processed EVCO raw, we've elected to uncheck the raw status of our 100% Organic EVCO on our product list.
Virgin or Extra-Virgin? Unlike olive oil, which has specific guidelines for the use of the terms Virgin and Extra Virgin, these terms are interchangeable with coconut oil. All coconut oil goes through one (virgin) pressing. There are no distinguishing features between traditionally processed Virgin and Extra Virgin Coconut Oil; they are the same product. We call ours Extra Virgin to match the description our supplier uses.
Packaged in a BPA-free Glass Jar.
Country of Origin: Phillippines
DISCLAIMER:- The products and claims made about specific products on this website have not been evaluated by the USDA and are not approved to diagnose, treat, cure or prevent disease.
The information provided here is for informational purposes only and is not intended as a substitute for advice from your physician. Before undertaking any change in lifestyle or diet, we urge you to seek the guidance and services of qualified, licensed health professionals.
Image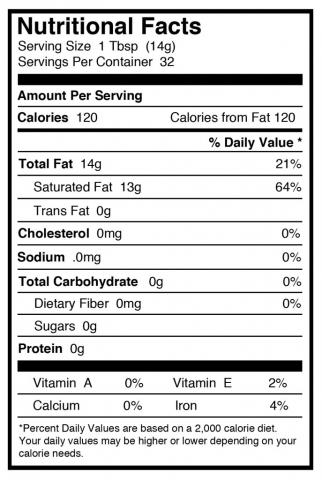 I bought some of your olive oil and coconut oil at the Wedge Coop.
Fantastic! – the coconut oil is so incredibly healing! – by far the best I've ever tried!
I didn't think the brand would matter – but I thought I'd spring for the extra dough and try yours – and glad I did.
I finished the last of my non-Living Tree coconut oil last night, so tonight I opened my LT jar. Oh my. I will definitely be turning to you for all future coconut oil purchases — your coconut oil is AMAZING! It's like essence of coconut, or possibly coconut to the tenth power. I sauteed some fresh chicory leaves in a spoonful today, and the coconut oil added a whole new dimension to the flavor.