Newsletter 2.12.17
Video: Marcelle Makes Macadamia-Cashew Cheese
Dear brothers and sisters,
Marcelle, our glorious intern, shows you how to make Macadamia-Cashew Cheese. How well it goes on a wide variety of foods. Imagine it on apple slices or on bread, rolls or bagels. What a topping for an alive pie or desserts! Imagine with pasta!
With so much appreciation,
Jesse Schwartz PhD
President
Living Tree Community Foods
---
Recipe: Chocolate Cherry Blossom Cheese
We urge you to visit her wonderful website.
Chocolate Cherry Blossom Cheese
2 cups raw organic cashews (soak overnight in filtered water)
1 cup filtered water
1 tsp. acidophilus probiotic 4
Directions:
Rinse and drain the cashews until the water runs clear. Place them in a Vitamix with the filtered water. Blend them until creamy smooth. Test the mixture with your fingers and make sure there is no grittiness in the cheese. Add the acidophilus and blend until evenly distributed. Take a stainless steel bowl, a strainer, and some cheesecloth. Fold the cheesecloth in half and lay it in the strainer. Rest the strainer over the stainless bowl so that the excess water will drip into the bowl. It cheese cloth must overlap the strainer edges by quite a bit since you will be folding it over to cover the cheese. Remove the cheese from the Vitamix and place it in the center of the cheesecloth and strainer. Fold the cheesecloth over the cheese and completely cover it. Place a heavy weight of approximately 1 lb. on top of the cheese. This will press the whey out of the cheese into the stainless steel bowl. Let the cheese sit on the counter for 24 hours. This will cause it to naturally ferment.
Milk Chocolate
Note: This is a tempered chocolate recipe.
Ingredients:
2 cups shaved organic cacao butter (Living Tree Community Foods)
3/4 cups organic cacao powder (Living Tree Community Foods)
1/3 cup raw chopped cashews
2 tbsp. Sun Warrior Protein Powder
1/4 tsp. Himalayan salt
1/4 tsp. vanilla powder
1/2 cup xylitol powder
Note: This recipe needs to be prepared twice. The Vitamix can only handle one recipe at a time. One of the recipes needs to be placed in a sealed container, placed in the refrigerator, and allowed to harden into a block of chocolate.
Directions:
Supplies Needed:
Digital thermometer, a sheet of parchment paper, a squirt bottle, latex gloves, two clean spatulas, a stainless steel bowl, and two heart candy molds. Place the molds on a teflex sheet. Clear out a space in the refrigerator to fit the teflex sheet into. Place the molds on one end of the teflex sheet and a sheet of parchment paper on the other end. Make sure that all of the supplies are completely dried. Make sure that the Vitamix container is totally free of any moisture because the recipe will be ruined otherwise.
Note: The xylitol powder is too gritty for chocolate and must be ground more. Take the xylitol powder and place it into the Vitamix dry blender. Blend until it is a very fine powder. Chop the cashews into fine pieces. Sliver the cacao butter by shaving it. Take all of the ingredients and place them into a Vitamix. Turn the Vitamix on medium to high setting. Use the tamper the whole time you are blending because the Vitamix will over heat if you no not help it with the tamper. About 1 minute into the blending, turn the Vitamix off and scrape down the sides of the container with a spatula. Turn the Vitamix back on and keep mixing with the tamper. Monitor the temperature until it reaches 42 degrees. Do not scrape the sides down once it becomes liquid because when the chocolate reaches 42 degrees, only the middle will be suitable for use. Take a large stainless steel bowl and a spatula. Pour the liquid part of the chocolate into the stainless steel bowl. Bring the temperature down to 31.5 degrees by stirring the chocolate continuously in the stainless bowl with a clean spatula. Carefully fill the squirt bottle up with chocolate. Swirl the chocolate onto the parchment paper in circles. Make a row of swirls that join together on the paper like a spider web. Next, fill up the heart molds with chocolate from the squirt bottle. Place the teflex sheet into the refrigerator for 15 minutes.
Cheese Ingredients:
1 8oz. bag of dried Montmorency cherries (Trader Joe's)
4 tsp. of Cherry Cabernet Vinegar (Napa Valley)
2 tbsp. organic maple syrup
1/4 tsp. pink Himalayan salt
1 tsp. extra virgin cold pressed olive oil
1/4 tsp. smoked paprika powder
1 cup chopped pistachios
1/2 cup chocolate slivers from chocolate block (above)
---
Featured Item: Golden Turmeric Butter – Alive & Organic

Beginning with turmeric, we have added raisins, honey, sesame and spices to bring you a delightful spreadable. We urge you to research what people are saying about the qualities of turmeric.
---
Alive Bonus Program – Pumpkin Seeds, Heritage Olive Oil, Lively Chocolate Gift Pack and Alive Almond Butter
We are celebrating the launch of our new website by offering an extra bonus of a half pound of Alive, Organic Oregon Grown Pumpkin Seeds with every order of $70 or more. We invite you to taste their goodness and rejoice in their appearance.
Visit the Pumpkin Seed page!
---
New! Items For February

We have just received a new shipment of medjools. They are magnificent. Just the thing to lift the drear of winter. Rejoice with them! Your friends and family will be pleased.

We feel privileged to bring you this Canadian honey.
Profoundly rich, buttery flavor. Try on a slice of apple. Blend into almond or coconut milk. Lends itself to alive confections.
This honey originates in the sweet clover meadows of British Columbia and Alberta.
Its ecstatic!
We have created a nut butter from alive macadamia nuts that is rich, luxurious and ecstatic! A dessert in itself or use as a topping on sliced fruit or veggies.
Created from macadamias grown on the Big Island of Hawaii. They are sustainably grown without pesticides, herbicides or chemical fertilizers. Not certified organic.

This, our creation, is dedicated to Isadore Duncan, a trailblazing dancer whose emphasis on freer, naturalistic movement was a precursor to modern dance. She defied the straightlaced social mores of her day and was viewed as an early feminist.
For the super-woman in your life!

Amaze family and friends at your Thanksgiving table with jujubes. These are Chinese date apples. A unique flavor and taste. Grown for you by Judith Redmond with Full Belly Farms, an outstanding family farmer here in California.
February Victory Garden Sale
20% off this month's featured items

Our Organic Raw Black Sesame Tahini is a glorious, shining black. Made from organic UNHULLED black sesame seeds.The taste is profoundly sesame – robust and enlivening. This is our original creation (others have since tried to copy it). We presented it to the organic food industry at the Natural Products Expo in Anaheim, California in March 2003. People were delighted, they called it "caviar"!
An excellent source of calcium.

At Gettysburg, Abe Lincoln said "…this nation shall have a new birth of freedom…" We have named our creation "a new birth" signifying our quiet confidence in your ability to realize Lincoln's prophecy, of renewal and restoration. In our understanding, brothers and sisters, the task of your generation is one of redemption – to heal this great land. Accordingly, we celebrate you with a sea of chocolate. You have our vote!

Our Cherry Chocolate Butter brings together organic almonds, cacao, cherries, honey, vanilla, coconut oil and a dash of salt for a profound, chocolatey flavor. Both the organic almonds and cherries are grown by California family farmers. Use this decadent topping on fruit slices or ice cream.
Natural Cold Remedies: What Works, What Doesn't

(Mercola) Your nose is running, your eyes are itchy and watery, you have a low-grade fever and you've been sneezing all day. You probably have a cold. They are the leading cause of doctor visits and missed days at work and school. The average adult in America will suffer between two and four colds each year.
Despite advancements in medical care and treatment, traditional western medicine has little to offer in the care and treatment of the common cold. That's because the cold is caused by a virus and not bacteria. This is important because antibiotics work only against bacteria and not against viruses.
Most uncomplicated colds last between two days and two weeks, depending upon the specific virus and your overall general health. Oftentimes over-the-counter cold remedies don't speed your recovery and can actually prolong your suffering.
Many remedies contain aspirin, acetaminophen (Tylenol) or ibuprofen (Advil), all of which may suppress your body's ability to produce antibodies and fight the cold. This is completely opposite of your goal to get better as quickly as possible.
Although your physician may offer antiviral medications, such as Tamiflu, they are not effective against the common cold and carry specific risks worse than the cold they are meant to treat, and may be more ineffective than advertised.
The answer to treating your cold does not lie in the medicine cabinet. Use a combination of lifestyle choices, herbal remedies and vitamin supplementation to fight the virus and support your immune system in defense against viral attacks.
---
The time for glyphosate-based herbicides is over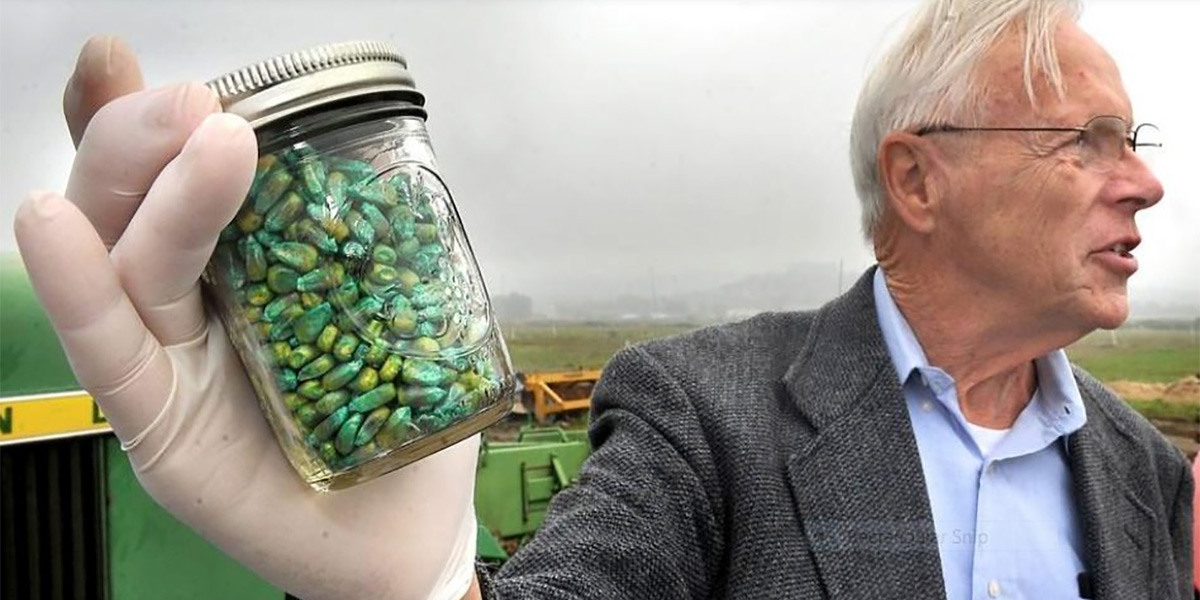 (GM Watch) In February last year a group of international scientists published a consensus statement drawing attention to the risks posed by rising levels of exposure to glyphosate-based herbicides (GBHs), especially in the light of glyphosate's classification by the World Health Organization's cancer agency IARC as a probable carcinogen. The scientists noted endocrine (hormone) disrupting effects of glyphosate herbicides in test-tube experiments and called for more studies to clarify whether levels present in foods and the environment can cause such effects in living humans.
Endocrine disruptors (EDs) have harmful effects on experimental mammals that are widely used as human surrogates at concentrations as low as parts per billion (ppb) and below.
Later in the year, the New York Times reported that GM glyphosate-tolerant crops have significantly increased the use of glyphosate-based herbicides in the US. This news was closely followed by the publication of a report by Food Democracy Now and the Detox Project showing high levels of glyphosate residues in popular foods and drinks.

Want to help promote
our work? Send
this Newsletter to your friends.
To place
an order please go
to our web site.
Disclaimer: The entire contents of this website are based upon the opinions of Living Tree Community Foods, unless otherwise noted. Individual articles are based upon the opinions of the respective author, who retains copyright as marked. The information on this website is not intended to replace a one-on-one relationship with a qualified health care professional and is not intended as medical advice. Living Tree Community Foods encourages you to make your own health care decisions based upon your research and in partnership with a qualified health care professional.