Newsletter 12.26.19
Newsletter December 26, 2019
Video: Deciphering The Standard American Diet
Dear brothers and sisters,
It seems that there is a tidal wave of heavily processed foods. As Manya Goldstein tells us in her article, "The United States Has an Epidemic of Processed Food-and its Killing Us":-
More than 60 percent of the American diet consists of highly processed foods — foods that have been taken apart and put back together again with various combinations of sugar, salt, oil and additives. It's no surprise that junk food and frozen dinners fall into this category, but many innocent-looking kitchen staples do as well. For instance, the majority of industrially-produced breads are intricate concoctions of refined grains, sugars, emulsifiers, dough conditioners and preservatives. Oh, and we can't forget the synthetic vitamins added back in to make up for the nutrients stripped away during processing.
That's right-60% of the food we eat is heavily processed, 30% consists of animal products and a mere 10% is of whole plants. Heavily processed foods are largely devoid of antioxidants, fiber and nutrients.
Professor Carlos Monteiro with the University of Sao Paulo maintains that "consumption of ultra-processed food and drink products, especially since the 1980s, is the main dietary cause of the concurrent rapid rise in obesity and related diseases throughout the world."
According to Dr.Mercola,"With nearly 7 out of 10 Americans being overweight, and 1 in 4 being affected with diabetes or pre-diabetes, the heavily processed standard American diet, SAD, is clearly in dire need of a radical overhaul.
We urge you to watch this brilliant exposition on the consequences of heavily processed foods by Dr. Joel Fuhrman.
We want to hear from you.Your comments are invaluable.
Please accept our best wishes to you and family for good health, prosperity and success.
Jesse Schwartz PhD
President
Living Tree Community Foods
Video: Plant-Based Diets Work Because They Address The Root Causes of Chronic Diseases
Why Fake Meat and Eliminating Livestock Are Really Bad Ideas
(Mercola) As noted in "Ditching Nature in Favor of Fake Food Is Not the Solution to Destructive Factory Farming" by Dr. Joseph Mercola:
"Industrial agriculture is one of the most unsustainable practices of modern civilization. The 'bigger is better' food system has reached a point where its real costs have become readily apparent.
Like water running down an open drain, the Earth's natural resources are disappearing quickly, as industrialized farming drives air pollution, water pollution, deforestation, rising carbon emissions and the depletion, erosion and poisoning of soils.
The long-term answer, however, lies in the transition to sustainable, regenerative, chemical-free farming practices, not in the creation of food manufacturing techniques that replace farms with chemistry labs, which is the 'environmentally friendly' alternative envisioned by biotech startups and its chemists."
As a campaigner for organic and regenerative food, and a critic of fast food, GMOs and factory farms for over 40 years, I am alarmed and disgusted by the degenerate state of food and farming in the United States.
Not only are misguided farmers, ignorant and corrupt public officials, greedy investors, food corporations and mindless consumers destroying their health and the health of their families through their everyday production practices and food choices, but our Fast Food Nation is rapidly degrading the health of the environment and the climate and life-support systems of our planet as well.
Recipe: Raw Cinnamon Bun Cake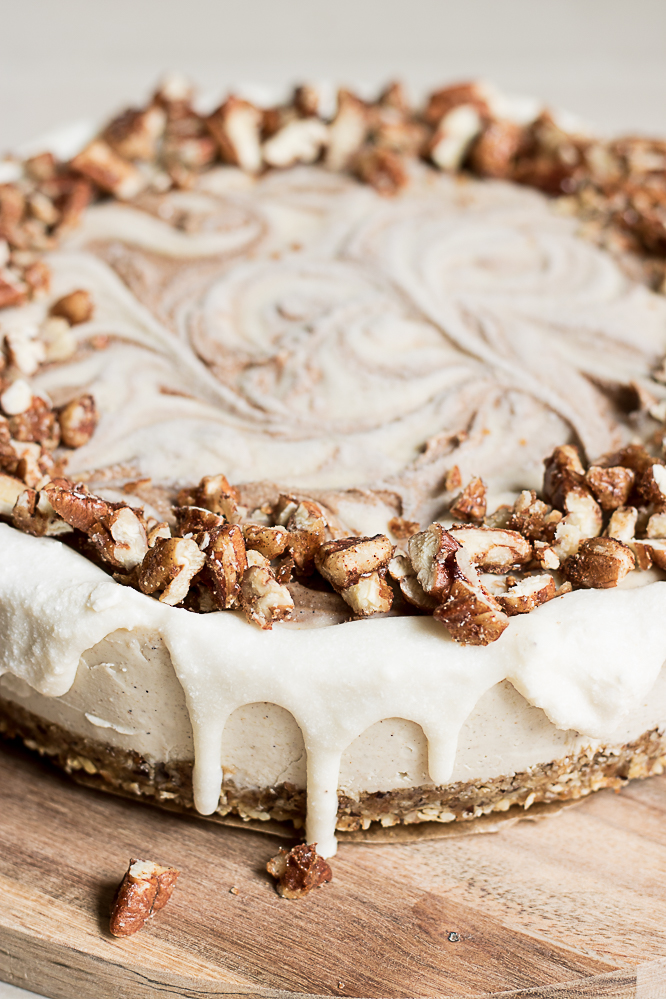 A buttery pecan oat crust, cardamom vanilla filling and a sweet cinnamon swirl topped with melted creamed coconut and cinnamon candied pecans.
Ingredients
Crust
1 cup pecans
1/2 cup oats
1/2 cup cashews
3 tbsp coconut sugar
10-12 fresh dates
1/8 tsp salt
1/4 tsp cinnamon
Cinnamon swirl
1,5 cups soaked cashews
1/2 cup coconut nectar or agave syrup
3,5 tsp cinnamon
1 tsp vanilla powder
1/8 tsp salt
1/4 cup coconut oil
Give the Gift of Alive & Organic Foods This Holiday Season
Available in $25, $50, $75 and $100
Give the gift of Alive & Organic foods with a Living Tree Community Foods Gift Card.
Special December Oil Sale – Almond Oil & Golden Flax Seed Oil
On sale for $19.99! – Was $22.99
Our Living Tree Alive, Organic Sweet Almond Oil is Cold-Pressed and made from California almonds grown by family farmers. Not only is it a magnificent salad dressing, but it is a sensuous and aromatic massage oil.
Sweet Almond Oil has long been known as being beneficial for health and beauty.
It is rich in Linoleic Acid (up to 28%!). Linoleic Acid is an essential Omega-6 fatty acid. Additionally, it is rich in naturally occurring Vitamins A, B1, B2, B6, and is high in mono and polyunsaturated fatty acids, proteins, minerals, and glycosides. The result is a unique oil that leaves skin feeling healthy protected and nourished. Use this oil as an alternative to lotions and experience its healing properties!
It is high in vitamin D and E as well as minerals like magnesium and calcium.
Use in recipes as you would use olive oil.
Imagine! A salad dressing from Living Tree Almond Oil,Black Sesame Oil and Olive Oil.
Sale Ends January 2nd, 2020
On Sale for $13.99 – Was $16.99
This Cold-Pressed oil has a delightfully nutty, buttery flavor. We think you'll agree that it's the best tasting flax oil. Rich in Omega-3 and Omega-6.
Flax lignans are phytonutrients found in unrefined grains, legumes, certain vegetables and seeds. Flax is the richest source of lignans, providing more lignans than most other plant sources. Flax lignan is one of the hottest natural health ingredients in the market place. Flax has been valued for centuries for its good flavor and nutritional properties.
Sale Ends January 2nd, 2020
Alive, Organic Bonus Program – Organic Nuts and Free Shipping
---
New! Items For January
We are delighted to offer our Olio Nuevo High Polyphenol Olive Oil, our Black Cumin Seed Oil and our Black Sesame Oil as an aliveness pack.
All alive and organic in 250ml bottles.
A value of $80.96, yours for $70.97 a savings of $9.99.
Made from Hawaiian Macadamia nuts that have just arrived. We invite you to taste their aliveness in this outstanding nut butter.
We are delighted to say that our Hawaiian macadamia nuts are back. They are crisp, fresh and alive! Quality and flavor are superb. Macadamia nuts contain a significant level of protein, comprising essential and non-essential amino acids.
The first pressing is here.The ultra-green first bottling of the new crop! It has a robust, creamy texture and heightened notes of fruit, grass and pepper. Rejoice in its glorious plume of particulate matter!
Over 250 years ago olive trees were first planted in California by the Spanish missions. The varietal they planted has come down to us. It is called the Mission olive.
The lab results on the new crop are here. It has a polyphenol content rated at 395 ppm (parts per million). That's 78% above the 222 average for most extra virgin olive oils.
It contains high levels of the phenols oleocanthal and oleacein. Oleocanthal is an anti-inflammatory and oleacein is a powerful antioxidant. As inflammation is related to various other diseases, polyphenols help fight them including cardiovascular problems. Antioxidants improve body functions such as digestion and skin condition. They heal cell damage and enhance the body's immunity, its ability to fight off diseases.
Now in an economical 750ml bottle.
Gathered by native people in the rain forests of Amazonia. The Brazil nut tree is enormous, reaching a height of 100 to 150 feet or more and can live a life of 500 to 800 years!
Brazil nuts are a concentrated dietary source of selenium, a trace element your body needs for proper functioning.
Created from hazelnuts grown by Oregon family farmers and from almonds grown by California family farmers.
January Victory Garden Sale
10% off this month's featured items (Remember, if you buy 3 or more of any Living Tree manufactured product, you get an additional 10% off!)

We've put our popular alive, organic walnut butter into a 16ounce jar. This means a savings to you.We make it by slicing raw walnuts into a luxurious spread then seasoning it with a little Royal Himalayan Pink Crystal Salt. Try it on apple slices or carrot sticks, with some raisins and honey drizzled on top.

This Cashew Butter is sweet and creamy. It's made from Organic Cashews and our raw Organic Almond Oil. It's perfect with when paired with cucumbers, celery or even peppers. It's also a great topping for fruits and desserts. What a delightful way to add some variety to your lunches!

Starting with almonds grown by California family farmers, we've added Brazil Nuts. We've added cashews for smoothness and spreadability along with California sundried raisins, honey for delight and a pinch of Royal Himalayan Pink Crystal Salt to bring out the flavors. Our almonds are grown by a California farming family of five generations.
Study: Choose Avocados to Help Reduce Risk for Obesity and Diabetes
(Mercola) Avocados are rich in monounsaturated fat your body burns easily for energy. They may be one of the healthiest foods you can eat every day as they help protect your heart and optimize your cholesterol. They also are rich in fiber.
Together with high amounts of several essential vitamins and minerals, including the B vitamins, potassium and vitamin K, the avocado is a fruit you may want to consider for more than guacamole. Adding avocados to salad also helps your body to absorb three to five times more carotenoids, helping your body fight against free radical damage.
An average sized avocado also contains about 10% of the recommended daily value of magnesium, a mineral used by every organ in your body. Insufficient levels may lead to unexplained muscle fatigue or weakness, abnormal heart rhythms or muscle spasms.
Avocados are also surprisingly high in fiber, which plays an important role in digestive, heart and skin health. Fiber is also important in helping to regulate blood sugar and weight management. One study found eating one-half of a fresh avocado with lunch may help you feel full longer and prevent snacking later.
Avocados don't ripen on the tree, but only after they're picked. Choose firm avocados, as they will keep in the refrigerator for a couple of weeks, ripening slowly. On your counter, they will ripen within a few days. After you cut it, an avocado will turn brown from oxidation.
What Advice Do You Have To Prevent Memory Loss?
Opportunities at Living Tree Community Foods
Lively Organic Bookkeeper
We are seeking a full charge bookkeeper. Someone with experience with Quickbooks, bank reconciliations, vendor 1099s, Excel and payroll. Someone who can take the initiative in financial analysis.
We offer flexible hours.
We are seeking a someone in wholehearted empathy with alive, organic food.
At Living Tree Community Foods we manufacture organic nut butters, oils and chocolates. We are an ethical business and treat our colleagues and clients with kindness and respect. We are celebrating our 40th anniversary. We invite you to visit our website to learn more about our work www.livingtreecommunity.com We also suggest that you visit our YouTube channel.
We are located in Berkeley, California one of the world's great centers of learning. Over 25 Nobel Prize winners have taught here.
Jesse Schwartz, PhD
President
Living Tree Community Foods
---
We Welcome Investors
The U.S. organic market in 2018 broke through the $50 billion mark for the first time, with sales hitting a record $52.5 billion, up 6.3 percent from the previous year, according to the 2019 Organic Industry Survey released by the Organic Trade Association.
Characteristics that are identified with organic, such as clean, transparent, fresh and sustainable helped boost organic sales to unprecedented levels, according to the survey.
New records were made in both the organic food market and the organic non-food market. Organic food sales reached $47.9 billion, for an increase of 5.9 percent. Sales of organic non-food products jumped by 10.6 percent to $4.6 billion. The growth rate for organic continued to easily outpace the general market: in 2018, total food sales in the U.S. edged up just 2.3 percent while total non-food sales rose 3.7 percent.
Almost 6 percent (5.7%) of the food sold in this country is now organic. Today's consumers can find organic products – food and non-food items — in every aisle of their grocery stores. They can choose organic in their favorite big box store, their club warehouse store, even in their neighborhood convenience store, and increasingly on the internet. Organic is no longer a niche market.
Thanks to your kind support, we too are growing. We wish to hire more teamworkers and to purchase tools and equipment. We are seeking long term, stable capital. If taking a strategic position in the organic food industry appeals to you, let's talk!
Jesse Schwartz, PhD
President
Living Tree Community Foods

Want to help promote
our work? Send
this Newsletter to your friends.
To place
an order please go
to our web site.
Disclaimer: The entire contents of this website are based upon the opinions of Living Tree Community Foods, unless otherwise noted. Individual articles are based upon the opinions of the respective author, who retains copyright as marked. The information on this website is not intended to replace a one-on-one relationship with a qualified health care professional and is not intended as medical advice. Living Tree Community Foods encourages you to make your own health care decisions based upon your research and in partnership with a qualified health care professional.