Newsletter 11.27.19
Video: A Visit with Footprint Farm
Dear brothers and sisters,
Here is a video filled with aliveness featuring the Taylor and Jake Mendell.They have created a magnificent family farm in Vermont.
They are setting an example for all of us of what can be accomplished by perseverance and persistence. Not only are they healing the earth but on a deeper level, they are healing the soul of this great country and helping us to move from sustainability to regeneration.The video is brought to you by the Real Organic Project. They are in the frontline against the erosion of organic standards.
Vegetables and fruit grown hydroponically in chemical soup can now be organic and so can milk and meat from animals confined in buildings amidst filth and stench. There is even talk now of permitting GMO's to be organic! The assault is relentless.
The Real Organic Project are in the frontline against the erosion of organic standards. We urge you to visit their website and support their work.
Please accept our best wishes to you and family for good health, prosperity and success.
Jesse Schwartz PhD
President
Living Tree Community Foods
Video: Joel Fuhrman M.D. – Some People Say Beans And Grains Didn't Exist 10,000 Years Ago And This Means We Should Eat Animal
Recipe: Healthy Apple Crumble Bars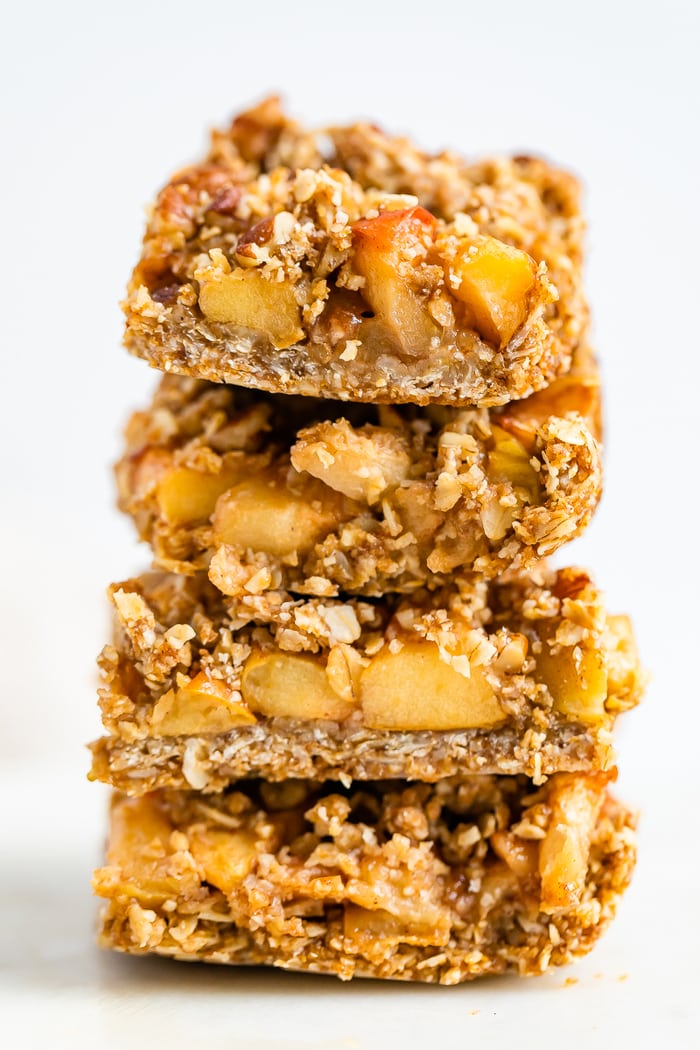 Healthy apple crumble bars made with wholesome ingredients and fresh apples. You'll love the cinnamon apple filling paired with the oatmeal crumble topping!
Ingredients
Crumble Crust and Topping
2 cups rolled oats, divided
7 Tablespoons coconut oil, room temperature/solid
1/2 cup coconut sugar
1/2 teaspoon sea salt
2 Tablespoons chopped pecans
Apple Filling
3 cups diced apples
1 teaspoon cinnamon
⅛ teaspoon nutmeg
1 teaspoon vanilla
1/4 cup water
1 Tablespoon arrowroot powder or cornstarch
Alive, Organic Bonus Program – Organic Nuts and Free Shipping
---
New! Items For December
Made from Hawaiian Macadamia nuts that have just arrived. We invite you to taste their aliveness in this outstanding nut butter.
We are delighted to say that our Hawaiian macadamia nuts are back. They are crisp, fresh and alive! Quality and flavor are superb. Macadamia nuts contain a significant level of protein, comprising essential and non-essential amino acids.
The first pressing is here.The ultra-green first bottling of the new crop! It has a robust, creamy texture and heightened notes of fruit, grass and pepper. Rejoice in its glorious plume of particulate matter!
Over 250 years ago olive trees were first planted in California by the Spanish missions. The varietal they planted has come down to us. It is called the Mission olive.
The lab results on the new crop are here. It has a polyphenol content rated at 395 ppm (parts per million). That's 78% above the 222 average for most extra virgin olive oils.
It contains high levels of the phenols oleocanthal and oleacein. Oleocanthal is an anti-inflammatory and oleacein is a powerful antioxidant. As inflammation is related to various other diseases, polyphenols help fight them including cardiovascular problems. Antioxidants improve body functions such as digestion and skin condition. They heal cell damage and enhance the body's immunity, its ability to fight off diseases.
Now in an economical 750ml bottle.
Gathered by native people in the rain forests of Amazonia. The Brazil nut tree is enormous, reaching a height of 100 to 150 feet or more and can live a life of 500 to 800 years!
Brazil nuts are a concentrated dietary source of selenium, a trace element your body needs for proper functioning.
Ziziphus jujuba Chinese date apples are here! Experience their refreshingly pleasant flavor. They've been cultivated in China for more than 4,000 years. Jujubes are red outside with a crispy texture, edible skin, and a sweet-tart flavor. Grown for you by Judith Redmond with Full Belly Farms, an outstanding family farmer here in California.
Jujuberries contain a wide array of nutrients, including magnesium, potassium, copper, niacin, calcium, manganese, phosphorus, and iron. They contain 20 times more vitamin C than any citrus fruit, strengthening the immune system and fighting infections, which may be why they've been used medicinally for millennia in many cultures, as a tea for sore throat, for example.
Created from hazelnuts grown by Oregon family farmers and from almonds grown by California family farmers.
December Victory Garden Sale
10% off this month's featured items (Remember, if you buy 3 or more of any Living Tree manufactured product, you get an additional 10% off!)

Our Organic Raw Black Sesame Tahini is a glorious, shining black. Made from organic UNHULLED black sesame seeds.The taste is profoundly sesame – robust and enlivening. This is our original creation (others have since tried to copy it). We presented it to the organic food industry at the Natural Products Expo in Anaheim, California in March 2003. People were delighted, they called it "caviar"!

We make our Organic Walnut Butter by slicing raw walnuts into a luxurious spread then seasoning it with a little Royal Himalayan Pink Crystal Salt. Try this delicious Walnut Butter on apple slices or carrot sticks, with a few raisins or a little honey drizzled on top.

90% of the world's almonds are grown in California's Central Valley. It is bounded to the east by the towering Sierras and to the west by the coastal mountain range. Its rich, alluvial soil is wondrously fertile. This great plain is a sea of white in February when the almonds blossom. The orchards are irrigated by water from melting snow high in the Sierras. It is brought to them by a marvelous system of canals. California almonds are sweeter and their flavor is richer and more complex. Imported almond cannot compare. California almonds are simply the best.
This Family Converted To An All Organic Diet And The Difference It Made Was Incredible
(Oh My Mag) After finding out that their bodies were full of pesticides because of the foods they were eating every day, the members of this family decided to only eat organic products for two weeks. But they didn't expect such big changes.
Although we all know it, to produce most of the foods that we eat on a day to day basis, we need to use lots of pesticides which are believed to be bad for us. However, the price of organic foods can put some people off regularly buying them.
This is exactly the case of this Swedish family who decided to embark on a little experiment. Although scientists already know about the effects that pesticides have on food, their effects on the human body are still largely unknown.
But after carrying out analysis on urine samples taken from five members of this family, scientists discovered that there were a large number of pesticides, fungicides and other chemical products, used to produce fruit and veg for example, in each of the samples.
Therefore, the family decided to switch to eating purely organic products for two weeks and at the end of the experiment, they would have their urine analysed again.
4 Super-Hardy Salad Leaves to Grow in Winter
Opportunities at Living Tree Community Foods
We Welcome Investors
The U.S. organic market in 2018 broke through the $50 billion mark for the first time, with sales hitting a record $52.5 billion, up 6.3 percent from the previous year, according to the 2019 Organic Industry Survey released by the Organic Trade Association.
Characteristics that are identified with organic, such as clean, transparent, fresh and sustainable helped boost organic sales to unprecedented levels, according to the survey.
New records were made in both the organic food market and the organic non-food market. Organic food sales reached $47.9 billion, for an increase of 5.9 percent. Sales of organic non-food products jumped by 10.6 percent to $4.6 billion. The growth rate for organic continued to easily outpace the general market: in 2018, total food sales in the U.S. edged up just 2.3 percent while total non-food sales rose 3.7 percent.
Almost 6 percent (5.7%) of the food sold in this country is now organic. Today's consumers can find organic products – food and non-food items — in every aisle of their grocery stores. They can choose organic in their favorite big box store, their club warehouse store, even in their neighborhood convenience store, and increasingly on the internet. Organic is no longer a niche market.
Thanks to your kind support, we too are growing. We wish to hire more teamworkers and to purchase tools and equipment. We are seeking long term, stable capital. If taking a strategic position in the organic food industry appeals to you, let's talk!
Jesse Schwartz, PhD
President
Living Tree Community Foods
---
Consider An Alive, Organic Internship
This is for someone interested in building a career in the organic food industry. We offer a well-rounded program of training in sales and marketing of organic foods as well as manufacturing of organic nut butters, oils and chocolates.
We take pride in supporting family farmers and your internship will include visits to outstanding organic farms.
At Living Tree Community Foods we manufacture organic nut butters, oils and chocolates. We are an ethical business and treat our colleagues and clients with kindness and respect. We are celebrating our 40th anniversary. We invite you to visit our website to learn more about our work www.livingtreecommunity.com We also suggest that you visit our YouTube channel.
We are located in Berkeley, California one of the world's great centers of learning. Over 25 Nobel Prize winners have taught here.
Jesse Schwartz, PhD
President
Living Tree Community Foods

Want to help promote
our work? Send
this Newsletter to your friends.
To place
an order please go
to our web site.
Disclaimer: The entire contents of this website are based upon the opinions of Living Tree Community Foods, unless otherwise noted. Individual articles are based upon the opinions of the respective author, who retains copyright as marked. The information on this website is not intended to replace a one-on-one relationship with a qualified health care professional and is not intended as medical advice. Living Tree Community Foods encourages you to make your own health care decisions based upon your research and in partnership with a qualified health care professional.