Newsletter 09.04.19
Video: America Has The Worst Healthy Life Expectancy Of All 17 Most Industrialized Countries
Video: 5 Seeds You can Still Plant in September
Recipe: Raw Mango Lassi

A vegan version of the traditional Indian mango lassi yogurt dessert drink. Refined sugar-free.
Ingredients
1/2 cup non-dairy milk (I used unsweetened vanilla almond milk)
Heaping 1/2 cup frozen mango chunks
2 tbsp raw cashews
1 1/2 tbsp maple syrup
1 1/2 tbsp lemon juice
dash of salt
tiniest pinch of cardamom and turmeric (less than an 1/8 tsp each spice)
Alive, Organic Bonus Program – Organic Nuts and Free Shipping
---
New! Items For September
As you know we've been out of alive, organic macadamias all year.We were getting them from Hawaii but they've become unavailable. We've found a source in Guatemala. Growing in a different clime and soil, their flavor, naturally enough, differs from their Hawaiian counterparts. To some tastes, the Guatemalan variety is a more nutty and earthy.
Halves and pieces.

As you know we've been out of alive, organic macadamias all year. We were getting them from Hawaii but they've become unavailable. We've found a source in Guatemala. Growing in a different clime and soil, their flavor, naturally enough, differs from their Hawaiian counterparts. To some tastes, the Guatemalan variety is a more nutty and earthy.

Macadamia nuts contain a significant level of protein, comprising essential and non-essential amino acids.
Created from hazelnuts grown by Oregon family farmers and from almonds grown by California family farmers.
We are proud to offer "Fluffy Fresh" California Bee Pollen, gathered and hand cleaned by fourth generation family beekeepers exclusively from their own hives in sunny Northern California.
This bee pollen is 100% natural – never artificially processed, preserved or dried. The floral sources include a variety of wildflowers, trees, berries, and grasses. Once collected and cleaned to ensure purity, the pollen is immediately frozen to preserve maximum nutritional value.
Our Garbanzo Bean(Chickpea Flour) is ground from whole garbanzo beans. It is high in fiber and can be used as a substitute for wheat flour for gluten free baking.Just the thing for falafel, pancakes, hummus and more.It may also be used to thicken soups and gravies, or added to homemade veggie burger patties. High in fiber, protein and iron.
We've put our popular alive, organic walnut butter into a 16ounce jar. This means a savings to you.We make it by slicing raw walnuts into a luxurious spread then seasoning it with a little Royal Himalayan Pink Crystal Salt. Try it on apple slices or carrot sticks, with some raisins and honey drizzled on top.
Our Organic Black Beluga Lentils comes from Timeless Food, a small family farmer-owned company in Montana. They introduced their black lentils in 1994 and caught the attention of chefs all over the world as the lentil looks like caviar, is rich in flavor and makes an impressive addition to any dish.
We've renamed our Tumeric Butter- Tumeric and Honey
because it is a winning combination. We urge you to research what people are saying about the benefits of turmeric and honey.
We have added raisins, sesame and spices to bring you a delightful spreadable.
September Victory Garden Sale
10% off this month's featured items (Remember, if you buy 3 or more of any Living Tree manufactured product, you get an additional 10% off!)

Tahini breaks out as a Mainstream Ingredient, as consumers look for more unique foods to try. Use it in alive pies, yogurt bars and smoothies. Think of tahini date cookies; combine with cooked chickpeas for hummus, combine with honey for halva.
Made from alive, organic sesame seeds grown by Mexican family farmers. We make our tahini slowly, over several days; we slice, we do not grind.

This Cashew Butter is sweet and creamy. It's made from Organic Cashews and our raw Organic Almond Oil. It's perfect with when paired with cucumbers, celery or even peppers. It's also a great topping for fruits and desserts. What a delightful way to add some variety to your lunches!

Hemp Heart Butter is one of nature's richest sources of complete protein (35%) and Omega-3 and Omega-6 Essential Fatty Acids (40%).
Hemp hearts offer a high concentration of omega 6 and omega 3 in a ration of about 3:1. This exceeds the ratio recommended by health authorities and compensates in part for omega-3 deficiencies in the rest of our diet.
Consider An Alive, Organic Internship
This is for someone interested in building a career in the organic food industry. We offer a well-rounded program of training in sales and marketing of organic foods as well as manufacturing of organic nut butters, oils and chocolates.
We take pride in supporting family farmers and your internship will include visits to outstanding organic farms.
At Living Tree Community Foods we manufacture organic nut butters, oils and chocolates. We are an ethical business and treat our colleagues and clients with kindness and respect. We are celebrating our 40th anniversary. We invite you to visit our website to learn more about our work www.livingtreecommunity.com We also suggest that you visit our YouTube channel.
We are located in Berkeley, California one of the world's great centers of learning. Over 25 Nobel Prize winners have taught here.
Jesse Schwartz, PhD
President
Living Tree Community Foods
The "Lungs Of The Earth" Are Being Burned Away As Unprecedented Wildfires Absolutely Ravage The Planet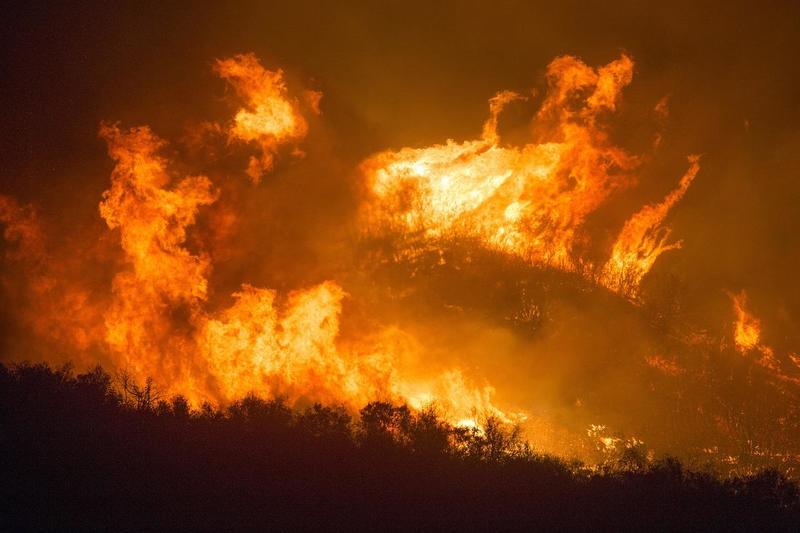 (Zero Hedge)We have never seen anything quite like this.
This week the skies above Brazil's largest city turned black in the middle of the afternoon due to the massive wildfires that are currently raging in that country. But the wildfires aren't actually happening anywhere near São Paulo. In fact, the smoke that turned the skies black actually came from fires that were happening more than 1,000 miles away. Can you imagine how powerful the fires have to be in order to do that?
And it isn't just Brazil – right now horrific fires are scorching vast stretches of our planet from South America all the way up to the Arctic. Some of the fires are producing so much smoke that you can actually see it from space. And in the process, irreversible damage is being done to our ecosystems.
I know that this number is hard to believe, but there have been more than 72,000 wildfires in Brazil so far in 2019, and most of those fires are happening in the Amazon rainforest. I understand that many of you may not care what happens in Brazil, but you should. Approximately 60 percent of the entire Amazon rainforest is in Brazilian territory, and that rainforest produces approximately 20 percent of all the oxygen in our atmosphere. So essentially the "lungs of the Earth" are being burned away right in front of our eyes…
Dear First Time Gardener, You CAN Grow Food | How To Start Gardening | Roots and Refuge Farm

Want to help promote
our work? Send
this Newsletter to your friends.
To place
an order please go
to our web site.
Disclaimer: The entire contents of this website are based upon the opinions of Living Tree Community Foods, unless otherwise noted. Individual articles are based upon the opinions of the respective author, who retains copyright as marked. The information on this website is not intended to replace a one-on-one relationship with a qualified health care professional and is not intended as medical advice. Living Tree Community Foods encourages you to make your own health care decisions based upon your research and in partnership with a qualified health care professional.