Newsletter 07.31.19
Newsletter July 31, 2019
Video: We Are Losing The Soil and Soil Fertility Which We Need To Grow Food
Video: Why Medical Schools Started Teaching Drug Intensive Therapies Instead Of Nutrition, Herbs Homeopathy
Chocolate Ice Cream Sandwich Cookies
Alive, Organic Bonus Program – Organic Nuts and Free Shipping
---
New! Items For August
We are proud to offer "Fluffy Fresh" California Bee Pollen, gathered and hand cleaned by fourth generation family beekeepers exclusively from their own hives in sunny Northern California.

This bee pollen is 100% natural – never artificially processed, preserved or dried. The floral sources include a variety of wildflowers, trees, berries, and grasses. Once collected and cleaned to ensure purity, the pollen is immediately frozen to preserve maximum nutritional value.
Our Garbanzo Bean(Chickpea Flour) is ground from whole garbanzo beans. It is high in fiber and can be used as a substitute for wheat flour for gluten free baking.Just the thing for falafel, pancakes, hummus and more.It may also be used to thicken soups and gravies, or added to homemade veggie burger patties. High in fiber, protein and iron.
We've put our popular alive, organic walnut butter into a 16ounce jar. This means a savings to you.We make it by slicing raw walnuts into a luxurious spread then seasoning it with a little Royal Himalayan Pink Crystal Salt. Try it on apple slices or carrot sticks, with some raisins and honey drizzled on top.
Imagine tossing alive, organic almond flakes into your salad or as a topping on alive pies and desserts.How about sprinkling on alive soups and green drinks?Made from alive, organic almonds grown by California family farmers.
Our Organic Black Beluga Lentils comes from Timeless Food, a small family farmer-owned company in Montana. They introduced their black lentils in 1994 and caught the attention of chefs all over the world as the lentil looks like caviar, is rich in flavor and makes an impressive addition to any dish.
These beautiful Organic Apple Rings come to us from North Central California. They are thinly sliced with the skin still on and then dried for roughly 15 hours at 140°F.
We've renamed our Tumeric Butter- Tumeric and Honey
because it is a winning combination. We urge you to research what people are saying about the benefits of turmeric and honey.
We have added raisins, sesame and spices to bring you a delightful spreadable.
Retail Cost: $39.16 – Yours for: $29.99
Contains the following:-
Eight Fruit Heirloom Olive Oil – 250ml
Sesame Tahini – 16oz
Garbanzo Beans – 2lb
Now with Chocolate Covered Raisins!
We have created an organic mix of nuts, dried fruit, and edible seeds to honor John Muir, one of America's great prophets and seers.
The John Muir Trail in Yosemite National Park passes along a succession of alpine meadows watered by the Tuolumne River and bordered by mountain ranges. To walk on this majestic trail is to gain a feeling of warmth and gladness.

We begin with California grown, organic Thompson Seedless Raisins and coat them in chocolate.
An ecstatic snack! Imagine in school lunches! Imagine taking this along on the John Muir Trail!

These oats have more protein and healthy fats, and less carbohydrates than most other whole grains. This grain is high in beta-glucans, and contains more soluble fiber than any other grain.
Aside from making a hearty cooked breakfast cereal, rolled oats are a great addition to breads, or as a basis for energy bars and granola.
August Victory Garden Sale
10% off this month's featured items (Remember, if you buy 3 or more of any Living Tree manufactured product, you get an additional 10% off!)

Created from UNHULLED organic black sesame seeds. This is a fragrant and delicious oil. Try it on a broccoli bud or celery stick. It is a highly concentrated expression of UNHULLED Black Sesame Seeds and digests immediately.

Dedicated to Steve Jobs and Steve Wozniak, the creative geniuses who have done so much to shape the modern epoch. Starting with almonds grown by California family farmers, we've added Brazil Nuts. We've added cashews for smoothness and spreadability along with California sundried raisins, honey for delight and a pinch of Royal Himalayan Pink Crystal Salt to bring out the flavors.

We make our Organic Walnut Butter by slicing raw walnuts into a luxurious spread then seasoning it with a little Royal Himalayan Pink Crystal Salt. Try this delicious Walnut Butter on apple slices or carrot sticks, with a few raisins or a little honey drizzled on top.
We Welcome Investors
The U.S. organic market in 2018 broke through the $50 billion mark for the first time, with sales hitting a record $52.5 billion, up 6.3 percent from the previous year, according to the 2019 Organic Industry Survey released by the Organic Trade Association.
Characteristics that are identified with organic, such as clean, transparent, fresh and sustainable helped boost organic sales to unprecedented levels, according to the survey.
New records were made in both the organic food market and the organic non-food market. Organic food sales reached $47.9 billion, for an increase of 5.9 percent. Sales of organic non-food products jumped by 10.6 percent to $4.6 billion. The growth rate for organic continued to easily outpace the general market: in 2018, total food sales in the U.S. edged up just 2.3 percent while total non-food sales rose 3.7 percent.
Almost 6 percent (5.7%) of the food sold in this country is now organic. Today's consumers can find organic products – food and non-food items — in every aisle of their grocery stores. They can choose organic in their favorite big box store, their club warehouse store, even in their neighborhood convenience store, and increasingly on the internet. Organic is no longer a niche market.
Thanks to your kind support, we too are growing. We wish to hire more teamworkers and to purchase tools and equipment. We are seeking long term, stable capital. If taking a strategic position in the organic food industry appeals to you, let's talk!
Jesse Schwartz, PhD
President
Living Tree Community Foods
US Fertility Rates Plunge To 'All-Time Low,' CDC Warns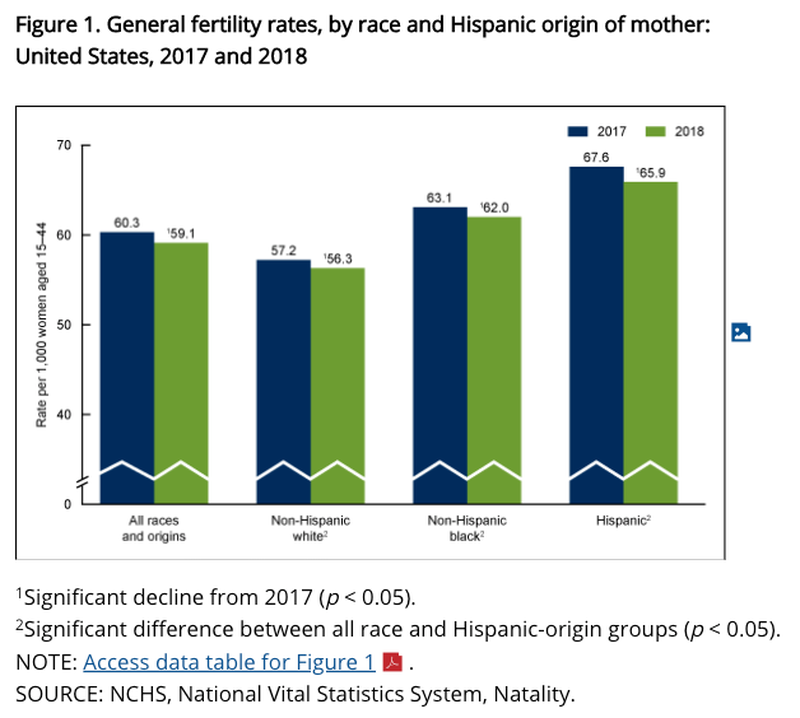 (Zero Hedge) Something isn't right in the "greatest economy ever," as the general fertility rate continues to drop in the US, according to a new report from the Centers for Disease Control and Prevention's (CDC) National Center for Health Statistics (NCHS).
"The 2018 general fertility rate fell to another all-time low for the United States," the report said.
Researchers used data from the National Vital Statistics System, discovered that the general fertility rate dropped 2% between 2017 and 2018 among females aged 15 to 44.
Overall fertility dipped to 59.1 per 1,000 women aged 15 to 44. In non-Hispanic white and non-Hispanic black women, it fell 2% in 2018, while a 3% drop in rates was observed in Hispanic women.
Teen pregnancy rates plunged to record lows, the report revealed. The rate dropped 7% from 2017 to 2018, falling from 18.8 per 1,000 to 17.4 per 1,000. Teen births in non-Hispanic black teenagers declined 4% in 2018, and 8% in non-Hispanic white and Hispanic teenagers.
What Can You Tell Us About The Cancer Industry?

Want to help promote
our work? Send
this Newsletter to your friends.
To place
an order please go
to our web site.
Disclaimer: The entire contents of this website are based upon the opinions of Living Tree Community Foods, unless otherwise noted. Individual articles are based upon the opinions of the respective author, who retains copyright as marked. The information on this website is not intended to replace a one-on-one relationship with a qualified health care professional and is not intended as medical advice. Living Tree Community Foods encourages you to make your own health care decisions based upon your research and in partnership with a qualified health care professional.