Newsletter 07.24.19
Video: The Difficulty with Darwin: Evolution and its Pretensions
Dear brothers and sisters,
If you walk onto a college campus and ask the first student you meet where we have come from , "Darwin", is the answer you will invariably get.It can be said that "evolution" is the theology of the late industrial age. That man is a sort of animal that has arisen through a roll of the dice, has dominated thought for the last 150 years. Come to think of it, this is a reflection of the industrial ethos of Darwin's time, wherein "start-ups" arise continuously and the bellum omnium contra omnes or "war of all against all" as the philosopher Thomas Hobbes would have it, insures that only the "fittest" survive.
There are not a few difficulties. One small consideration: – The fossil record. It records a sudden explosion of life in the Cambrian era 540 million years ago. A myriad of living things came into existence and this largely without antecedents. Darwin suggested that life was a product of slow, incremental change over an immense period of time with random and chance variations occurring and those that are useful maintained through natural selection. Furthermore, according to Darwin, all life evolved from a simple organism and branched out in a sort of treelike pattern, if you will. The fossil record, on the other hand, shows most animals appearing at more or less at the same time.
Today, 160 years since the publication of The Origin of the Species, Darwin's hypothesis remains controversial. That "evolution" is unable to explain the fossil record' is only one objection.There are several others.
With best wishes for good health and success to you and family,
Jesse Schwartz PhD
President
Living Tree Community Foods
Video: Theodora Scarato – The Truth About Cell Phone Radiation and 5G
Healthy 3 Ingredient Chocolate Banana Ice Cream

Chocolate Banana Ice Cream tastes EXACTLY like chocolate ice cream and is made with only 3 ingredients and they're all healthy. My favorite way to eat it is as soft serve right out of the blender but you can also freeze so it's firm enough to scoop into ice cream cones.
How to make frozen banana chocolate ice cream in your food processor
I normally make this frozen banana ice cream recipe in my Vitamix. Since not everyone has one sitting on their kitchen counter, I decided to try making this recipe in my food processor to see if it would work. I'm glad I did! It does work, but you need to add a little liquid to help it blend. In this case, it's a 4 ingredient ice cream banana recipe.
Alive, Organic Bonus Program – Organic Nuts and Free Shipping
---
New! Items For July
Our Garbanzo Bean(Chickpea Flour) is ground from whole garbanzo beans. It is high in fiber and can be used as a substitute for wheat flour for gluten free baking.Just the thing for falafel, pancakes, hummus and more.It may also be used to thicken soups and gravies, or added to homemade veggie burger patties. High in fiber, protein and iron.
We've put our popular alive, organic walnut butter into a 16ounce jar. This means a savings to you.We make it by slicing raw walnuts into a luxurious spread then seasoning it with a little Royal Himalayan Pink Crystal Salt. Try it on apple slices or carrot sticks, with some raisins and honey drizzled on top.
Imagine tossing alive, organic almond flakes into your salad or as a topping on alive pies and desserts.How about sprinkling on alive soups and green drinks?Made from alive, organic almonds grown by California family farmers.
Our Organic Black Beluga Lentils comes from Timeless Food, a small family farmer-owned company in Montana. They introduced their black lentils in 1994 and caught the attention of chefs all over the world as the lentil looks like caviar, is rich in flavor and makes an impressive addition to any dish.
These beautiful Organic Apple Rings come to us from North Central California. They are thinly sliced with the skin still on and then dried for roughly 15 hours at 140°F.
We've renamed our Tumeric Butter- Tumeric and Honey
because it is a winning combination. We urge you to research what people are saying about the benefits of turmeric and honey.
We have added raisins, sesame and spices to bring you a delightful spreadable.
Retail Cost: $39.16 – Yours for: $29.99
Contains the following:-
Eight Fruit Heirloom Olive Oil – 250ml
Sesame Tahini – 16oz
Garbanzo Beans – 2lb
Now with Chocolate Covered Raisins!
We have created an organic mix of nuts, dried fruit, and edible seeds to honor John Muir, one of America's great prophets and seers.
The John Muir Trail in Yosemite National Park passes along a succession of alpine meadows watered by the Tuolumne River and bordered by mountain ranges. To walk on this majestic trail is to gain a feeling of warmth and gladness.

We begin with California grown, organic Thompson Seedless Raisins and coat them in chocolate.
An ecstatic snack! Imagine in school lunches! Imagine taking this along on the John Muir Trail!

These oats have more protein and healthy fats, and less carbohydrates than most other whole grains. This grain is high in beta-glucans, and contains more soluble fiber than any other grain.
Aside from making a hearty cooked breakfast cereal, rolled oats are a great addition to breads, or as a basis for energy bars and granola.
Special 4th of July Sale
20% off this month's featured item (Remember, if you buy 3 or more of any Living Tree manufactured product, you get an additional 10% off!)

Our Living Tree Alive, Organic Sweet Almond Oil is made from California almonds grown by family farmers. Not only is it a magnificent salad dressing, but it is a sensuous and aromatic massage oil.
Sweet Almond Oil has long been known as being beneficial for health and beauty.
July Victory Garden Sale
10% off this month's featured items (Remember, if you buy 3 or more of any Living Tree manufactured product, you get an additional 10% off!)

Our Organic Raw Black Sesame Tahini is a glorious, shining black. Made from organic UNHULLED black sesame seeds.The taste is profoundly sesame – robust and enlivening. This is our original creation (others have since tried to copy it). We presented it to the organic food industry at the Natural Products Expo in Anaheim, California in March 2003. People were delighted, they called it "caviar"!

Our pecans are grown on a family farm in Texas and blended with a little Pink Himalayan Salt. Try our Organic Pecan Butter straight on fresh crunchy vegetables. It's also delicious mixed with your favorite soup or finely shredded cabbage, zucchini and carrots. Use one tablespoon per serving.

We make our Organic Walnut Butter by slicing raw walnuts into a luxurious spread then seasoning it with a little Royal Himalayan Pink Crystal Salt. Try this delicious Walnut Butter on apple slices or carrot sticks, with a few raisins or a little honey drizzled on top.
We Welcome Investors
The U.S. organic market in 2018 broke through the $50 billion mark for the first time, with sales hitting a record $52.5 billion, up 6.3 percent from the previous year, according to the 2019 Organic Industry Survey released by the Organic Trade Association.
Characteristics that are identified with organic, such as clean, transparent, fresh and sustainable helped boost organic sales to unprecedented levels, according to the survey.
New records were made in both the organic food market and the organic non-food market. Organic food sales reached $47.9 billion, for an increase of 5.9 percent. Sales of organic non-food products jumped by 10.6 percent to $4.6 billion. The growth rate for organic continued to easily outpace the general market: in 2018, total food sales in the U.S. edged up just 2.3 percent while total non-food sales rose 3.7 percent.
Almost 6 percent (5.7%) of the food sold in this country is now organic. Today's consumers can find organic products – food and non-food items — in every aisle of their grocery stores. They can choose organic in their favorite big box store, their club warehouse store, even in their neighborhood convenience store, and increasingly on the internet. Organic is no longer a niche market.
Thanks to your kind support, we too are growing. We wish to hire more teamworkers and to purchase tools and equipment. We are seeking long term, stable capital. If taking a strategic position in the organic food industry appeals to you, let's talk!
Jesse Schwartz, PhD
President
Living Tree Community Foods
US Beekeepers Lost 40% Of Honeybee Colonies Last Year, UMD-Led Survey Finds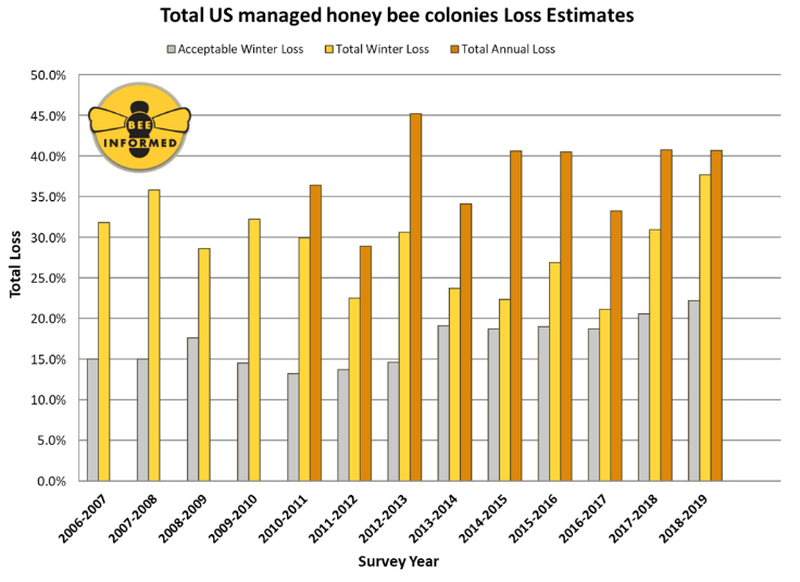 (Zero Hedge) Recent budget cuts by the Trump Administration slashed funding for the US Department of Agriculture's annual Honey Bee Colonies report that has recently detailed a collapse in the bee population across the nation. Now researchers will be observing a new study, one that hasn't been affected by spending cuts, shows beekeepers lost 40.7% of their bee colonies from April 2018 to April 2019.
The nationwide survey administered by the University of Maryland-led nonprofit Bee Informed Partnership warns of declining honey bee populations, could soon have an impact on food crops because these pollinating insects play a significant role in the pollination of plants.
Survey results reveal the annual loss of 40.7% honey bees, a marginal increase over the yearly average of 38.7%. The study noted that the winter losses were the highest since the survey began 13 years ago.
"These results are very concerning, as high winter losses hit an industry already suffering from a decade of high winter losses," said Dennis vanEngelsdorp, associate professor of entomology at the University of Maryland and president for the Bee Informed Partnership.
Ty & Charlene Bollinger – The Truth about Cancer: What you Need to Know about Cancer

Want to help promote
our work? Send
this Newsletter to your friends.
To place
an order please go
to our web site.
Disclaimer: The entire contents of this website are based upon the opinions of Living Tree Community Foods, unless otherwise noted. Individual articles are based upon the opinions of the respective author, who retains copyright as marked. The information on this website is not intended to replace a one-on-one relationship with a qualified health care professional and is not intended as medical advice. Living Tree Community Foods encourages you to make your own health care decisions based upon your research and in partnership with a qualified health care professional.