Newsletter 07.17.19
Newsletter July 17, 2019
Video: Plant your Winter Garden; Fall is the New Spring
Dear brothers and sisters,
This is the time to plant your lettuce,kale,spinach,parsley and chard for bountiful salad greens in autumn and winter.
It will be your resounding answer to the watering down of organic standards in relation to growing vegetables in chemical soup and packing animals into feedlots and barns under unspeakable conditions. Then there is the debut of fake meat, oozing GMO's and glyphosate. If you don't have a backyard then join a community garden, or better yet, form one yourself.
What a magnificent endeavor! To breathe life into this American earth.
If you care about the food you eat, grow it yourself! In these times, it's a survival skill.
We have confidence that you will see us through.After all,"Is there any better or equal hope in the world?", as Abraham Lincoln said of you.
With best wishes for good health and success to you and family,
Jesse Schwartz PhD
President
Living Tree Community Foods
Video: Jeffrey Smith – On the Safety of Genetically Modified Foods
Coconut Mango Chia Pudding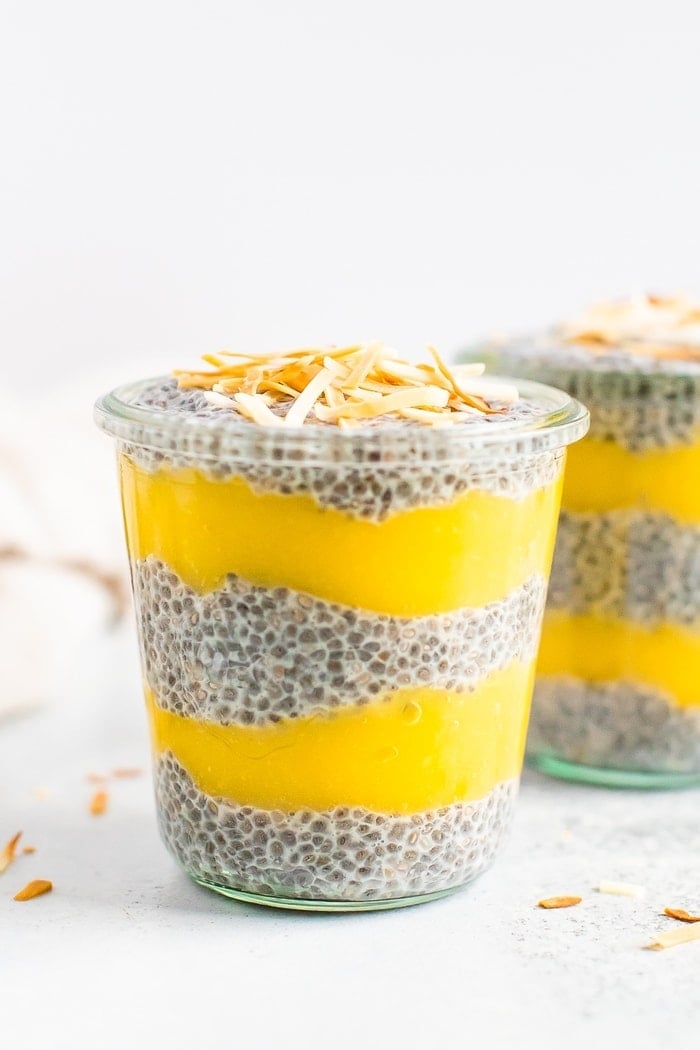 We recently got back from our Grand Cayman babymoon trip. We stayed at the Kimpton Seafire resort and they had these little cups of mango chia pudding. I immediately knew I needed to come home and recreate this tasty, tropical, healthy breakfast! It reignited my love of chia pudding so I decided to do a Chia Pudding Week and it kicks off today! Who's excited?!
Ingredients:
light coconut milk (from a can)*
chia seeds
maple syrup (or sweetener of choice)
mango
toasted coconut flakes
*Note: full fat coconut milk gets suuuuper thick so I like using light coconut milk for this recipe!
Alive, Organic Bonus Program – Organic Nuts and Free Shipping
---
New! Items For July
We've put our popular alive, organic walnut butter into a 16ounce jar. This means a savings to you.We make it by slicing raw walnuts into a luxurious spread then seasoning it with a little Royal Himalayan Pink Crystal Salt. Try it on apple slices or carrot sticks, with some raisins and honey drizzled on top.
Imagine tossing alive, organic almond flakes into your salad or as a topping on alive pies and desserts.How about sprinkling on alive soups and green drinks?Made from alive, organic almonds grown by California family farmers.
Our Organic Black Beluga Lentils comes from Timeless Food, a small family farmer-owned company in Montana. They introduced their black lentils in 1994 and caught the attention of chefs all over the world as the lentil looks like caviar, is rich in flavor and makes an impressive addition to any dish.
These beautiful Organic Apple Rings come to us from North Central California. They are thinly sliced with the skin still on and then dried for roughly 15 hours at 140°F.
We've renamed our Tumeric Butter- Tumeric and Honey
because it is a winning combination. We urge you to research what people are saying about the benefits of turmeric and honey.
We have added raisins, sesame and spices to bring you a delightful spreadable.
Retail Cost: $39.16 – Yours for: $29.99
Contains the following:-
Eight Fruit Heirloom Olive Oil – 250ml
Sesame Tahini – 16oz
Garbanzo Beans – 2lb
Now with Chocolate Covered Raisins!
We have created an organic mix of nuts, dried fruit, and edible seeds to honor John Muir, one of America's great prophets and seers.
The John Muir Trail in Yosemite National Park passes along a succession of alpine meadows watered by the Tuolumne River and bordered by mountain ranges. To walk on this majestic trail is to gain a feeling of warmth and gladness.

We begin with California grown, organic Thompson Seedless Raisins and coat them in chocolate.
An ecstatic snack! Imagine in school lunches! Imagine taking this along on the John Muir Trail!

These oats have more protein and healthy fats, and less carbohydrates than most other whole grains. This grain is high in beta-glucans, and contains more soluble fiber than any other grain.
Aside from making a hearty cooked breakfast cereal, rolled oats are a great addition to breads, or as a basis for energy bars and granola.
Special 4th of July Sale
20% off this month's featured item (Remember, if you buy 3 or more of any Living Tree manufactured product, you get an additional 10% off!)

Our Living Tree Alive, Organic Sweet Almond Oil is made from California almonds grown by family farmers. Not only is it a magnificent salad dressing, but it is a sensuous and aromatic massage oil.
Sweet Almond Oil has long been known as being beneficial for health and beauty.
July Victory Garden Sale
10% off this month's featured items (Remember, if you buy 3 or more of any Living Tree manufactured product, you get an additional 10% off!)

Our Organic Raw Black Sesame Tahini is a glorious, shining black. Made from organic UNHULLED black sesame seeds.The taste is profoundly sesame – robust and enlivening. This is our original creation (others have since tried to copy it). We presented it to the organic food industry at the Natural Products Expo in Anaheim, California in March 2003. People were delighted, they called it "caviar"!

Our pecans are grown on a family farm in Texas and blended with a little Pink Himalayan Salt. Try our Organic Pecan Butter straight on fresh crunchy vegetables. It's also delicious mixed with your favorite soup or finely shredded cabbage, zucchini and carrots. Use one tablespoon per serving.

We make our Organic Walnut Butter by slicing raw walnuts into a luxurious spread then seasoning it with a little Royal Himalayan Pink Crystal Salt. Try this delicious Walnut Butter on apple slices or carrot sticks, with a few raisins or a little honey drizzled on top.
We Welcome Investors
The U.S. organic market in 2018 broke through the $50 billion mark for the first time, with sales hitting a record $52.5 billion, up 6.3 percent from the previous year, according to the 2019 Organic Industry Survey released by the Organic Trade Association.
Characteristics that are identified with organic, such as clean, transparent, fresh and sustainable helped boost organic sales to unprecedented levels, according to the survey.
New records were made in both the organic food market and the organic non-food market. Organic food sales reached $47.9 billion, for an increase of 5.9 percent. Sales of organic non-food products jumped by 10.6 percent to $4.6 billion. The growth rate for organic continued to easily outpace the general market: in 2018, total food sales in the U.S. edged up just 2.3 percent while total non-food sales rose 3.7 percent.
Almost 6 percent (5.7%) of the food sold in this country is now organic. Today's consumers can find organic products – food and non-food items — in every aisle of their grocery stores. They can choose organic in their favorite big box store, their club warehouse store, even in their neighborhood convenience store, and increasingly on the internet. Organic is no longer a niche market.
Thanks to your kind support, we too are growing. We wish to hire more teamworkers and to purchase tools and equipment. We are seeking long term, stable capital. If taking a strategic position in the organic food industry appeals to you, let's talk!
Jesse Schwartz, PhD
President
Living Tree Community Foods
Genetically engineered salmon on your plate without your knowledge

(Mercola) In a survey of 800 Americans, 89% said they were in favor of mandatory labels on foods that have been genetically engineered or contain genetically engineered ingredients. When asked whether they'd rather have genetically modified organism labels printed on food packages or in the form of a bar code that could be scanned with a smartphone, 88% said they preferred printed labels.1
Yet, in a facility in Albany, Indiana, eggs intended to grow the first GE salmon for human consumption in the U.S. arrived in May 2019. AquaBounty, the company that created the so-called "frankenfish," plans to begin harvesting the GE salmon in late 2020.2 When it arrives in supermarkets and restaurants, however, it may be hard to decipher whether the salmon you're eating is GE or not.
AquaBounty GE salmon to be labeled 'bioengineered' — but not until 2022
Opinion polls from a few years ago suggest most Americans don't want to eat GE fish,3 but the labeling for AquaBounty's salmon, which is trademarked "aquadvantage," will make it hard for Americans to avoid it. The USDA included AquaBounty's salmon on a list of foods that must be labeled "bioengineered" (BE) under the National Bioengineered Food Disclosure Standard. According to the USDA:
"The Standard defines bioengineered foods as those that contain detectable genetic material that has been modified through in vitro recombinant deoxyribonucleic acid (rDNA) techniques and for which the modification could not otherwise be obtained through conventional breeding or found in nature."
Grow Lots of Tomatoes… Not Leaves // Complete Growing Guide

Want to help promote
our work? Send
this Newsletter to your friends.
To place
an order please go
to our web site.
Disclaimer: The entire contents of this website are based upon the opinions of Living Tree Community Foods, unless otherwise noted. Individual articles are based upon the opinions of the respective author, who retains copyright as marked. The information on this website is not intended to replace a one-on-one relationship with a qualified health care professional and is not intended as medical advice. Living Tree Community Foods encourages you to make your own health care decisions based upon your research and in partnership with a qualified health care professional.