Newsletter 06.26.19
Video: Some Reflections on our Fortieth Anniversary
Dear brothers and sisters,
We began as an organic farm devoted to propagating heirloom and historic apple trees.We now make nut butters, oils and chocolates.It has been a journey spanning some four decades.
In this video we share some thoughts on our endeavor especially in regard to alive, organic almond butter, the pillar of our business. We also discuss our secret ingredient, namely, intentionality.
Please accept our best wishes for good health, prosperity and success to you and family,
Jesse Schwartz PhD
President
Living Tree Community Foods
Video: Anna Maria Clement, Ph.D. – HealthFul Cuisine: Accessing the Lifeforce Within You Through Raw Foods
Espresso Salted Caramel Raw Cheesecake

When you have chocolate + espresso + salted caramel in the mix, you're bound to end up with a pretty epic cake, right?
This layered vegan cheesecake is deliciously creamy and dreamy and comes together in a breeze (as most raw cakes do). I got a request from someone on Instagram to make a salted caramel cheesecake last week, and I thought well, it's been a while since a caramel cake happened + caramel is one of my absolute favorite flavors in the world, so why not. And so this lush layer cake was the result.
Ingredients
Crust:
1 cup raw cashews
3 soft medjool dates, pitted
2 tbsp maple syrup*
1 tbsp coconut oil
2 tsp cocoa powder
Base Filling:
1 ½ cups raw cashews, pre-soaked and strained**
½ cup unsweetened almond milk
6 tbsp maple syrup
6 tbsp coconut oil, liquefied
1 tsp pure vanilla extract
¼ tsp salt
Alive, Organic Bonus Program – Organic Nuts and Free Shipping
---
New! Items For July

Tumeric and honey is a winning combination. We have added raisins, sesame and spices to bring you a delightful spreadable. We urge you to research what people are saying about the benefits of turmeric and honey.
Retail Cost: $39.16 – Yours for: $29.99
Contains the following:-
Eight Fruit Heirloom Olive Oil – 250ml
Sesame Tahini – 16oz
Garbanzo Beans – 2lb
Now with Chocolate Covered Raisins!
We have created an organic mix of nuts, dried fruit, and edible seeds to honor John Muir, one of America's great prophets and seers.
The John Muir Trail in Yosemite National Park passes along a succession of alpine meadows watered by the Tuolumne River and bordered by mountain ranges. To walk on this majestic trail is to gain a feeling of warmth and gladness.

We begin with California grown, organic Thompson Seedless Raisins and coat them in chocolate.
An ecstatic snack! Imagine in school lunches! Imagine taking this along on the John Muir Trail!

These oats have more protein and healthy fats, and less carbohydrates than most other whole grains. This grain is high in beta-glucans, and contains more soluble fiber than any other grain.
Aside from making a hearty cooked breakfast cereal, rolled oats are a great addition to breads, or as a basis for energy bars and granola.

Sundried cashews have been transformed into a butter that retains its quintessential cashew flavor. Try it on apple slices, celery sticks or a wedge of persimmon.

These large organic cashews are alive and sun-dried. They are grown by family farmers in Bali. They are of outstanding quality.

These raisins are grown by Joe Soghomonian and his magnificent daughter Natalie, storied grape growers of California.
Imagine these in school lunches!
Imagine them as a snack after jogging!
July Victory Garden Sale
10% off this month's featured items (Remember, if you buy 3 or more of any Living Tree manufactured product, you get an additional 10% off!)

Our Organic Raw Black Sesame Tahini is a glorious, shining black. Made from organic UNHULLED black sesame seeds.The taste is profoundly sesame – robust and enlivening. This is our original creation (others have since tried to copy it). We presented it to the organic food industry at the Natural Products Expo in Anaheim, California in March 2003. People were delighted, they called it "caviar"!

Our pecans are grown on a family farm in Texas and blended with a little Pink Himalayan Salt. Try our Organic Pecan Butter straight on fresh crunchy vegetables. It's also delicious mixed with your favorite soup or finely shredded cabbage, zucchini and carrots. Use one tablespoon per serving.

We make our Organic Walnut Butter by slicing raw walnuts into a luxurious spread then seasoning it with a little Royal Himalayan Pink Crystal Salt. Try this delicious Walnut Butter on apple slices or carrot sticks, with a few raisins or a little honey drizzled on top.
We Welcome Investors
The U.S. organic market in 2018 broke through the $50 billion mark for the first time, with sales hitting a record $52.5 billion, up 6.3 percent from the previous year, according to the 2019 Organic Industry Survey released by the Organic Trade Association.
Characteristics that are identified with organic, such as clean, transparent, fresh and sustainable helped boost organic sales to unprecedented levels, according to the survey.
New records were made in both the organic food market and the organic non-food market. Organic food sales reached $47.9 billion, for an increase of 5.9 percent. Sales of organic non-food products jumped by 10.6 percent to $4.6 billion. The growth rate for organic continued to easily outpace the general market: in 2018, total food sales in the U.S. edged up just 2.3 percent while total non-food sales rose 3.7 percent.
Almost 6 percent (5.7%) of the food sold in this country is now organic. Today's consumers can find organic products – food and non-food items — in every aisle of their grocery stores. They can choose organic in their favorite big box store, their club warehouse store, even in their neighborhood convenience store, and increasingly on the internet. Organic is no longer a niche market.
Thanks to your kind support, we too are growing. We wish to hire more teamworkers and to purchase tools and equipment. We are seeking long term, stable capital. If taking a strategic position in the organic food industry appeals to you, let's talk!
Jesse Schwartz, PhD
President
Living Tree Community Foods
The Recently Proposed GMO Rule Change at the USDA is of Grave and Immediate Concern, Not President Trump's Executive Order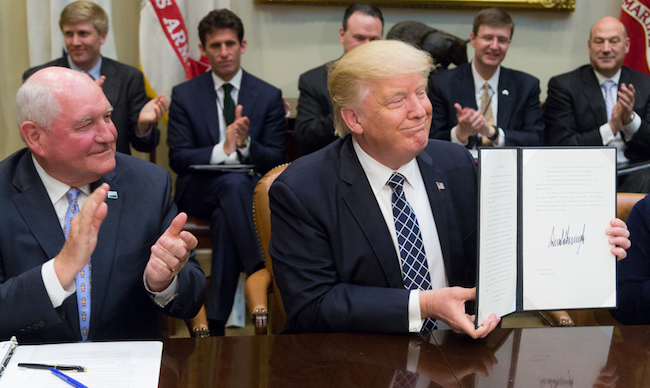 (Organic Insider) Last week, President Trump received a tremendous amount of attention for signing an executive order directing the USDA, FDA and EPA to make it easier for genetically-engineering plants and animals to enter the food supply.
At face value, this seemed to be an ominous development. Yet, industry observers were not particularly impressed.
"His executive order was the equivalent of sound and fury, signifying nothing. It was merely propaganda for the biotech industry," said George Kimbrell, Legal Director at the Center for Food Safety.
However, what should be alarming organic advocates right now is the recent action taken by the USDA nearly a week before the president's executive order, something curiously absent from the USDA's own press release page.
On June 6th, the USDA entered into the Federal Register a proposal to change the way that GMOs are regulated. While there are several elements to this proposed rule, there are two critical aspects:
1) In many cases, companies will now be able to self-determine whether their GMOs are a plant pest (a plant pest is anything that can injure, infect or damage any plants or plant products). If they do not pose a plant pest risk, these GMOs will be excluded from government regulation.
Our Modern Food System and its Impact on Our Health and the Planet

Want to help promote
our work? Send
this Newsletter to your friends.
To place
an order please go
to our web site.
Disclaimer: The entire contents of this website are based upon the opinions of Living Tree Community Foods, unless otherwise noted. Individual articles are based upon the opinions of the respective author, who retains copyright as marked. The information on this website is not intended to replace a one-on-one relationship with a qualified health care professional and is not intended as medical advice. Living Tree Community Foods encourages you to make your own health care decisions based upon your research and in partnership with a qualified health care professional.