Newsletter 06.03.20
Newsletter June 3, 2020
Video: The Nature Of The Forest And Your Health, By Author: Anna Maria Clement, Ph.D., L.N.
Dear brothers and sisters,
We feel privileged to bring you this beautiful vision. Anna Maria Clement describes so passionately the symbiotic relationship of all living things.She give example after example of how this being torn apart by the forces of "progress".
In particular, she emphasizes the importance of trees to the soil, plants and animals and even to the oceans.
It behooves each one of us to plant trees.Indeed we feel that reforestation is the duty of our generation.
In place of that front lawn can be an orchid of historic and heirloom fruit trees. That public park can be a permaculture garden, that playground, paved with cement, can be an edible schoolyard.
It is all within our compass…if we so choose, it can happen.
Please accept our best wishes for good health, prosperity and success,

Jesse Schwartz PhD
President
Living Tree Community Foods

Video: Deciphering the Pandemic
Father's Day Featured Product: California Bodacious Date Pack

Retail Cost: $39.96 – Yours for: $34.99
Contains the following treasures:-
Medjool Dates – 1lb
Halawi Dates – 1lb
Black Abbada Dates – 1lb
Khadrawy Dates – 1lb
In a flip top box, packed in natural hardwood strands. 100% biodegradable, clean, non-allergic and dust-free.
Recipe: Triple Chocolate Chia Pudding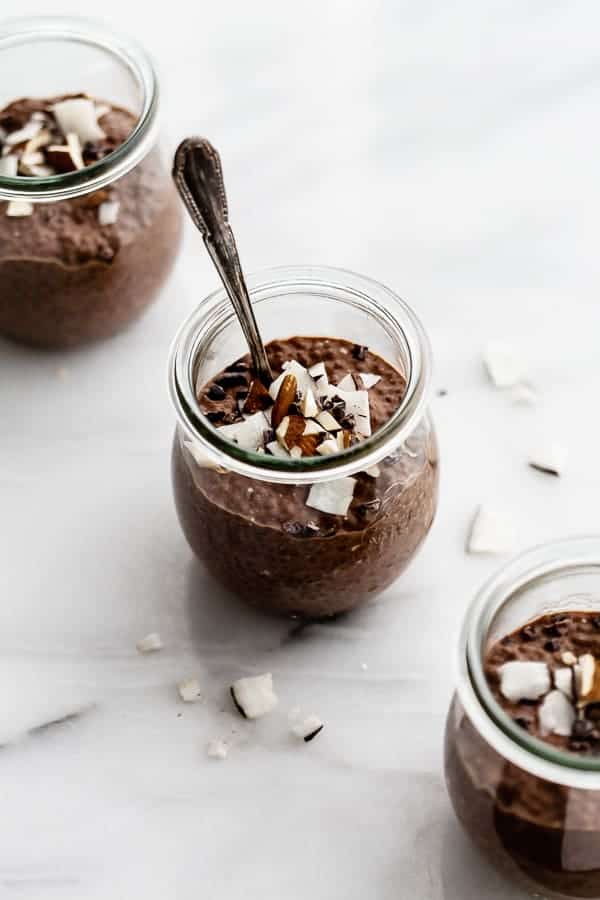 This chia pudding loaded with 3 types of chocolate will satisfy your chocolate craving…in a healthy way!
Ingredients
1/4 cup chia seeds
1/2 cup coconut milk (full-fat, from a can)
1/2 cup+2 tbsp almond milk
1 tsp vanilla extract
1/4 cup high-quality cocoa powder
2 tbsp maple syrup
1 tbsp cacao nibs
1 tablespoon dark chocolate chips
Instructions
Mix the chia seeds, coconut milk, almond milk, vanilla extract, cocoa powder and maple syrup in a bowl until well combined.
Walking Tour of Your Victory Garden Contest

Why not invite brothers and sisters throughout the world to join you on a tour of your victory garden?
We would love to rejoice with you in your tomato starts, lettuce, kale and beets and broccoli. Perhaps with Mozart, Brahms or Chopin playing in the background? Why not?!
We will award a gift certificate for $300 towards purchases of our foods for the most alive and cognizant video.
Contest ends Friday June 12th. Submit videos to jesse@livingtreecommunity.com
---
New! Items For June
High quality, unique chocolate covered treats.
Organic Bing Cherries are packed with Vitamin C, Potassium and Antioxidants.
Made with Fair Trade, organic, 70% Dark Chocolate that does not contain soy lecithin not dairy ingredients.
Made with Organic Hazelnuts grown in Oregon by family farmers.
High quality, unique chocolate-covered treats.
Made with Fair Trade, organic, 70% Dark Chocolate that does not contain soy lecithin nor dairy ingredients.
Polenta is a versatile form of ground corn that originated in Northern Italy.
In Italy, soft polenta is often a replacement for bread during a meal or instead of the pasta course, served with butter and cheese and possibly shaved truffles. Polenta is also served as a contorno (side dish) to regional dishes or eaten in cake form, layered with Parmigiano-Reggiano cheese and baked.
Flaxseeds are an excellent source of omega-3 essential fatty acids, a very good source of dietary fiber, vitamin B1, and copper, and they are a good source of the minerals magnesium, phosphorus, and selenium.
Sprinkle ground flaxseeds onto your hot or cold cereal
Add flaxseeds to your homemade muffin, cookie or bread recipe
Add to breakfast shakes and smoothies
Sprinkle over cooked veggies
Mix with yogurt, fruit, nuts and pumpkin seeds
These flakes are a favorite for adding savory flavor to soups, sauces, gravies, and prepared foods where umami flavor is needed.Yeast has been an ingredient for baking and fermentation for more than 3000 years.
Nutritional yeast is made from a single-celled organism of fungi called Saccharomyces Cerevisiae. In a controlled environment it is cultured, left to grow, then deactivated, harvested, washed and dried. The deactivation process prevents the yeast from being used as a leavening agent.
Nutritional yeast is a flavor enhancer that offers naturally occurring vitamins, minerals, and micro-nutrients. These large flakes are a bit spicier and have more yeast flavor than other nutritional yeast.
Imagine! Organic California almonds, grown by family farmers, covered with Fair Trade, organic Dark Chocolate. Just the thing for hiking the John Muir Trail or as a snack after gymnastics.
June Victory Garden Sale
10% off this month's featured items (Remember, if you buy 3 or more of any Living Tree manufactured product, you get an additional 10% off!)

We began making almond butter over 25 years ago. Over the years, we have developed a proprietary process: we make the almond butter slowly, over several days. We slice the almonds and never grind them, which exposes the nut to the least heat possible to keep the flavors and properties of the raw nut intact. We make it frequently, in small batches, so it's fresh and alive.
We have been buying almonds from California family farmers since 1979. Almonds are a premier source of Vitamin E. A study from Harvard found that people who ate nuts frequently were less likely to die from heart disease and cancer.

We make our Organic Walnut Butter by slicing raw walnuts into a luxurious spread then seasoning it with a little Royal Himalayan Pink Crystal Salt. Try this delicious Walnut Butter on apple slices or carrot sticks, with a few raisins or a little honey drizzled on top.

Our pecans are grown on a family farm in Texas and blended with a little Pink Himalayan Salt. Try our Organic Pecan Butter straight on fresh crunchy vegetables. It's also delicious mixed with your favorite soup or finely shredded cabbage, zucchini and carrots. Use one tablespoon per serving.
Tomato Tips & Grass Clippings for Earlier Harvests! by Appalachia's Homestead with Patara
Solo Survival: How to Survive Alone in the Wilderness for 1 week –Eastern Woodlands by Tom McElroy-Wild Survival

Want to help promote
our work? Send
this Newsletter to your friends.
To place
an order please go
to our web site.
Disclaimer: The entire contents of this website are based upon the opinions of Living Tree Community Foods, unless otherwise noted. Individual articles are based upon the opinions of the respective author, who retains copyright as marked. The information on this website is not intended to replace a one-on-one relationship with a qualified health care professional and is not intended as medical advice. Living Tree Community Foods encourages you to make your own health care decisions based upon your research and in partnership with a qualified health care professional.