Newsletter 04.29.20
Newsletter April 29, 2020
Video: A Green Drink for These Times
Dear brothers and sisters,
Excessive sugar consumption is especially destructive; it's a highway to obesity and diabetes.

Almost 40% of Americans are obese and another 30% overweight. Not surprisingly, a study just out, says that 48% of patients hospitalized due to the virus are obese.That's right-nearly half!

In our opinion, nothing is more healing than finely divided greens.

Furthermore, let us fast for one day a week and limit our meals to breakfast and dinner with no snacking in between- please!
Let's also engage in vigorous exercise before breakfast and in the early evening. There are so many magnificent videos on YouTube that will guide you.
In addition, let's plant a victory garden.
Make it alive with lettuce, parsley, chard, kale, sweet corn and tomatoes, melons and squash.
These are four pathways that will help you to use this precious time to renew and re-create yourself.
They are expressions of your indomitable energy that will, one day, build here a garden for the American spirit.
May you and family prosper in good health,

Jesse Schwartz PhD
President
Living Tree Community Foods
Panel – Alzheimer's and Psychiatric Drug Authors Take Audience Questions with Dean and Ayesha Sherzai, M.D., Peter R. Breggin, M.D.
Recipe: Buckwheat Almond Gluten-Free Bread Recipe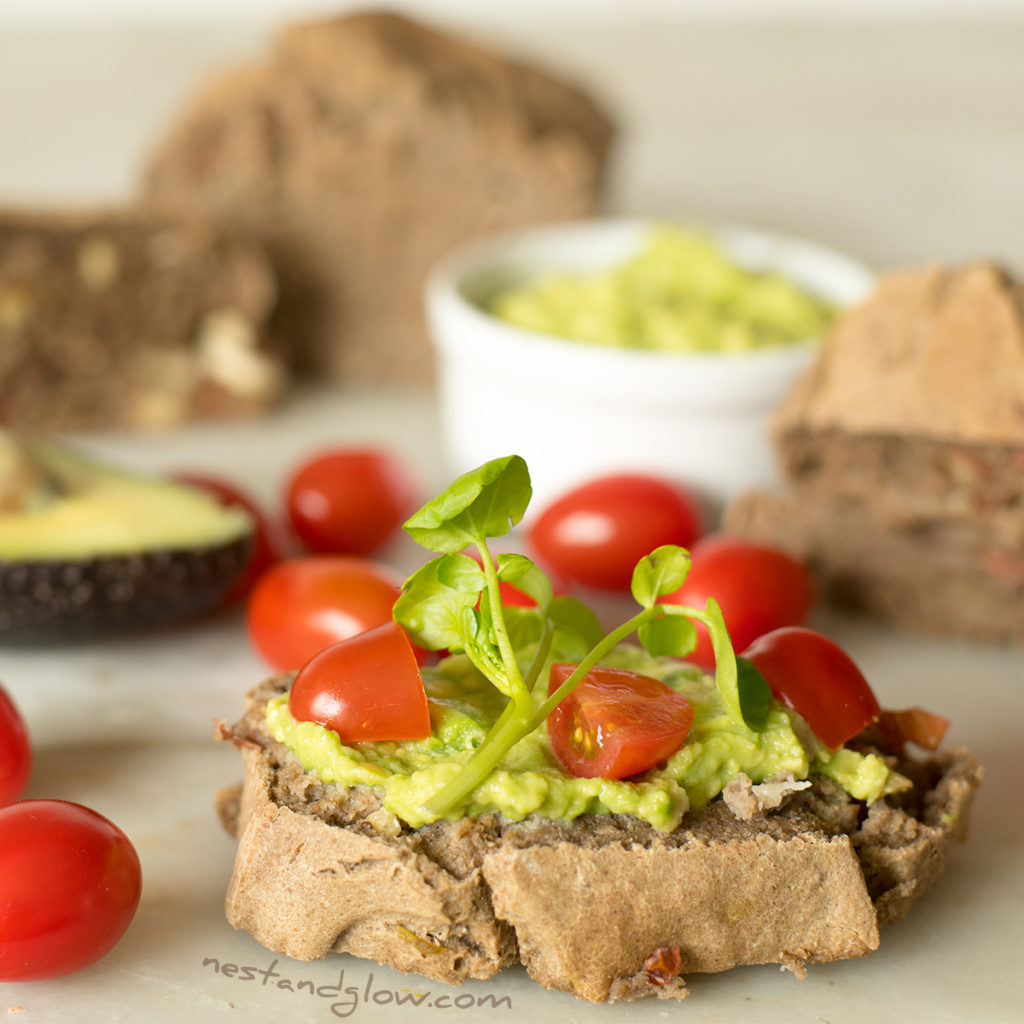 Amazing gluten free bread made from just 3 ingredients. Buckwheat is nothing to do with wheat and is a gluten free seed rather than a grain. This bread is suitable for celiacs and high in protein and fibre.
Ingredients
1 cup / 170g Buckwheat, whole
1/4 cup / 40g Chia seeds
1/4 cup / 35g Almonds
1 cup / 240ml Water
Instructions
Soak the buckwheat and almonds in water. Overnight is best but an hour will do.
Pre-heat oven to 375F / 190C.
Drain and rinse the buckwheat and almonds.
Place everything for the bread apart from the almonds into a blender and blend until smooth. If your blender is not very powerful then use pre ground chia seeds.
Letters From Dear Customers
Ever since I stumbled onto your almond butter (the live version) I am in LOVE with your products!! There is no almond butter ANYWHERE that compares with yours! I have bought other raw brands, but yours is so smooth and silky. Then I tried the Tahini…WOW! Same result. So smooth and silky it makes the best hummus!!! Thank you for your wonderful products that have enhanced my life greatly!!
Sincerely,
Andrea
Dear Friends at Living Tree Community,
I received my order today and I want to thank you very much for sending it. I am certain that everything will be delicious! I know people appreciate your work more than ever right now. For example, hypothetically speaking, if someone has the coronavirus and have found that eating solid food (for some strange reason!) makes it more difficult to breathe, that doesn't happen when one of your delicious nut butters is spread on a juicy apple. Importantly, at the same time, this enables that same individual to know that they are getting excellent, wonderful nutrition that will support their health. On behalf of any person that might notice that, I thank you very much.
Stay well,
All the best,
Elizabeth
Alive, Organic Bonus Program – Organic Nuts and Free Shipping
---
New! Items For May
These flakes are a favorite for adding savory flavor to soups, sauces, gravies, and prepared foods where umami flavor is needed.Yeast has been an ingredient for baking and fermentation for more than 3000 years.
Nutritional yeast is made from a single-celled organism of fungi called Saccharomyces Cerevisiae. In a controlled environment it is cultured, left to grow, then deactivated, harvested, washed and dried. The deactivation process prevents the yeast from being used as a leavening agent.
Nutritional yeast is a flavor enhancer that offers naturally occurring vitamins, minerals, and micro-nutrients. These large flakes are a bit spicier and have more yeast flavor than other nutritional yeast.
Imagine! Organic California almonds, grown by family farmers, covered with Fair Trade, organic Dark Chocolate. Just the thing for hiking the John Muir Trail or as a snack after gymnastics.
An elegant black date with a luxurious appearance. Your family and friends will be impressed with your sophistication.A triumph of California agronomy.
Delightfully rich and melodiously soft.
A marvel of California agriculture. Try this winter drear buster!
May Victory Garden Sale
10% off this month's featured items (Remember, if you buy 3 or more of any Living Tree manufactured product, you get an additional 10% off!)

We've renamed our Turmeric Butter- Turmeric and Honey because it is a winning combination. We urge you to research what people are saying about the benefits of turmeric and honey.
We have added raisins, sesame and spices to bring you a delightful spreadable.

Brazil Nuts are a concentrated dietary source of selenium, a trace element your body needs for proper functioning. Selenium boosts your immune system; it fights viral infections.
Brazil nuts are energy dense and highly nutritious.
Gathered by native people in the rain forests of Amazonia.

We've put our popular alive, organic walnut butter into a 16ounce jar. This means a savings to you.We make it by slicing raw walnuts into a luxurious spread then seasoning it with a little Royal Himalayan Pink Crystal Salt. Try it on apple slices or carrot sticks, with some raisins and honey drizzled on top.
How to Plant Potatoes! by Garden Answer
Follow These Rules To Protect Yourself From Cell Phone And Wifi Radiation by Theodora Scarato

Want to help promote
our work? Send
this Newsletter to your friends.
To place
an order please go
to our web site.
Disclaimer: The entire contents of this website are based upon the opinions of Living Tree Community Foods, unless otherwise noted. Individual articles are based upon the opinions of the respective author, who retains copyright as marked. The information on this website is not intended to replace a one-on-one relationship with a qualified health care professional and is not intended as medical advice. Living Tree Community Foods encourages you to make your own health care decisions based upon your research and in partnership with a qualified health care professional.