Newsletter 03.12.18
Newsletter March 12, 2017:
Editorial: Now is the Time to Ask Some Questions
Dear brothers and sisters,
Those picture-perfect tomatoes and raspberries currently in the stores are nurtured on factory farms, in Mexico. They are lovingly grown in chemical soup. Assuredly… they are organic.
And what about milk and dairy products from cows, tenderly crowded into feedlots without adequate pasture? What of the eggs from hens, humanely jammed into buildings without real outdoor access? Assuredly… they too, are organic.
It seems to us that its time to reclaim our heritage. Dave Chapman,a Vermont family farmer, urges us to ask questions at our local natural foodstores. Ask them which of their "organic" fruits and vegetables are hydroponically grown? Ask them where are the almonds grown that go into that almond butter, wondrous cheap? Sicily or southern Spain?
Also, if you click on the link, you'll find a letter that you can sign on to.
Organic is your birthright. Surely, brothers and sisters, its time to reclaim it.
Please accept our springtime best wishes for good health, prosperity and success to you and family,
Jesse Schwartz PhD
President
Living Tree Community Foods
Campaign: "Just Ask"
One of the programs we are most excited about is the "Just Ask" campaign, urging eaters all over the country to ask the staff where they shop whether the certified organic tomatoes and berries offered are hydroponic or are they real organic grown in the soil. And eaters will ask if the eggs and meat and milk came from CAFOs or from farms where the animals got real access to pasture every day.
The "Just Ask" campaign has the same goal as the current effort from Cornucopia Institute to Demand Real Organic Food From Real Organic Farmers. Cornucopia wants all organic eaters to send them a card asking major retailers to offer genuine organic choices. If we speak up, the stores will respond. Please visit them and support this campaign:
Recipe: Pasta With Smoky Chipotle Sauce

This is a quick and easy dish to prepare, and can be served either cold or gently warmed. Feel free to add your favorite garnish. Once the sauce is made, it only takes a few minutes to put this lovely dish together. Serve with your favorite raw corn chips.
Pasta with Smoky Chipotle Sauce
(4 servings)
Ingredients
4 medium zucchini
1/2 cup cashews
1/4 cup sunflower seeds
1 cup water (add more as needed)
1/2 avocado
2 Tablespoons lime juice
3 Tablespoon sun dried tomatoes, chopped and soaked
2 teaspoons olive oil
2 teaspoons maple syrup (or honey, non-vegan)
1/2 clove garlic, minced
1/2 teaspoon ground cumin
1/8 teaspoon cayenne pepper
1/4 teaspoon chipotle powder (or smoked paprika)
1/8 teaspoon sea salt
1/4 cup yellow onion, diced
Featured Item: Almond Flour – Alive & Organic
Think of it as an invitation to creativity! Our Almond flour lends itself to alive cookies, biscuits, cakes and pie shells. Blend with water for almond milk. What smoothies you will make!
Our organic almond flour is made from almonds grown by the Koretoff family, California family farmers of five generations.
Alive, Organic Bonus Program – Heritage Olive Oil and Free Shipping
Dear people,
Please note that we've lowered our free shipping threshold to $100 and eliminated the Medjool date bonus.
---
Celebrate the Coming of Spring with a California Date Gift Pack

Contains the following treasures grown in California:-
Medjool Dates – 1lb
Halawi Dates – 1lb
Deglet Noor Dates – 1lb
Honey Dates – 1lb
In a flip top box, packed in natural hardwood strands. 100% biodegradable, clean, non-allergic and dust-free.
Retail Cost: $41.96 – Yours for: $37.99
New! Items For March

Beginning with turmeric, we have added raisins, honey, sesame and spices to bring you a delightful spreadable. We urge you to research what people are saying about the qualities of turmeric.

The Teff grain used to make this flour is grown in Junction City, Oregon on Hunton's Farm. They are a third generation family farm in the Willamette Valley.
Teff is a tiny whole grain best known as an ingredient in injera, a traditional Ethiopian spongy sour flatbread on which salad and stews are served. Injera is made with fermented Teff Flour, often in combination with wheat. Teff flour can also be used to make pancakes, as a substitute for part of the flour in baked goods and breads, and as a thickener for soups, stews, gravies, and puddings.
Brown Teff Flour has a taste reminiscent of hazelnut, with a hint of chocolate. Our Teff Flour is stone-ground at Camas Country Mill in Eugene. The mill also grinds other grains, so this flour is not guaranteed gluten free.
March Victory Garden Sale
10% off this month's featured items (Remember, if you buy 3 or more of any Living Tree manufactured product, you get an additional 10% off!)

Olive oil aficionados! This is the moment you've been waiting for all year!
Olio nuovo is here! The first expression of the olive harvest!The first pressing! The ultra-green first bottling of the new crop! Skimmed from the vat before the sediment has settled, olio nuovo has a creamy texture and heightened notes of fruit, grass and pepper.

This delightful and fresh nut will nourish your body and your taste buds! Our pistachio butter is made from pistachios grown by California family farmers in the rich, alluvial soil of the wondrously fertile Central Valley. We add our raw Black Sesame Oil and sesame seeds to organic pistachios and season them with honey and a dash of Royal Himalayan Pink Crystal Salt.

Our alive coconut butter is created from alive coconut. Savor its fragrance. Ponder its texture.

Our Organic Raw Black Sesame Tahini is a glorious, shining black. Made from organic UNHULLED black sesame seeds.The taste is profoundly sesame – robust and enlivening. This is our original creation (others have since tried to copy it). We presented it to the organic food industry at the Natural Products Expo in Anaheim, California in March 2003. People were delighted, they called it "caviar"!
8 reasons why you should grow your own food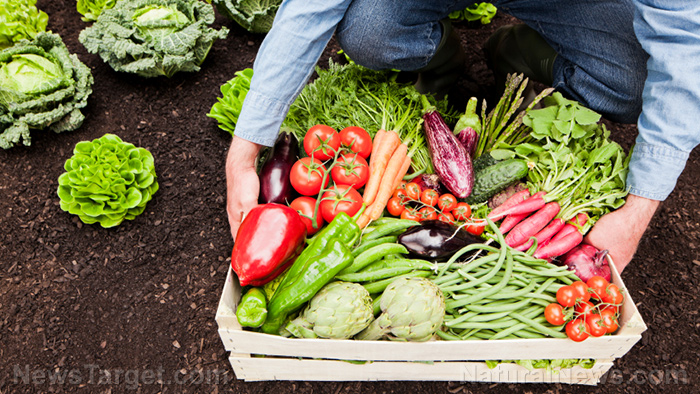 (Natural News) Consider this: McDonald's sells an average of 75 hamburgers every second. It may seem shocking, but if you also think about how one in six young people in the Western hemisphere count junk food as actual meals – and that we drink more than 54 gallons of carbonated soft drinks each year – it really shouldn't come as a surprise.
That's a whole lot of sugar and processed fat we're poisoning our bodies with, and it's also a significant factor why our children now waddle instead of toddle.
A lot of factors have contributed to this crisis, but one way you can prevent it is by growing your own food. It doesn't matter if you're all thumbs – and not the green kind – when it comes to gardening. The effort and time you will place in knowing what exactly you are putting in your mouth will prove priceless in the future.
You avoid dangerous chemicals – Scores of studies conclude that glyphosate, the main ingredient in Monsanto's weedkiller, Roundup, has negative health outcomes. Researchers have found that the current levels of glyphosate in human urine has dramatically gone up since the 1970s. These levels are associated with the slew of adverse health conditions associated with chemical poisoning. Let's not forget that glyphosate has been labeled as a possible carcinogen. This is definitely something you do NOT want to put in your food.
ADHD is a FAKE disease invented by Big Pharma to drug children for profit

(Natural News) ADHD, or Attention Deficit Hyperactivity Disorder, is ubiquitous in the American classroom, there's little debate about that. According to CDC statistics from 2012, 11 percent of children between the ages of four and 17 had been diagnosed with ADHD at some point. With over six million kids diagnosed, it's hard not to wonder: Is this condition even a real problem?
Sure, some kids struggle to pay attention during school — but does that signify an actual problem with the child? Perhaps it's more indicative of a society that simply doesn't allow children to be children anymore. If you've ever found that the notion that children who'd rather play outside than sit at a desk are "broken" and need medication was a bit hard to digest, you may be right.
Writing for The Daily Bell, Joe Jarvis explains that there is proof that ADHD is nothing more than a fake disease. As Jarvis notes, two states with some of the highest incidences of ADHD are Arkansas and Kentucky.

Want to help promote
our work? Send
this Newsletter to your friends.
To place
an order please go
to our web site.
Disclaimer: The entire contents of this website are based upon the opinions of Living Tree Community Foods, unless otherwise noted. Individual articles are based upon the opinions of the respective author, who retains copyright as marked. The information on this website is not intended to replace a one-on-one relationship with a qualified health care professional and is not intended as medical advice. Living Tree Community Foods encourages you to make your own health care decisions based upon your research and in partnership with a qualified health care professional.