Newsletter 02.28.19
Newsletter February 18, 2019
Video: Grow a Garden in Your Kitchen While Waiting for Spring
Dear brothers and sisters,
Why not fill your kitchen with trays of wheatgrass and arugula?Yes, you can even amidst the drear of winter. Its fun and soul-satisfying.
Its also an essential survival skill .Besides, no food is fresher and more alive than that which you grow yourself.
Jesse Schwartz PhD
President
Living Tree Community Foods
Video: Why Are There Pharmaceutical Drugs and Toxins In Our Water?
Recipe: Raw Tahini Date Fudge, Vegan & Gluten-free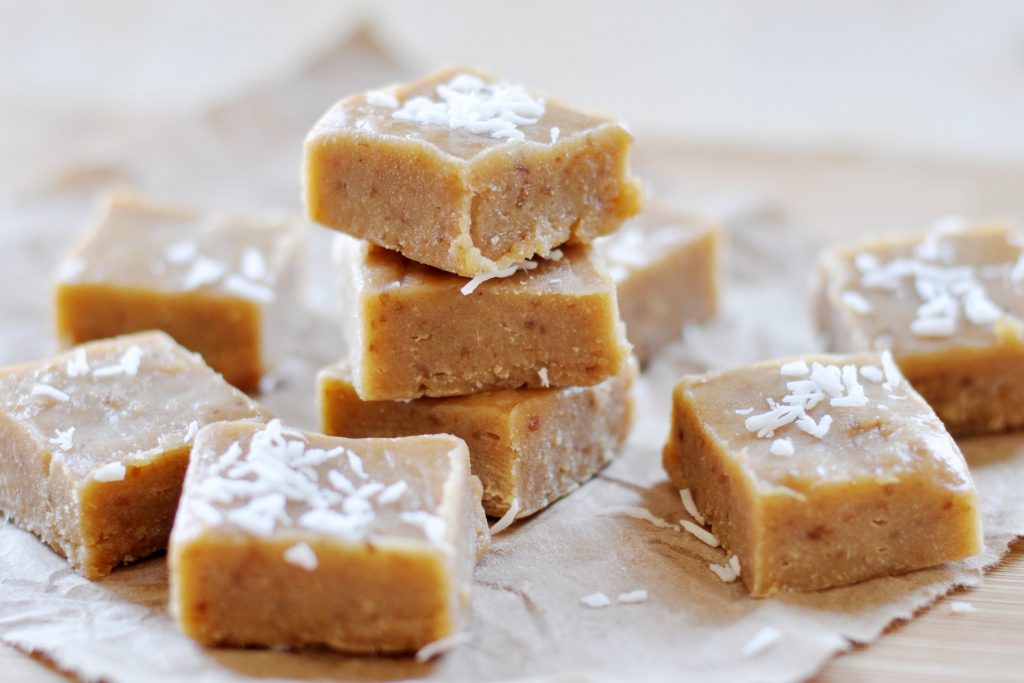 Tahini is a very magical ingredient. It's distinct flavor works wonders in both savory and sweet dishes. I thought I would share one of the dessert recipes from Color Your Kitchen that's made without refined sugar and features tahini. This Vegan, Gluten-Free Raw Tahini Date Fudge is one of those recipes that's so simple (yet delicious) that it's almost too good to be true. The taste is similar to halvah (my favorite middle eastern dessert) and the consistency is totally melt-in-your-mouth creamy.
Ingredients
12 pitted dates, soaked 30 minutes
½ cup tahini
¼ cup coconut oil, softened
1 tsp vanilla extract
dash of salt
Instructions
Drain dates.
Combine dates with all ingredients in blender until smooth.
Line a baking sheet with parchment paper. Spread mixture out on parchment paper. Use hands to form rectangle about ¾" thick.
Place in freezer for 45 minutes to set. Remove and slice into squares. Store in freezer.
Alive, Organic Bonus Program – Organic Nuts and Free Shipping
---
New! Items For February

Dedicated to Steve Jobs and Steve Wozniak, the creative geniuses who have done so much to shape the modern epoch.
Starting with almonds grown by California family farmers, we've added Brazil Nuts.
Dr.Mercola tells us,"Brazil Nuts are an important source of selenium.Selenium is a trace element a Swedish chemist, Baron Jöns Jacob Berzelius, discovered almost 200 years ago. Today, modern scientists recognize it as "an essential mineral of pivotal importance for human health," with anti-inflammatory, antiviral and anti-cancer potential. This mineral is also a powerful antioxidant, which plays itself out in many ways in regard to your health."
We've added cashews for smoothness and spreadability along with California sundried raisins, honey for delight and a pinch of Royal Himalayan Pink Crystal Salt to bring out the flavors.

We are delighted to bring you the new crop of walnuts grown in the wondrous fertile, alluvial soil of California's great Central Valley. California walnuts are simply the best! Ours come in halves and pieces for you to enjoy.
Enjoy our New Crop of Walnuts in our Walnut Butter, Oil and Flour!

Our pecans are grown on a family farm in Texas and blended with a little Pink Himalayan Salt. Try our Organic Pecan Butter straight on fresh crunchy vegetables. It's also delicious mixed with your favorite soup or finely shredded cabbage, zucchini and carrots. Use one tablespoon per serving.

These beautiful pecan halves are fresh and sweet.The pecan originated here and was the food of Native Americans for millenia. Grown by family farmers in Texas.
One of the most nutritious of nuts, Pecans are loaded with heart-healthy unsaturated fats. Oh the pecan pies you will make!

Our Organic Garbanzo Beans are grown on a farm that has been in their family for over a century now, in Merrill, Oregon. The family specializes in a diverse crop base on over 2,000 acres of Certified Organic land.
Our Organic Garbanzo Beans are plump, creamy and delicious. An excellent source of protein and fiber, garbanzos supply roughly 27 percent of daily protein and 50 percent of our fiber requirements in one cup. They are especially high in folate, manganese and iron, which are important components in the body's anti-oxidant activity.

90% of the world's almonds are grown in California's Central Valley. It is bounded to the east by the towering Sierras and to the west by the coastal mountain range. Its rich, alluvial soil is wondrously fertile. This great plain is a sea of white in February when the almonds blossom. The orchards are irrigated by water from melting snow high in the Sierras. It is brought to them by a marvelous system of canals. California almonds are sweeter and their flavor is richer and more complex. Imported almond cannot compare. California almonds are simply the best.

We began making almond butter over 25 years ago. Over the years, we have developed a proprietary process: we make the almond butter slowly, over several days. We slice the almonds and never grind them, which exposes the nut to the least heat possible to keep the flavors and properties of the raw nut intact. We make it frequently, in small batches, so it's fresh and alive.

Our alive cacao butter is of outstanding quality, It comes from the island of Bali. Cacao Butter is a key ingredient in making fine chocolate and confections of all sorts. Grate and add to melted cacao paste along with a sweetener such as honey, agave or palm nectar crystals to make a delightful chocolate. Add chopped raisins and dates, maybe chopped mangoes and persimmons too. Pour mixture onto a baking sheet and allow to harden in you refrigerator. It also makes a great skin care product. Try adding one part grated cacao butter to three parts melted coconut oil. Let it solidify in a wide mouthed jar — it is great for the skin and will impart an exotic fragrance.
Featured Sale – 20% Off
Hawaiian Native Forest Honey – Alive & Organic

20% Off! $11.19 (was $13.99)
Sale from January 1st to 28th.
Our Native Forest Honey is alive with beneficial enzymes and intact grains of pollen and propolis.. Its rich, slightly fruity taste and silk texture complement, but don't overwhelm, other flavors and ingredients. Its taste reflects the bouquet of tropical blossoms whose nectar the bees collect as they forage in high-elevation forests and valleys. A sonata with high notes of floral and fruit.
Gathered by a family of two generations of beekeepers. They tell us: Both our philosophy about working with the bees, which we regard as a partnership, and our organic regulations ensure that we interject ourselves as little as possible into the daily activities of the bees and allow them to do what they do so superbly. Hawai'i's lush and varied vegetation, available year-round, provides the variety and supply of pollens, nectars and propolis that are ideal for bee health.
February Victory Garden Sale
10% off this month's featured items (Remember, if you buy 3 or more of any Living Tree manufactured product, you get an additional 10% off!)

This Cashew Butter is sweet and creamy. It's made from Organic Cashews and our raw Organic Almond Oil. It's perfect with when paired with cucumbers, celery or even peppers. It's also a great topping for fruits and desserts. What a delightful way to add some variety to your lunches!

Our rich and exotic Brazil nuts will amaze you with their power-packed nutrients. The Brazil nut is the most potent known food source of Selenium, an immensely beneficial mineral found in the soil. Eating only one to two Brazil nuts per day can provide all of the selenium one needs!We have recreated our Brazil Nut Butter to enhance the distinct flavor of the Brazil nut. Starting with our alive, organic and wildcrafted Brazil nuts, we have added sesame seeds, our unique sesame oil, Brazilian honey and a dash of Royal Himalayan Pink Crystal Salt.

These pinenuts nuts are wildcrafted from trees in a pristine wilderness, the Siberian taiga. This is the most extensive virgin forest in the world. We invite you to experience the taste of the primordial!
Siberian pine nuts are quite different from the pine nuts you find in stores. The latter are imported from China and are a species of Korean pine nut, Pinus Koraiensus. Siberian pine nuts are a different species, Pinus Sibirica. They are the fruits of a majestic and beautiful tree.
We Welcome Investors

Demand for organic food is booming. Last year sales of organic products jumped 11% to more than $39 billion. Also, the number of US organic farmers and processors has grown by 250% since 2002, when the natural organic program began. Indeed, organic food production has more than tripled since that time.
Thanks to your kind support, we too are growing. We wish to hire more teamworkers and to purchase tools and equipment. We are seeking long term, stable capital. If taking a strategic position in the organic food industry appeals to you, let's talk!
Jesse Schwartz, PhD
President
Living Tree Community Foods
Soda Consumption During Hard Work in Hot Weather May Damage Your Kidneys

(Mercola) Your kidneys — two bean-shaped organs — are located just below your rib cage, one on either side of your spine. Positioned on top of each kidney are your adrenal glands. Each day, your kidneys filter up to 150 quarts of blood and flush out waste products through your urine.
One of the reasons why you need to drink enough water is to ensure healthy kidney function. In fact, chronic low-grade dehydration is one of the most common causes of kidney stones.
Poor kidney function is also associated with a number of other serious health problems, including Type 2 diabetes, hypertension (high blood pressure) and heart disease. Common signs of kidney problems include:
Frequent urination
Problems urinating
Pain or burning sensation during urination
Chronic thirst
Good kidney function1 is essential for maintaining homeostasis in your body, starting with the composition of your blood. For example, your kidneys are responsible for maintaining proper pH level and electrolyte balance (the ratios of sodium, potassium and phosphates). They also produce hormones that make red blood cells, and those that help regulate your blood pressure.
As global insect population plunges toward total ecological collapse, the corporate-run media still censors the truth about GMOs and pesticides

(Natural News) For more than a decade, Natural News has been warning the public about the dangers of the use of chemical pesticides and herbicides, and the genetic modification of plants to withstand the onslaught of such chemicals. In return, Natural News – like most members of the independent media – has been vilified, mocked and even censored by the mainstream media. Worse, even generally respected journalists have stubbornly insisted, despite mounting evidence that these chemicals have a profoundly negative effect on human and environmental health, that so-called "conventional" farming methods are totally safe.
Sadly, Big Agri has continued to sell its deadly poisons, and things have now become so bad that even some in the mainstream media have started reporting on the devastating impact these chemicals continue to have on insect populations.
As reported by the U.K.'s Guardian, for example, an alarming study published in the journal Biological Conservation recently has confirmed that the planet's insects are "hurtling down the path to extinction," with more than 40 percent of all insect species declining and around a third endangered. The researchers found that there are several contributing factors to these shocking statistics, with the worst culprits being habitat loss caused by intensive agriculture and the use of "agro-chemical pollutants," i.e. synthetic pesticides and fertilizers. (Related: Even TINY traces of pesticides found to cause infertility in insects, scientists discover.)

Want to help promote
our work? Send
this Newsletter to your friends.
To place
an order please go
to our web site.
Disclaimer: The entire contents of this website are based upon the opinions of Living Tree Community Foods, unless otherwise noted. Individual articles are based upon the opinions of the respective author, who retains copyright as marked. The information on this website is not intended to replace a one-on-one relationship with a qualified health care professional and is not intended as medical advice. Living Tree Community Foods encourages you to make your own health care decisions based upon your research and in partnership with a qualified health care professional.