Newsletter 01.22.20
Newsletter January 22, 2019
Video: Vandana Shiva, PhD tells about New GMO Strategies and their implications
Dear brothers and sisters,
Jeffrey M. Smith with the Institute for Responsible Technology asked some time ago,"what if Monsanto achieves their stated goal of genetically engineering and patenting 100% of all commercial seeds in the world? What if the biotech industry replaces the livestock, fish, insects, trees, grass, algae and even bacteria and fungus with genetically altered species?
And what happens if these forces deploy gene drives to wipe out species they don't want around?
The answer: the greatest environmental and health debacle in human history. And there's no clear fix to a contaminated gene pool".

All of nature, as we know it, is under threat.This for reasons the most narrow, shortsighted and crass: an apple that will not brown when sliced, a salmon grown in the most unnatural of circumstances, yet ready for market in one year instead of the usual three, corn, soy and other crops made resistant to glyphosate so that the weed killer can be applied to vast monocultures. No matter that it is linked to autism, cancer, asthma, inflammatory bowel syndrome, obesity, depression, ADHD, Alzheimer's disease, Parkinson's disease, ALS, Multiple Sclerosis, infertility, and developmental malformations.

Here Vandana Shiva PhD tells us, articulately and passionately about the latest developments. In the span of human history, this is without precedent. It is our duty, to understand the threat and its implications, not just for ourselves, but for future generations.

Jesse Schwartz PhD
President
Living Tree Community Foods
Video: These Toxins Age Us And Make Us Overeat
Recipe: Coconut Apricot Energy Balls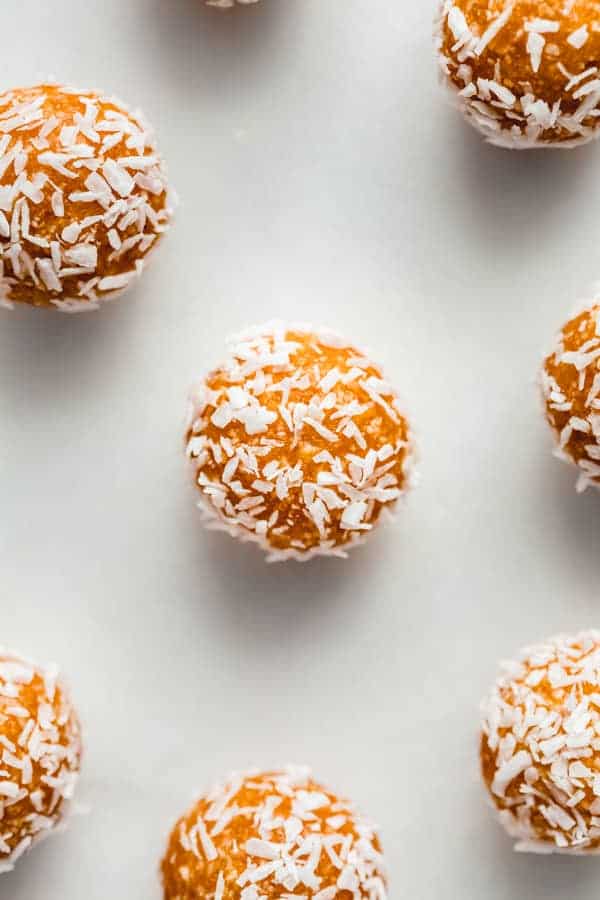 These Coconut Apricot Energy Balls are made with 6 simple ingredients and make the perfect healthy snack!
Ingredients
1 1/2 cups dried apricots
1 cup raw cashews (can sub blanched almonds or macadamia nuts)
1/4 cup unsweetened shredded coconut (plus extra for rolling)
2 tbsp brown rice syrup
1/2 tsp vanilla extract
pinch of salt
Instructions
Add all of the ingredients to a food processor and pulse until everything is mixed together. You should be able to easily press the mixture between your fingers to form a sticky dough.
Alive, Organic Bonus Program – Organic Nuts and Free Shipping
---
New! Items For January
We are delighted to offer our Olio Nuevo High Polyphenol Olive Oil, our Black Cumin Seed Oil and our Black Sesame Oil as an aliveness pack.
All alive and organic in 250ml bottles.
A value of $80.96, yours for $70.97 a savings of $9.99.
Made from Hawaiian Macadamia nuts that have just arrived. We invite you to taste their aliveness in this outstanding nut butter.
We are delighted to say that our Hawaiian macadamia nuts are back. They are crisp, fresh and alive! Quality and flavor are superb. Macadamia nuts contain a significant level of protein, comprising essential and non-essential amino acids.
The first pressing is here.The ultra-green first bottling of the new crop! It has a robust, creamy texture and heightened notes of fruit, grass and pepper. Rejoice in its glorious plume of particulate matter!
Over 250 years ago olive trees were first planted in California by the Spanish missions. The varietal they planted has come down to us. It is called the Mission olive.
The lab results on the new crop are here. It has a polyphenol content rated at 395 ppm (parts per million). That's 78% above the 222 average for most extra virgin olive oils.
It contains high levels of the phenols oleocanthal and oleacein. Oleocanthal is an anti-inflammatory and oleacein is a powerful antioxidant. As inflammation is related to various other diseases, polyphenols help fight them including cardiovascular problems. Antioxidants improve body functions such as digestion and skin condition. They heal cell damage and enhance the body's immunity, its ability to fight off diseases.
Now in an economical 750ml bottle.
Gathered by native people in the rain forests of Amazonia. The Brazil nut tree is enormous, reaching a height of 100 to 150 feet or more and can live a life of 500 to 800 years!
Brazil nuts are a concentrated dietary source of selenium, a trace element your body needs for proper functioning.
Created from hazelnuts grown by Oregon family farmers and from almonds grown by California family farmers.
January Victory Garden Sale
10% off this month's featured items (Remember, if you buy 3 or more of any Living Tree manufactured product, you get an additional 10% off!)

We've put our popular alive, organic walnut butter into a 16ounce jar. This means a savings to you.We make it by slicing raw walnuts into a luxurious spread then seasoning it with a little Royal Himalayan Pink Crystal Salt. Try it on apple slices or carrot sticks, with some raisins and honey drizzled on top.

This Cashew Butter is sweet and creamy. It's made from Organic Cashews and our raw Organic Almond Oil. It's perfect with when paired with cucumbers, celery or even peppers. It's also a great topping for fruits and desserts. What a delightful way to add some variety to your lunches!

Starting with almonds grown by California family farmers, we've added Brazil Nuts. We've added cashews for smoothness and spreadability along with California sundried raisins, honey for delight and a pinch of Royal Himalayan Pink Crystal Salt to bring out the flavors. Our almonds are grown by a California farming family of five generations.
An Encouraging Letter
Dear Friends at Living Tree,
I only found you on line recently, and placed a first order immediately: two large one pound bags of sun dried tomatoes. The order was processed promptly and I received the food immediately and wanted to thank you so much. The flavor is intense and wonderful, what a beautiful way to be able to prepare salads, soups and pastas during the months when the growing season is over. The funny thing is that it is so easy to develop new recipes that I already know I will continue to prepare soups and pastas all year round with these, even though I garden here at home. I am telling loved ones about my experience with Living Tree, and will order more of these to give as gifts and to always keep my own pantry well stocked. Genuine quality of service and vision, and beautiful unadulterated living food. Thank you so very much. Means even more than it seems during times when culture is being worn thin. Blessings to you and all your colleagues! Therese
16 Ounces of Sauerkraut is Equal to 8 Bottles of Probiotics
(Healthy Life Boxx) Fermented foods became more accepted due to the achievement of the traditional food movement.
For a long period of time, people have eaten fermented food because of the diverse benefits that they offer. People definitely realized why our ancestors used this kind of foods.
Jillian Levy, a certified holistic health coach, said that for centuries sauerkraut, which is a form of fermented cabbage, has been known all over Central Europe.
Sauerkraut is a combination of one of the most healthy foods that exist, cabbage, and fermentation, a conventional method for food preparation. This method is known to be a popular and old form of conserving the cabbage, as it was a crucial food source in ancient times, according to the Institute for Integrative Medicine at the University of Witten in Germany.
The ancient technique called fermentation is the method that can change the chemistry of any food. Valuable probiotics are being processed by sauerkraut's fermentation, comparable to cultivated dairy products such as yogurt and kefir. The immune, cognitive, digestive and endocrine function is enhanced due to this probiotics.
What to sow in JANUARY | 7 Easy To Grow Crops (2020)
Opportunities at Living Tree Community Foods
Internship -Sales and Marketing
This is for someone interested in building a career in the organic food industry. The industry has grown enormously in the U.S. in recent decades.
Organic is now mainstream. Organic food sales in 2018 totaled nearly $48 billion, up from $8.5 billion in 2002. Two-thirds of shoppers have tried organic products. We offer a well-rounded program of training in sales and marketing of organic foods as well as manufacturing of organic nut butters, oils and chocolates.
We take pride in supporting family farmers and your internship will include visits to outstanding organic farms.
At Living Tree Community Foods we manufacture organic nut butters, oils and chocolates. We are an ethical business and treat our colleagues and clients with kindness and respect. We are celebrating our 40th anniversary. We invite you to visit our website to learn more about our work www.livingtreecommunity.com We also suggest that you visit our YouTube channel.
We are located in Berkeley, California one of the world's great centers of learning. Over 25 Nobel Prize winners have taught here.
Jesse Schwartz, PhD
President
Living Tree Community Foods
---
Bookkeeper
We are seeking a full charge bookkeeper. Someone with experience with Quickbooks, bank reconciliations, vendor 1099s, Excel and payroll. Someone who can take the initiative in financial analysis.
We offer flexible hours.
We are seeking a someone in wholehearted empathy with alive, organic food.
Jesse Schwartz, PhD
President
Living Tree Community Foods

Want to help promote
our work? Send
this Newsletter to your friends.
To place
an order please go
to our web site.
Disclaimer: The entire contents of this website are based upon the opinions of Living Tree Community Foods, unless otherwise noted. Individual articles are based upon the opinions of the respective author, who retains copyright as marked. The information on this website is not intended to replace a one-on-one relationship with a qualified health care professional and is not intended as medical advice. Living Tree Community Foods encourages you to make your own health care decisions based upon your research and in partnership with a qualified health care professional.