Newsletter 01.08.20
Newsletter January 8, 2019
Video: A Green Drink For Winter
Dear brothers and sisters,
In 1960, Dr. Kirschner published an extraordinary book, Natures Healing Grasses.He extolled the benefits of parsley, watercress, celery and alfalfa, blended together in a green drink.He also included common wild plants like dandelion, malva, filaree and lambs quarters.
The book has a stunning photo of the vibrant 82 year old author. In recent times, Victoria Boutenko championed green drinks.
What can compare with a vital drink of fresh, "finely divided greens"? It is an invaluable legacy of the raw food movement, now part of the collective wisdom of mankind; and so it will live forever.
We invite you to watch us begin with water and then garlic, ginger and chopped beets. We also add Siberian and dinosaur kale, chard, celery, lettuce, parsley and spinach.
Amidst the drear of winter may we suggest that you join us in a green drink.

Jesse Schwartz PhD
President
Living Tree Community Foods
Video: Why Your Gut Needs Food Grown In Healthy Soil
Recipe: Raw Vegan Berry Cheesecake
This tasty raw vegan berry cheesecake is served straight from the freezer and tastes creamy, fresh and delicious. Just in time for mother's day, this is a simple treat that any mum would love! Or just keep it in the freezer and eat a slice whenever you get a sweet craving. I also like to keep freezer cake handy for when I have unexpected guests drop by.
Ingredients
Base Ingredients
2 cups Medjool Dates, pitted about 20 large dates
1 cup Desiccated Coconut
1 cup Almond Meal
1/4 tsp coarse celtic sea salt optional
Main Layer
1 cup Medjool Dates, pitted about 10 large dates
2 cups Plant Milk I used soy
2 cups Cashews
1 large Bananas, frozen
1 tsp Vanilla Extract
Berry Swirl
2 cups Frozen or fresh berries I used blueberries, but you can use any you like
2 large Bananas, frozen
Give the Gift of Alive & Organic Foods This Holiday Season
Available in $25, $50, $75 and $100
Give the gift of Alive & Organic foods with a Living Tree Community Foods Gift Card.
Alive, Organic Bonus Program – Organic Nuts and Free Shipping
---
New! Items For January
We are delighted to offer our Olio Nuevo High Polyphenol Olive Oil, our Black Cumin Seed Oil and our Black Sesame Oil as an aliveness pack.
All alive and organic in 250ml bottles.
A value of $80.96, yours for $70.97 a savings of $9.99.
Made from Hawaiian Macadamia nuts that have just arrived. We invite you to taste their aliveness in this outstanding nut butter.
We are delighted to say that our Hawaiian macadamia nuts are back. They are crisp, fresh and alive! Quality and flavor are superb. Macadamia nuts contain a significant level of protein, comprising essential and non-essential amino acids.
The first pressing is here.The ultra-green first bottling of the new crop! It has a robust, creamy texture and heightened notes of fruit, grass and pepper. Rejoice in its glorious plume of particulate matter!
Over 250 years ago olive trees were first planted in California by the Spanish missions. The varietal they planted has come down to us. It is called the Mission olive.
The lab results on the new crop are here. It has a polyphenol content rated at 395 ppm (parts per million). That's 78% above the 222 average for most extra virgin olive oils.
It contains high levels of the phenols oleocanthal and oleacein. Oleocanthal is an anti-inflammatory and oleacein is a powerful antioxidant. As inflammation is related to various other diseases, polyphenols help fight them including cardiovascular problems. Antioxidants improve body functions such as digestion and skin condition. They heal cell damage and enhance the body's immunity, its ability to fight off diseases.
Now in an economical 750ml bottle.
Gathered by native people in the rain forests of Amazonia. The Brazil nut tree is enormous, reaching a height of 100 to 150 feet or more and can live a life of 500 to 800 years!
Brazil nuts are a concentrated dietary source of selenium, a trace element your body needs for proper functioning.
Created from hazelnuts grown by Oregon family farmers and from almonds grown by California family farmers.
January Victory Garden Sale
10% off this month's featured items (Remember, if you buy 3 or more of any Living Tree manufactured product, you get an additional 10% off!)

We've put our popular alive, organic walnut butter into a 16ounce jar. This means a savings to you.We make it by slicing raw walnuts into a luxurious spread then seasoning it with a little Royal Himalayan Pink Crystal Salt. Try it on apple slices or carrot sticks, with some raisins and honey drizzled on top.

This Cashew Butter is sweet and creamy. It's made from Organic Cashews and our raw Organic Almond Oil. It's perfect with when paired with cucumbers, celery or even peppers. It's also a great topping for fruits and desserts. What a delightful way to add some variety to your lunches!

Starting with almonds grown by California family farmers, we've added Brazil Nuts. We've added cashews for smoothness and spreadability along with California sundried raisins, honey for delight and a pinch of Royal Himalayan Pink Crystal Salt to bring out the flavors. Our almonds are grown by a California farming family of five generations.
The Philippines approves Golden Rice—A disaster waiting to happen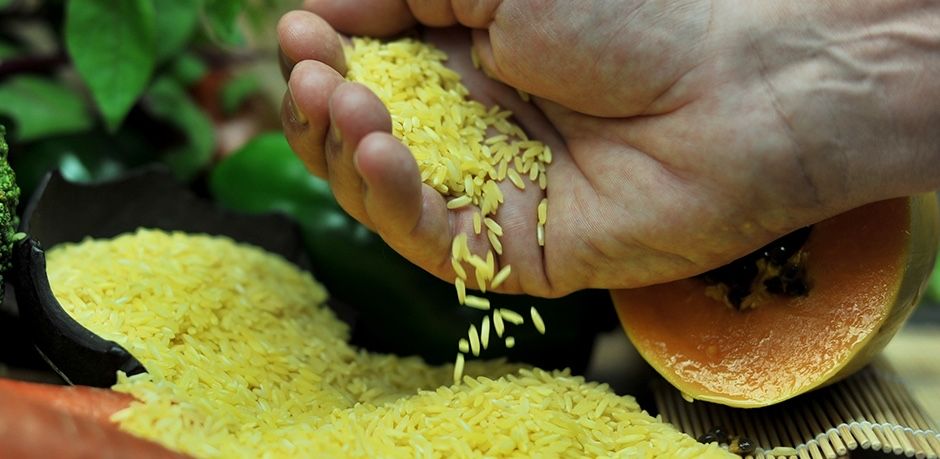 (Responsible Technology) Hi everyone! This is Jeffery Smith and I'm reporting on the news development that the Department of Agriculture in the Philippines has approved genetically engineered golden rice to be, "As safe as conventional rice. "
What a disaster this is! This is incredible! Now, a lot of people think that golden rice is the example of why we should be allowing genetically engineered foods into the diet because it's designed to provide vitamin A for vitamin A-deficient children who are suffering from blindness and death. On the cover of TIME magazine, they say "This rise could save the lives and health of, you know, thousands or millions of children each year." Well, this is all false hype.
Let's go through this and find out the truth behind GE golden rice. First of all, rice is a staple in parts of Asia and other places. So we are considering genetically engineering something that will be eaten three times a day. If there's any health issue associated with it, it could be a disaster.
Now, the Philippines Department of Agriculture and Bureau of Plant Industry said that it reached its decision for approval after rigorous bio-safety assessment. We say, "Where was that?"
No animal feeding studies have ever been released to the public and the human trials that were done focused on the ability of the subjects to absorb the beta carotene – which is the precursor to vitamin A – but did not test for safety.
Heart Disease Is Reversible
Opportunities at Living Tree Community Foods
Lively Organic Bookkeeper
We are seeking a full charge bookkeeper. Someone with experience with Quickbooks, bank reconciliations, vendor 1099s, Excel and payroll. Someone who can take the initiative in financial analysis.
We offer flexible hours.
We are seeking a someone in wholehearted empathy with alive, organic food.
At Living Tree Community Foods we manufacture organic nut butters, oils and chocolates. We are an ethical business and treat our colleagues and clients with kindness and respect. We are celebrating our 40th anniversary. We invite you to visit our website to learn more about our work www.livingtreecommunity.com We also suggest that you visit our YouTube channel.
We are located in Berkeley, California one of the world's great centers of learning. Over 25 Nobel Prize winners have taught here.
Jesse Schwartz, PhD
President
Living Tree Community Foods
---
We Welcome Investors
The U.S. organic market in 2018 broke through the $50 billion mark for the first time, with sales hitting a record $52.5 billion, up 6.3 percent from the previous year, according to the 2019 Organic Industry Survey released by the Organic Trade Association.
Characteristics that are identified with organic, such as clean, transparent, fresh and sustainable helped boost organic sales to unprecedented levels, according to the survey.
New records were made in both the organic food market and the organic non-food market. Organic food sales reached $47.9 billion, for an increase of 5.9 percent. Sales of organic non-food products jumped by 10.6 percent to $4.6 billion. The growth rate for organic continued to easily outpace the general market: in 2018, total food sales in the U.S. edged up just 2.3 percent while total non-food sales rose 3.7 percent.
Almost 6 percent (5.7%) of the food sold in this country is now organic. Today's consumers can find organic products – food and non-food items — in every aisle of their grocery stores. They can choose organic in their favorite big box store, their club warehouse store, even in their neighborhood convenience store, and increasingly on the internet. Organic is no longer a niche market.
Thanks to your kind support, we too are growing. We wish to hire more teamworkers and to purchase tools and equipment. We are seeking long term, stable capital. If taking a strategic position in the organic food industry appeals to you, let's talk!
Jesse Schwartz, PhD
President
Living Tree Community Foods

Want to help promote
our work? Send
this Newsletter to your friends.
To place
an order please go
to our web site.
Disclaimer: The entire contents of this website are based upon the opinions of Living Tree Community Foods, unless otherwise noted. Individual articles are based upon the opinions of the respective author, who retains copyright as marked. The information on this website is not intended to replace a one-on-one relationship with a qualified health care professional and is not intended as medical advice. Living Tree Community Foods encourages you to make your own health care decisions based upon your research and in partnership with a qualified health care professional.