Newsletter 01.02.18
Newsletter January 2, 2017:
Video: Plan Your Victory Garden – Now!
Dear brothers and sisters,
It is more important than ever for you to get growing.We urge you to plan a victory garden of veggies,fruits and flowers.
Plan a Victory Garden by way of saying "yes!" to life.
Plan it as an expression your faith in the people of this land.
Plan a Victory Garden by way of healing this American earth.
Plan a Victory Garden in your backyard to provide you and your family with vibrantly alive kale,parsley,lettuce,celery,beets,spinach and chard. Plan a Victory Orchard in your front yard with heirloom apples, pears, peaches, apricots, plums and nectarines.
Plan a Victory Garden to express your certainty that one day Hetch Hetchy will be restored.Full fathom five it lies-a valley comparable to Yosemite in grandeur and beauty- beneath a man-made lake.
Plan a Victory Garden because you know in your heart, that one day, Detroit will be a garden for the human spirit.
Start your compost pile now. Keep a least two garbage bins in your kitchen-one for food scraps and one for everything else. The food scraps go into your compost pile along with soil, cow and chicken manure. Think of it as the digestive organ of your garden. Tend it with care.
If you don't have a garden, we urge you to join a community garden.
Do wait to plan your garden. Now is the time.
What abundant harvests you'll have!
We take pleasure in presenting an excellent video replete with planning tips.
May you and family prosper in good health,
Jesse Schwartz PhD
President
Living Tree Community Foods
Recipe: Smokey Black Bean Sweet Potato Burger
by Master Live Food Chef Rachel Carr

Having a good veggie burger recipe in your back pocket is always great thing! I am very picky about my veggie burgers-my preference is that they be firm and not mushy. I like to be able to throw them on the grill and get a nice char without them falling apart.
This recipe is packed with protein from the black beans and oats, and flavor from the sweet potato and spices. The smoked paprika (one of my favorite spices!) gives a nice smokey and mildly spicy flavor.
Ingredients
For the burger patty:
1 Tablespoon olive oil
1½ cups chopped onion
2 cans black beans, drained
2 cups cooked sticky rice
390g roasted sweet potato flesh (about 1 large sweet potato)
8 prunes
2½ cups organic GF rolled oats, milled in a food processor
2½ teaspoons garlic powder
½ teaspoon black pepper
3-4 teaspoons salt
4 teaspoons smoked paprika
3 teaspoons chili powder
3 teaspoons ground cumin
For the burger:
8 burger buns
1 small head lettuce
2 tomatoes
1 red onion
1 package follow your heart sliced cheese
dijon mustard
sriracha
pickles
Featured Sale: Tahini 16oz – Alive & Organic
We are putting our Tahini on sale for the month of January!
It is now $13.99 – down from $17.99!

We want you to rejoice in its creamy texture of our tahini. We attribute its texture to two things – our production process and the quality of our sesame seeds.
We do not grind, rather we slice the sesame seeds,let them rest overnight and then slice again. Mix with one of our honeys and you have halva, a Middle Eastern delight!
Our sesame seeds are mechanically hulled.
Alive, Organic Bonus Program – Heritage Olive Oil and Medjool Dates for the Month of December
---
New! Items For January

Just the thing to wean kids (and adults) from sugary breakfast cereals. Just add almond mild for a magnificent treat. You'll delight family and friends with this stepping stone on the way toward raw. Quinoa was of great nutritional importance in pre-Columbian Andean civilizations, being secondary only to the potato, and followed in third place by corn.

Our Organic Raw Hazelnuts are grown on a family farm in Aurora, Oregon named Meridian Orchards. Meridian Orchard is a beautiful 80-acre Organic orchard filled with regal hazelnut trees. Owner, Jim Birkemeier, continues to pioneer unique natural methods for attaining high-quality, Organic hazelnuts and for strengthening the disease resistance of the trees.

Available in an economical one gallon, 128 ounce, food grade, sturdy plastic bucket. We invite you to do the math – the savings are considerable.
Living Tree Raw Organic Coconut Oil is made from fresh coconuts. The flesh is chopped and placed in an expeller press. The temperature of the coconut flesh and the emulsion does not exceed room temperature. The coconut milk emulsion has the water "spun" out of the oil using a centrifuge.

Imagine Ziziphus jujuba on your festive table! Astonish and delight friends and family with a delicious fruit they do not know. Grown for you by Judith Redmond, magnificent California family farmer.

Hemp hearts are a nutrient dense source of protein, essential fats, and antioxidants.
We suggest you add to soup, salad or vegetable dishes. Sprinkle onto cereal, oatmeal or yogurt. Add to desserts. Add to smoothies. Sprinkle onto almond or cashew butter spread on a slice of apple or pear.
Sprinkle in sandwiches or wraps.

We invite you to experience the lilting, floral flavor of the essence of Ohi'a Lehua blossoms.
A white honey, luxuriously thick and wondrously spreadable.
Mix with almond or cashew butter and spread on a slice of apple for an ecstatic experience.


These pinenuts nuts are wildcrafted from trees in a pristine wilderness, the Siberian taiga. This is the most extensive virgin forest in the world. We invite you to experience the taste of the primordial!
Siberian pine nuts are quite different from the pine nuts you find in stores. The latter are imported from China and are a species of Korean pine nut, Pinus Koraiensus. Siberian pine nuts are a different species, Pinus Sibirica. They are the fruits of a majestic and beautiful tree.
January Victory Garden Sale
10% off this month's featured items (Remember, if you buy 3 or more of any Living Tree manufactured product, you get an additional 10% off!)

Hemp Seed Butter is one of nature's richest sources of complete protein (35%) and Omega-3 and Omega-6 Essential Fatty Acids (40%).
Hemp seeds offer a high concentration of omega 6 and omega 3 in a ration of about 3:1. This exceeds the ratio recommended by health authorities and compensates in part for omega-3 deficiencies in the rest of our diet.

For your delight we have slowly sliced organic sunflower seeds into a butter that goes well on apple slices as well as celery and carrot sticks. Try adding chopped raisins and dates too–what hor d'oevres you'll make!

This delightful and fresh nut will nourish your body and your taste buds! Our pistachio butter is made from pistachios grown by California family farmers in the rich, alluvial soil of the wondrously fertile Central Valley. We add our raw Black Sesame Oil and sesame seeds to organic pistachios and season them with honey and a dash of Royal Himalayan Pink Crystal Salt.
Zucchinis Saved by Music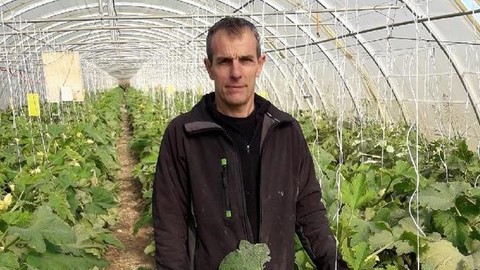 (Q-Mag) Music can treat and even cure plants. It seems that some meticulously selected melodies have the capacity to inhibit the growth of viruses and molds and to stimulate plant growth. At least, according to the testimony of a French vegetable grower, Gilles Joshuan.
He runs a zucchini monoculture. Ten years ago, his whole crop was contaminated by the mosaic virus. There is no known method to fight against this scourge, » he says, adding that in his despair he had tried everything. He wouldn't resign himself to uproot all his plants, which was the only solution advised by conventional agriculture. "I chanced upon the site of this company, Genodics, which proposed plant treatments by the way of protein music ! I had nothing to lose, so I tried it ! confides this owner of 40 hectars in greenhouse and 50 hectars in the open air. As soon as I started broadcasting music in the greenhouses, I could notice a difference. But the most difficult part was to spread out the music in plastic tunnel greenhouses with a high hygrometric level. To solve this problem, the Genodics company foresees installations self-powered by solar panels and adapted to these tunnel conditions. «After some preliminary adjustments, we were able to save the zucchinis. At this time, the virus is still present but it is inhibited by the music and there is not a trace of it in the zucchini plants. I am therefore able to market them.
In order to attain this spectacular reseult, he is applying to the dot the protocole established by the company. Every night, he broadcasts between 5 and 7 minutes of a specialy targeted music, «but no longer, otherwise the plants get tired" says the man, who harvests between 600 and 700 tons of zucchini a year. His yields arouse envy. His neighbors, who were at first amused by his methods, are now developing a close interest for them. «Some of my neighbors question me about my production methods and they are thinking of applying them to their own cultures. » He is convinced that it is a good idea, provided that a music is created which will be adapted to the cultivated produce.
---
Become a Living Tree Business Partner
Are you an experienced entrepeneur who would like to participate in the boom in organic foods? Are you a "hands-on" sort who can't wait to steer a business towards success after success?
We manufacture alive, organic nut butters, oils and chocolates in Berkeley, California. We support family farmers. We have been established for 38 years.
For further details contact us: jesse@livingtreecommunity.com
What Happens When You Eat Too Much Peanut Butter – Dr Mandell

Want to help promote
our work? Send
this Newsletter to your friends.
To place
an order please go
to our web site.
Disclaimer: The entire contents of this website are based upon the opinions of Living Tree Community Foods, unless otherwise noted. Individual articles are based upon the opinions of the respective author, who retains copyright as marked. The information on this website is not intended to replace a one-on-one relationship with a qualified health care professional and is not intended as medical advice. Living Tree Community Foods encourages you to make your own health care decisions based upon your research and in partnership with a qualified health care professional.